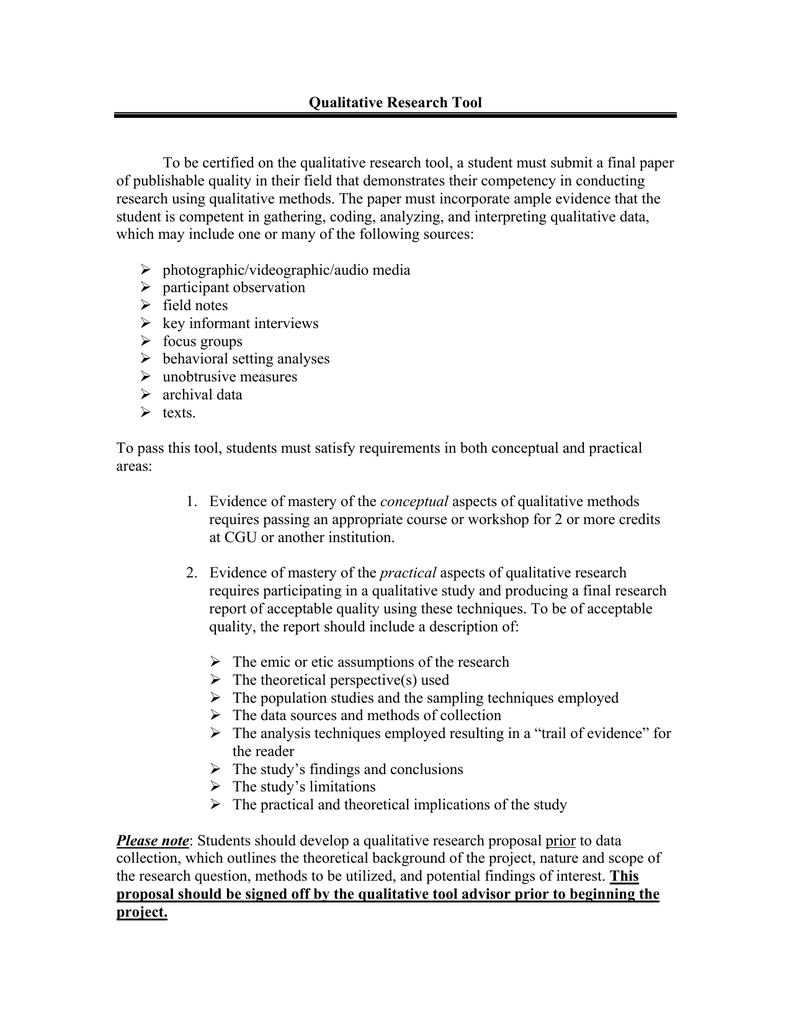 Qualitative Research Tool
To be certified on the qualitative research tool, a student must submit a final paper
of publishable quality in their field that demonstrates their competency in conducting
research using qualitative methods. The paper must incorporate ample evidence that the
student is competent in gathering, coding, analyzing, and interpreting qualitative data,
which may include one or many of the following sources:
¾
¾
¾
¾
¾
¾
¾
¾
¾
photographic/videographic/audio media
participant observation
field notes
key informant interviews
focus groups
behavioral setting analyses
unobtrusive measures
archival data
texts.
To pass this tool, students must satisfy requirements in both conceptual and practical
areas:
1. Evidence of mastery of the conceptual aspects of qualitative methods
requires passing an appropriate course or workshop for 2 or more credits
at CGU or another institution.
2. Evidence of mastery of the practical aspects of qualitative research
requires participating in a qualitative study and producing a final research
report of acceptable quality using these techniques. To be of acceptable
quality, the report should include a description of:
¾
¾
¾
¾
¾
The emic or etic assumptions of the research
The theoretical perspective(s) used
The population studies and the sampling techniques employed
The data sources and methods of collection
The analysis techniques employed resulting in a "trail of evidence" for
the reader
¾ The study's findings and conclusions
¾ The study's limitations
¾ The practical and theoretical implications of the study
Please note: Students should develop a qualitative research proposal prior to data
collection, which outlines the theoretical background of the project, nature and scope of
the research question, methods to be utilized, and potential findings of interest. This
proposal should be signed off by the qualitative tool advisor prior to beginning the
project.