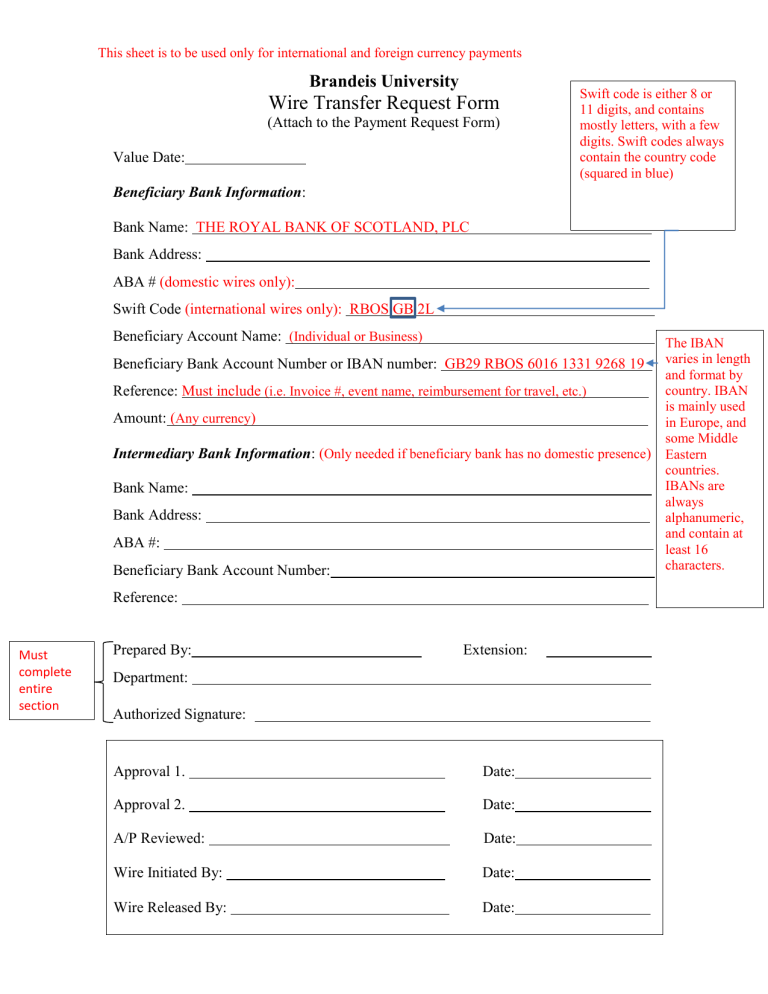 This sheet is to be used only for international and foreign currency payments
Brandeis University
Wire Transfer Request Form
(Attach to the Payment Request Form)
Value Date:
Swift code is either 8 or
11 digits, and contains
mostly letters, with a few
digits. Swift codes always
contain the country code
(squared in blue)
Beneficiary Bank Information:
Bank Name: THE ROYAL BANK OF SCOTLAND, PLC
Bank Address:
ABA # (domestic wires only):
Swift Code (international wires only): RBOS GB 2L
Beneficiary Account Name: (Individual or Business)
Beneficiary Bank Account Number or IBAN number: GB29 RBOS 6016 1331 9268 19
Reference: Must include (i.e. Invoice #, event name, reimbursement for travel, etc.)
Amount: (Any currency)
Intermediary Bank Information: (Only needed if beneficiary bank has no domestic presence)
Bank Name:
Bank Address:
ABA #:
Beneficiary Bank Account Number:
Reference:
Must
complete
entire
section
Prepared By:
Extension:
Department:
Authorized Signature:
Approval 1.
Date:
Approval 2.
Date:
A/P Reviewed:
Date:
Wire Initiated By:
Date:
Wire Released By:
Date:
The IBAN
varies in length
and format by
country. IBAN
is mainly used
in Europe, and
some Middle
Eastern
countries.
IBANs are
always
alphanumeric,
and contain at
least 16
characters.