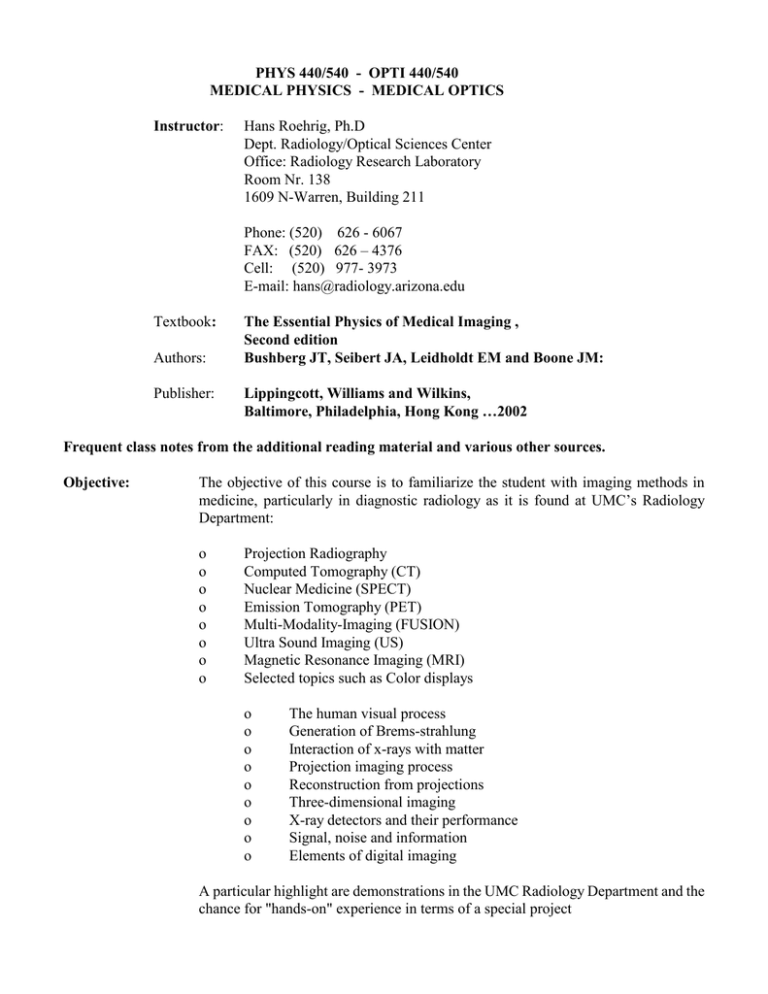 PHYS 440/540 - OPTI 440/540
MEDICAL PHYSICS - MEDICAL OPTICS
Instructor:
Hans Roehrig, Ph.D
Dept. Radiology/Optical Sciences Center
Office: Radiology Research Laboratory
Room Nr. 138
1609 N-Warren, Building 211
Phone: (520) 626 - 6067
FAX: (520) 626 – 4376
Cell: (520) 977- 3973
E-mail: hans@radiology.arizona.edu
Textbook:
Authors:
Publisher:
The Essential Physics of Medical Imaging ,
Second edition
Bushberg JT, Seibert JA, Leidholdt EM and Boone JM:
Lippingcott, Williams and Wilkins,
Baltimore, Philadelphia, Hong Kong …2002
Frequent class notes from the additional reading material and various other sources.
Objective:
The objective of this course is to familiarize the student with imaging methods in
medicine, particularly in diagnostic radiology as it is found at UMC's Radiology
Department:
o
o
o
o
o
o
o
o
Projection Radiography
Computed Tomography (CT)
Nuclear Medicine (SPECT)
Emission Tomography (PET)
Multi-Modality-Imaging (FUSION)
Ultra Sound Imaging (US)
Magnetic Resonance Imaging (MRI)
Selected topics such as Color displays
o
o
o
o
o
o
o
o
o
The human visual process
Generation of Brems-strahlung
Interaction of x-rays with matter
Projection imaging process
Reconstruction from projections
Three-dimensional imaging
X-ray detectors and their performance
Signal, noise and information
Elements of digital imaging
A particular highlight are demonstrations in the UMC Radiology Department and the
chance for "hands-on" experience in terms of a special project
Preferred Class time:
Class-Room
Tuesday and Thursday, 8 to 9:15 AM
Physics Department Room 220.
Course Grading
o
Homework (30%)
o
Exams (70%)
Both Homework and Exams will be take-home types. There will be no in-class exams. The final exam is due
on the day when the Final Exam for PHYS-440/540 is scheduled.
Students requiring accommodation in testing or note taking must notify instructor and must deliver a
Disability Resource Center faculty letter within the first few days of the course
Additional Reading Material:
1.
Barrett, Harrison H., Swindell, William, "Radiological Imaging - The Theory of Image Formation,
Detection, and Processing" - volumes 1 and 2. Academic Press, New York, London, Paris, San
Diego, San Francisco, Sao Paulo, Sydney, Tokyo, Toronto, 1981.
2.
Perry Sprawls: "Physical Principles of Medical Imaging" Medical Physics Publishing.
Madison, Wisconsin
3.
Huang, H.K., "PACS; Picture Archiving and Communication Systems in Biomedical Imaging"
WILEY-VCH-Publishers; 333 7-th Avenue, New York, New York 10001; 1996.
4.
Albert Macovski,"Medical Imaging Systems"; Publisher: PRENTICE - HALL, Inc. Englewood
Cliffs, NJ, 07632
5.
Harold Elford Johns and John Robert Cunningham, "The Physics of Radiology." Third Edition,
Seventh printing, Charles C. Thomas - Publisher, Springfield, Illinois, 1974.
Below is a map for UMC on Campbell Ave, and for my office at the Radiology Research Lab,
Building 211, on the Ring-Road surrounding UMC.
It is basically the Map, found in the U-of-A phone directory after the blue pages.