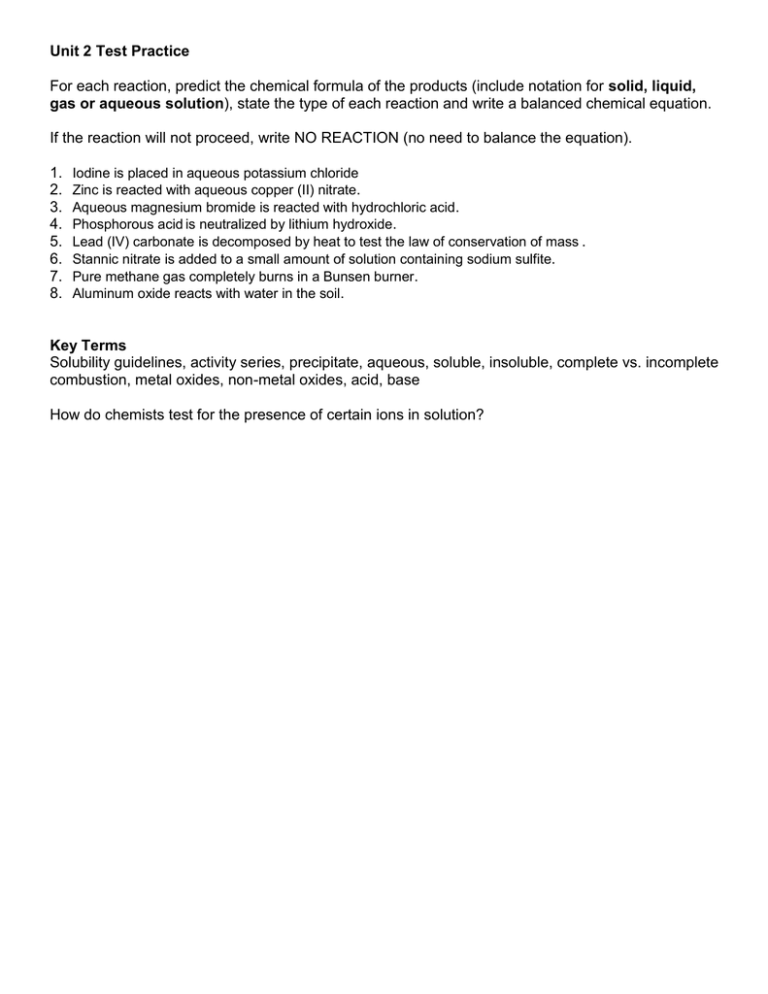 Unit 2 Test Practice
For each reaction, predict the chemical formula of the products (include notation for solid, liquid,
gas or aqueous solution), state the type of each reaction and write a balanced chemical equation.
If the reaction will not proceed, write NO REACTION (no need to balance the equation).
1.
2.
3.
4.
5.
6.
7.
8.
Iodine is placed in aqueous potassium chloride
Zinc is reacted with aqueous copper (II) nitrate.
Aqueous magnesium bromide is reacted with hydrochloric acid.
Phosphorous acid is neutralized by lithium hydroxide.
Lead (IV) carbonate is decomposed by heat to test the law of conservation of mass .
Stannic nitrate is added to a small amount of solution containing sodium sulfite.
Pure methane gas completely burns in a Bunsen burner.
Aluminum oxide reacts with water in the soil.
Key Terms
Solubility guidelines, activity series, precipitate, aqueous, soluble, insoluble, complete vs. incomplete
combustion, metal oxides, non-metal oxides, acid, base
How do chemists test for the presence of certain ions in solution?