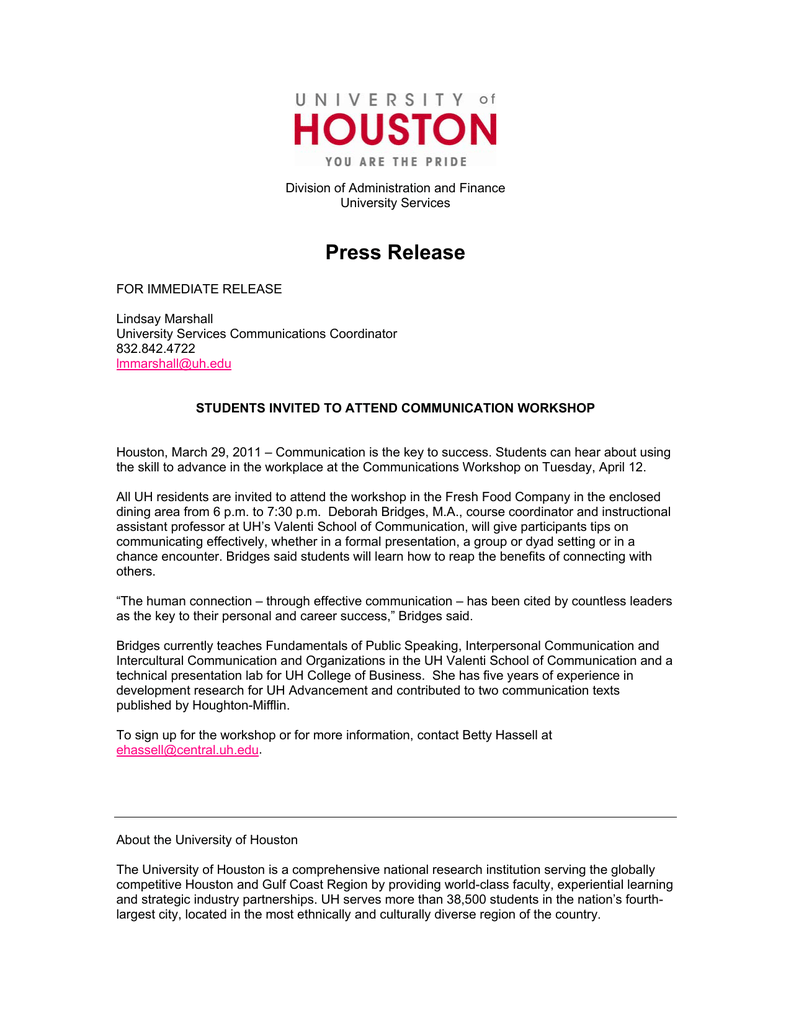 Division of Administration and Finance
University Services
Press Release
FOR IMMEDIATE RELEASE
Lindsay Marshall
University Services Communications Coordinator
832.842.4722
[email protected]
STUDENTS INVITED TO ATTEND COMMUNICATION WORKSHOP
Houston, March 29, 2011 – Communication is the key to success. Students can hear about using
the skill to advance in the workplace at the Communications Workshop on Tuesday, April 12.
All UH residents are invited to attend the workshop in the Fresh Food Company in the enclosed
dining area from 6 p.m. to 7:30 p.m. Deborah Bridges, M.A., course coordinator and instructional
assistant professor at UH's Valenti School of Communication, will give participants tips on
communicating effectively, whether in a formal presentation, a group or dyad setting or in a
chance encounter. Bridges said students will learn how to reap the benefits of connecting with
others.
"The human connection – through effective communication – has been cited by countless leaders
as the key to their personal and career success," Bridges said.
Bridges currently teaches Fundamentals of Public Speaking, Interpersonal Communication and
Intercultural Communication and Organizations in the UH Valenti School of Communication and a
technical presentation lab for UH College of Business. She has five years of experience in
development research for UH Advancement and contributed to two communication texts
published by Houghton-Mifflin.
To sign up for the workshop or for more information, contact Betty Hassell at
[email protected]
About the University of Houston
The University of Houston is a comprehensive national research institution serving the globally
competitive Houston and Gulf Coast Region by providing world-class faculty, experiential learning
and strategic industry partnerships. UH serves more than 38,500 students in the nation's fourthlargest city, located in the most ethnically and culturally diverse region of the country.