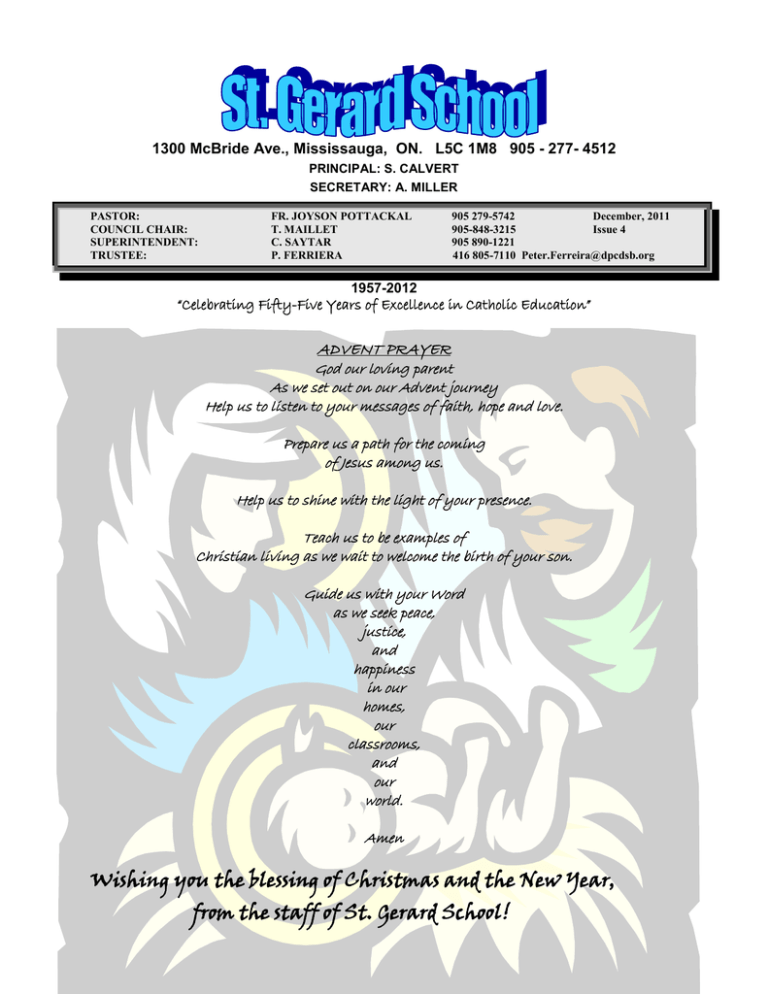 1300 McBride Ave., Mississauga, ON. L5C 1M8 905 - 277- 4512
PRINCIPAL: S. CALVERT
SECRETARY: A. MILLER
PASTOR:
COUNCIL CHAIR:
SUPERINTENDENT:
TRUSTEE:
FR. JOYSON POTTACKAL
T. MAILLET
C. SAYTAR
P. FERRIERA
905 279-5742
December, 2011
905-848-3215
Issue 4
905 890-1221
416 805-7110 [email protected]
1957-2012
"Celebrating Fifty-Five Years of Excellence in Catholic Education"
ADVENT PRAYER
God our loving parent
As we set out on our Advent journey
Help us to listen to your messages of faith, hope and love.
Prepare us a path for the coming
of Jesus among us.
Help us to shine with the light of your presence.
Teach us to be examples of
Christian living as we wait to welcome the birth of your son.
Guide us with your Word
as we seek peace,
justice,
and
happiness
in our
homes,
our
classrooms,
and
our
world.
Amen
Wishing you the blessing of Christmas and the New Year,
from the staff of St. Gerard School!
LOST AND FOUND
Please encourage your child to search through the Lost
and Found items. Any items left after December 18,
will be donated to charity.
SCHOOL COUNCIL
Our next School Council meeting will be on Thursday
December 8, at 6:30 p.m. in the staffroom. All are welcome
to attend!
PREPARE THE WAY OF THE LORD
This past Sunday, November 27th, Advent began. The season of
Advent begins with the fourth Sunday before Christmas. Advent
is a Latin word meaning "the coming." During the season of
Advent, Christians around the world prepare for the celebration of
the coming of the Lord into the world through the birth of his son,
Jesus Christ. Advent is a time to celebrate light in the midst of
darkness, as symbolized best by the Advent wreath.
During this coming month our daily prayers and classroom
activities will serve as reminders that Advent is a period of simple
living and prayer. It will be a time to prepare for the new coming
of Jesus our Saviour.
Please join us for our Advent Mass which will take place on
Tuesday, December 8th at 10:00 A.M.
PARISH CHRISTMAS MASSES
Confessions for Parishioners will be on Thursday December 15
from 7-9 p.m.
Christmas Eve: 5:00pm, 7:00pm, 9:00pm and Midnight
Christmas Day: 10:00 am and 12:00 noon
New Year's Eve: 5:00 pm and 7:00 pm
New Year's Day: 8:00 am, 10:00 am and 12:00 noon
CHRISTMAS GIVING
Christmas is the perfect opportunity to show our community we
care and teach our children about the real joy of the holidaysgiving.
Jesus once said, "Whatsoever you do to the least of my brothers
that you do unto me". With those words in mind, the St. Gerard
School Community, will once again be asking you to share the
warmth of giving and show your love to those less fortunate
during the Advent Season.
From December 8-December 18 we will be teaming up with the
St. Vincent de Paul society in helping less fortunate families with
Christmas. In our foyer will be a tree with labeled ornaments.
Your family is welcome to take an ornament for your tree. On the
ornament will be a label with a boy or girl and an age (ie BOY 5).
We would ask that you bring a gift for that child, place the label
on the gift and then put it under our tree. Toys also collected by
our Neighboring IDA will also join what we can collect in
support of our community.
We would also like to thank everyone for their generosity in the
food drive that Mrs. Naiker's classes have organized. We were
able to give well over 700 items to our Parish.
SCHOOL BUS CANCELLATIONS
When weather conditions are bad, parents are asked to
listen to the local radio stations for announcements of
transportation services being withdrawn and/or
possible school closures. Announcements can be heard
on CFRB, CHUM, CKFM, CHWD, CHIN, CFNY,
CHAY, CKHW, CFTR, CJCL, CJMR and CBC.
The messages that would affect us at St. Gerard are:
1) The Dufferin-Peel Catholic District School
Board and the Peel District School Board
buses are cancelled. This means ALL
Transportation services including buses,
vans and taxis have been cancelled for the
entire day. Students dropped off by parents
when transportation is cancelled must be
picked up by parents or have other
arrangements in place for their trip home. The
school cannot give permission for children to
be driven home by someone other than the
parent/guardian without written consent by
the parent/guardian.
2) The schools and offices of both the DufferinPeel Catholic District School Board and the
Peel District School Board are closed. This
means that ALL Dufferin Peel and Peel
District schools and offices are closed to all
staff and students.
The Dufferin Peel web site home page will also have
this updated information. You may alos go to
www.stopr.ca for daily cancellations or delays.
If you are bringing your child to school, please be
reminded that supervision begins at 8:45 a.m.
KISS / RIDE SAFETY
Thank you for your continued support and cooperation
in keeping the Kiss/Ride clear especially during entry
and dismissal times.
With the winter weather approaching, we ask you to
exercise extreme caution when approaching the
Church Parking Lot.
HEALTHY EATING
Poor nutrition is one of the major contributors to
obesity in children and our society in general. In an
effort to keep us thinking about our "Active, Healthy
Living" lifestyle, the following article can be accessed
and read: Eating Healthy While Eating Out,
www.kidshealth.org
INDOOR SHOES
Please ensure that your child has a pair of indoor
shoes which he/she can wear during the day.
Students will not be permitted to wear
socks inclass, as they will not have the opportunity
to put their boots on in the event of a fire drill or emergency. to put
DOGS NOT ALLOWED ON SCHOOL PROPERTY
In the interest of student safety, please be reminded that dogs
are not allowed on school property. A dog's behaviour and
response around strangers can be unpredictable. Some pupils
may be allergic to dogs and others are afraid of them.
FIRST RECONCILIATION
On February 1, 2006, the grade two students received the
Sacrament of First Reconciliation. Congratulations to our grade
two students!
On November 22nd, the Grade Two students
received the Sacrament of First Reconciliation. Congratulations
to our Grade Two students! Thank you to their teachers, V.
Tirilis, Mrs. MacMillan and K. Mistuzzi-Canning for preparing
the students. Thank you also to Father Joyson for participating
in this very special celebration.
The Rite of Enrollment for First Communion will be at masses
between Saturday January 21st and Sunday January 29th. The
celebration of the sacrament of First Holy Communion will be
at masses between Saturday, April 21st and Sunday April 29,
2012.
GRADE 8 CONFIRMATION
The grade 8 Confirmation this year will be held at St. martin of
Tours Parish on Friday May 4 at 7:00p.m.
PROFESSIONAL LEARNING AT ST. GERARD
St. Gerard School strives to be a leader in the area of
Professional Learning for Teachers. The school continues to
work diligently on supporting teachers to use research and
experience to support all students in their learning,
development and growth. In each of our divisions, new learning
is underway this year.
Primary/Junior teachers are continuing to refine their
understanding of a Teaching and Learning Pathway. This
model allows teachers, through the use of pre-and postassessments and precise teaching, learning and planning, to
focus on particular areas of the curriculum which, through
collaborative analysis of evidence, have been deemed to require
attention. The focus is always on student work – student work
points the way, and student achievement informs whether or
not goals are being met. Junior Teachers are also participating
in sessions focused on the three-part-math lesson and problem
solving model. This approach to learning has been found to be
a high yield teaching strategy from the Ministry of Education
and has been adopted by our school board as a board goal.
Intermediate teachers are also continuing to refine instructional
practice. Through small-group conversations with their peers,
teachers are continuing to explore teaching and learning
strategies that permit teachers to address
the diverse needs of all students. As students grow
and develop their individual learning styles, it is
especially important that teachers work with them,
in a precise and intentional manner, to allow them to
thrive and succeed. This work will culminate with
the daily use of three SMART boards (one in a
Primary classroom, one in an Intermediate
classroom and one in our Needs Moderate
classroom) which will support students as they
move forward into an increasingly technological
world.
ATTENDANCE AND PUNCTUALITY
It is important for your child to be in attendance at
school and to arrive on time regularly. Late arrivals
disrupt important teaching and have a direct impact
on your child's learning and on the learning of all
class members. Please encourage and assist your
child to recognize that punctuality is a
responsibility, which all students should be
developing.
Frequent absences also have a direct negative
impact on a child's education. Students should be
absent from school only when they are ill or there is
an extenuating circumstance that cannot be avoided.
Absences and late arrivals are recorded in each
child's school record. The Education Act (Section
30) states that it is mandatory for all students,
between the ages of six and eighteen years, to attend
school every day. School social workers are
mandated to intervene with students and their
families whenever students are identified as truant.
Your support and cooperation is appreciated.
SANTA IS COMING TO ST. GERARD
On Friday December 16 from 9:00 –11:30 Mr. and
Mrs. Claus will be here to take photos. The cost of
the photo is $12. You will receive a 5x7 photo as
well as a CD of the photo. Family photos are also
available on a first come, first serve basis. Santa
cannot stay for the PM so if you have a child in the
PM Kindergarten class you are welcome to bring
them for a photo in the morning.
JUNIOR BOYS' AND GIRLS' VOLLEYBALL TEAMS
Congratulations to the Junior Girls'and Boys' Volleyball
Teams. They represented St. Gerard well in their diligence to
practice and perseverance during game time. The girls and boys
played with skill, cooperation, dedication and good
sportsmanship.
A special thank you to our dedicated coaches who assisted in
daily practices: S. Macmillan, D. Zulianello, L. Kane, V.
Tirilis, A. Doria and A. Rukavina
Your hard work and perseverance has made our school proud!
You must bring the following in order to register:
1)
Proof of age of the child (birth certificate or
passport)
2)
Original Catholic Baptismal Certificate of
the Roman Rite for the parent and the child.
3)
Updated Immunization Records.
4)
Proof of residence/ home address (Utility
or tax bill).
5)
Proof of Canadian Citizenship or of
Landed Immigrant Status.
•
All documentation must be submitted in
English
Any student already attending St. Gerard will be
registered for FDL, there is no need to re-register.
FUNDRAISER WINNER
ALL STAR READING SET TO GO
Thank you to our many parent volunteers who are again part of
All Star Reading. Your contribution towards supporting reading
at St. Gerard School is deeply appreciated. Thank you to Mrs.
Rukavina and Mrs. Barca for overseeing our All Star Program.
REMEMBRANCE DAY
On November 11th at 10:30 a.m. our whole school community
paused to reflect on the sacrifices of our fellow Canadians
during a beautiful, respectful liturgy. Thank you to all who
were involved in making it very special and meaningful as we
remembered those who have sacrificed so much for our
freedom. Thank you to Mrs. Escobar, Mrs Likarevic and Mrs.
Doria and their students for organizing such a wonderful
liturgy.
EXTENDED FRENCH/ FRENCH IMMERSION
Grade 4 parent/guardians who wish to enroll their child in a
grade 5 Extended French class for September 2012 are invited
to attend an information meeting on Wednesday January 18,
2012 at 7:00p.m. The meeting will take place at St. Philip
school, 345 Fairview Road West. At the present time, the above
mentioned school is the designated centre for our area.
Applications will be accepted at that centre until 3 p.m. on
Wednesday February 8, 2012.
There will be an information meeting at St. Margaret of
Scotland School on Wednesday January 11 at 7:00p.m. for
parents/guardians of students in SK for the French Immersion
Program for next year.
KINDERGARTEN REGISTRATION
St. Gerard will be a Full Day Learning site in September
2012!
Registration for the 2012-2013 school year will be held on
February 6 (snow date Feb.7) from 7-9p.m. and from Feb 8-10
from 9-11a.m. and 1-3p.m.
Thank you to all who participated in our school
fundraiser t
his year. With your support the school has raised
$4900. This money will pay for an Arts experience
for all students, We have had TV Puppettree
presentations for JK-Gr 1 students, in the spring we
will have the Big Kids theatre come and perform
"Cinderella and the Frog Prince" for Jk- Gr 5 and
for the grade 6-8 students we have dance
workshops. We are able to provide this to kids free
of charge. We have allotted $500 to put toward our
Christmas giving to the St. Vincent de Paul society,
We have purchased a listening centre for grades 1-3,
FSL and ESL. We have purchased an LCD projector
so that students can now use powerpoint as a
presentation option and we will be contributing to
the cost of the AussieX program which is coming to
our school in January.
Congratulations to the following winners:
FIRST PRIZE - DS 3D
- Emily B.
SECOND PRIZE - Bag of Nike Items - Cheska M.
THIRD PRIZE - Night at the Movies –
Rheyannah D.
We had 5 students who sold the same amount and so
instead of selecting someone for the fourth and fifth
place prizes, we added some prizes so that they
could all receive one. Those students are Hayden C.,
Madison M., Dante M., Arthur B. and Kayla L,
Class Pizza Winners are: Mrs Naiker AM and Mr
Zulianello AM, Mrs. Tirilis, Mrs. Hill, Mrs.
Dewsnap and Mrs. Likarevic.
Dates to Remember –December
Dec 8 – 10am Advent Mass
Dec 12 – 5/6 class to Silvercreek
Dec 16 – 9-11:30 am Santa Photos
Dec 16 – Gr 4 and 4/5 to the Woodlands Library
Dec 19 – Rosary Apostolate visit
Dec 22 – Red and Green Day/ Carol Singing
Dec 23 – Full day of school
Dec 25 – Merry Christmas!
Jan 9/2012 – School Resumes.