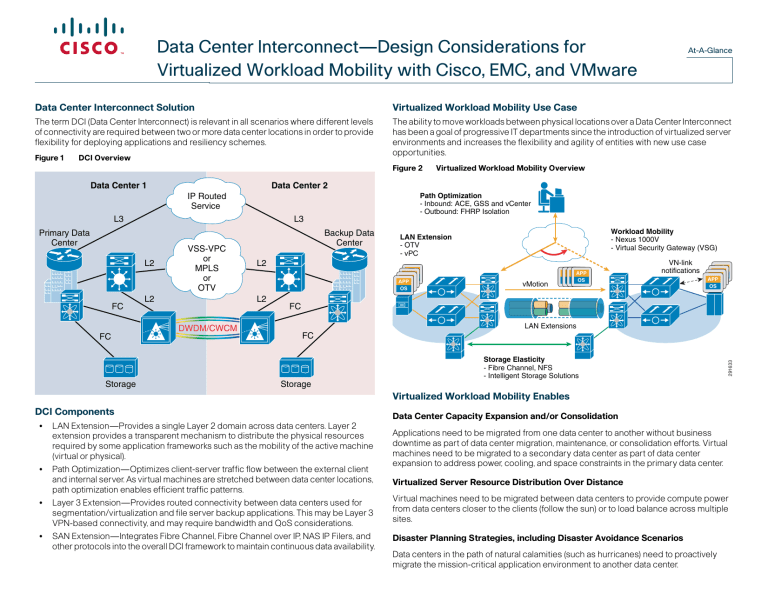 Data Center Interconnect—Design Considerations for
Virtualized Workload Mobility with Cisco, EMC, and VMware
At-A-Glance
Data Center Interconnect Solution
Virtualized Workload Mobility Use Case
The term DCI (Data Center Interconnect) is relevant in all scenarios where different levels
of connectivity are required between two or more data center locations in order to provide
flexibility for deploying applications and resiliency schemes.
The ability to move workloads between physical locations over a Data Center Interconnect
has been a goal of progressive IT departments since the introduction of virtualized server
environments and increases the flexibility and agility of entities with new use case
opportunities.
DCI Overview
Figure 2
Data Center 1
Data Center 2
Path Optimization
- Inbound: ACE, GSS and vCenter
- Outbound: FHRP Isolation
IP Routed
Service
L3
L3
Primary Data
Center
L2
FC
VSS-VPC
or
MPLS
or
OTV
L2
Backup Data
Center
Workload Mobility
- Nexus 1000V
- Virtual Security Gateway (VSG)
LAN Extension
- OTV
- vPC
L2
APP
APP
OS
APP
OS
APP
OS
OS
L2
DWDM/CWCM
FC
Virtualized Workload Mobility Overview
vMotion
APP
APP
APP
APP
OS
OS
OS
OS
VN-link
notifications
APP
APP
OS
APP
OS
APP
OS
OS
FC
LAN Extensions
FC
Storage Elasticity
- Fibre Channel, NFS
- Intelligent Storage Solutions
Storage
291633
Figure 1
Storage
Virtualized Workload Mobility Enables
DCI Components
•
•
•
•
LAN Extension—Provides a single Layer 2 domain across data centers. Layer 2
extension provides a transparent mechanism to distribute the physical resources
required by some application frameworks such as the mobility of the active machine
(virtual or physical).
Path Optimization—Optimizes client-server traffic flow between the external client
and internal server. As virtual machines are stretched between data center locations,
path optimization enables efficient traffic patterns.
Layer 3 Extension—Provides routed connectivity between data centers used for
segmentation/virtualization and file server backup applications. This may be Layer 3
VPN-based connectivity, and may require bandwidth and QoS considerations.
SAN Extension—Integrates Fibre Channel, Fibre Channel over IP, NAS IP Filers, and
other protocols into the overall DCI framework to maintain continuous data availability.
Data Center Capacity Expansion and/or Consolidation
Applications need to be migrated from one data center to another without business
downtime as part of data center migration, maintenance, or consolidation efforts. Virtual
machines need to be migrated to a secondary data center as part of data center
expansion to address power, cooling, and space constraints in the primary data center.
Virtualized Server Resource Distribution Over Distance
Virtual machines need to be migrated between data centers to provide compute power
from data centers closer to the clients (follow the sun) or to load balance across multiple
sites.
Disaster Planning Strategies, including Disaster Avoidance Scenarios
Data centers in the path of natural calamities (such as hurricanes) need to proactively
migrate the mission-critical application environment to another data center.
Data Center Interconnect—Design Considerations for Virtualized Workload Mobility with Cisco, EMC, and VMware
Virtualized Workload Mobility Solution Components
The DCI solution is modular, allowing new technologies and advancements to be
seamlessly inserted into the Virtualized Workload Mobility case.
LAN Extension (Two Options in this Solution)
•
•
Option A—Layer 2 dynamic MAC encapsulation in IP using Overlay Transport
Virtualization (OTV) on the Nexus 7000
Option B—Native Layer 2 Ethernet extension using Virtual Port Channels (vPC) on
the Nexus 7000
Path Optimization
•
•
Ingress Optimization—DNS-based resolution with the Cisco Global Site Selector
(GSS), Application Control Engine (ACE), and integration with VMware vCenter.
Note: LISP is a new option on the Nexus 7000 with NX-OS 5.2.
Egress Optimization—First Hop Redundancy Protocol with HSRP Localization on the
Nexus 7000
•
Intelligent Storage Solutions—EMC VPLEX Metro is the technology for distributed
virtual volumes with synchronous storage replication and guaranteed cache
coherency between directors over 100 kilometers.
Virtualized Workload Mobility Use Case Criteria
The boundaries of Virtualized Workload Mobility are derived from within the scope of the
solution components and use case.
• Live Migration—A live virtual machine migration requires a Hypervisor layer and
VMware ESXi 4.1 is selected. VMware vMotion has a 5 millisecond latency
requirement that translates to approximately 100-400 kilometers.
• Non-Disruptive—Existing and new server transactions must be maintained before,
during and after the Virtualized Workload Mobility migration.
• Continuous Data Availability—Storage content must be accessible wherever the
virtual machine is located, which requires synchronous replication and intelligent
storage solutions, including the EMC VPLEX Metro. Synchronous replication is
approximately 100 kilometers between locations.
Figure 3
Virtualized Workload Mobility Solution Components
Virtualization/Workloads
•
•
•
Nexus 1000v—Stretched cluster support with stateful Port Profile mobility, including
QoS, Port Security, and Statistics. Virtual Supervisor Module (VSM) and Virtual
Ethernet Module (VEM) distributed over 100 kilometers.
Virtual Security Gateway—Stretched cluster support with Stateful Security Profile
mobility, including stateful firewall, zoning, and protection over 100 kilometers.
Innovative vPath technology embedded in virtual machine VEM forwarding logic for
optimized VSG performance.
VMware vCenter and ESXi 4.1—VMware strategic partnership using the ESXi 4.1
Hypervisor for virtualizing physical servers and vCenter for virtualization
management and workflow integration with the ACE/GSS for Ingress Path
Optimization. VMware vMotion technology for virtual machine mobility.
Workflow Integration between vCenter and
Cisco ACE/GSS triggers a DNS entry change, pointing to new Data Center
Data Center 1
VSM
(Active)
VSM
(Standby)
Data Center 2
OTV
Vcenter
(Active)
Virtualized Workload Mobility
vSphere
vSphere
Nexus 100V VEM
Nexus 100V VEM
vSphere
vSphere
Nexus 100V VEM
Nexus 100V VEM
VM
Storage Elasticity with EMC
•
Shared Storage Model—EMC strategic partnership using Fibre Channel Protocol for
Read/Write access to storage content. The MDS 9000 is used for VSAN definitions
per data center and inter-VSAN routing between data centers over 100 kilometers.
Distribution Virtual Volume with EMC VPLEX Metro
100 km
For more information about DCI, see:
• http://www.cisco.com/en/US/docs/solutions/Enterprise/Data_Center/DCI/4.0/EMC/dciEmc.html
• http://www.cisco.com/en/US/solutions/ns340/ns414/ns742/ns743/ns749/landing_site_selection.html
• http://www.cisco.com/go/dci
Contact: Jake Howering, [email protected], DCI Product Manager.
Copyright © 2011 Cisco Systems, Inc. All rights reserved. Cisco, the Cisco logo, Cisco Systems, and the Cisco Systems logo are registered trademarks or trademarks of Cisco Systems, Inc. and/or its affiliates in the United States and certain other countries.