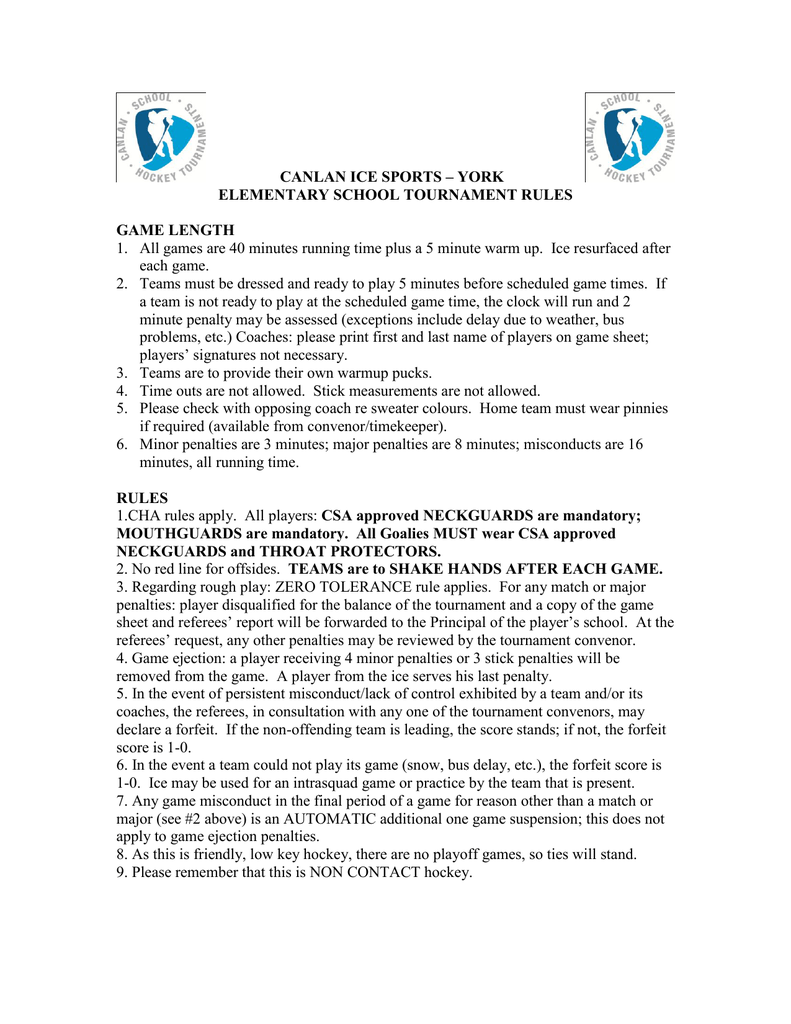 CANLAN ICE SPORTS – YORK
ELEMENTARY SCHOOL TOURNAMENT RULES
GAME LENGTH
1. All games are 40 minutes running time plus a 5 minute warm up. Ice resurfaced after
each game.
2. Teams must be dressed and ready to play 5 minutes before scheduled game times. If
a team is not ready to play at the scheduled game time, the clock will run and 2
minute penalty may be assessed (exceptions include delay due to weather, bus
problems, etc.) Coaches: please print first and last name of players on game sheet;
players' signatures not necessary.
3. Teams are to provide their own warmup pucks.
4. Time outs are not allowed. Stick measurements are not allowed.
5. Please check with opposing coach re sweater colours. Home team must wear pinnies
if required (available from convenor/timekeeper).
6. Minor penalties are 3 minutes; major penalties are 8 minutes; misconducts are 16
minutes, all running time.
RULES
1.CHA rules apply. All players: CSA approved NECKGUARDS are mandatory;
MOUTHGUARDS are mandatory. All Goalies MUST wear CSA approved
NECKGUARDS and THROAT PROTECTORS.
2. No red line for offsides. TEAMS are to SHAKE HANDS AFTER EACH GAME.
3. Regarding rough play: ZERO TOLERANCE rule applies. For any match or major
penalties: player disqualified for the balance of the tournament and a copy of the game
sheet and referees' report will be forwarded to the Principal of the player's school. At the
referees' request, any other penalties may be reviewed by the tournament convenor.
4. Game ejection: a player receiving 4 minor penalties or 3 stick penalties will be
removed from the game. A player from the ice serves his last penalty.
5. In the event of persistent misconduct/lack of control exhibited by a team and/or its
coaches, the referees, in consultation with any one of the tournament convenors, may
declare a forfeit. If the non-offending team is leading, the score stands; if not, the forfeit
score is 1-0.
6. In the event a team could not play its game (snow, bus delay, etc.), the forfeit score is
1-0. Ice may be used for an intrasquad game or practice by the team that is present.
7. Any game misconduct in the final period of a game for reason other than a match or
major (see #2 above) is an AUTOMATIC additional one game suspension; this does not
apply to game ejection penalties.
8. As this is friendly, low key hockey, there are no playoff games, so ties will stand.
9. Please remember that this is NON CONTACT hockey.