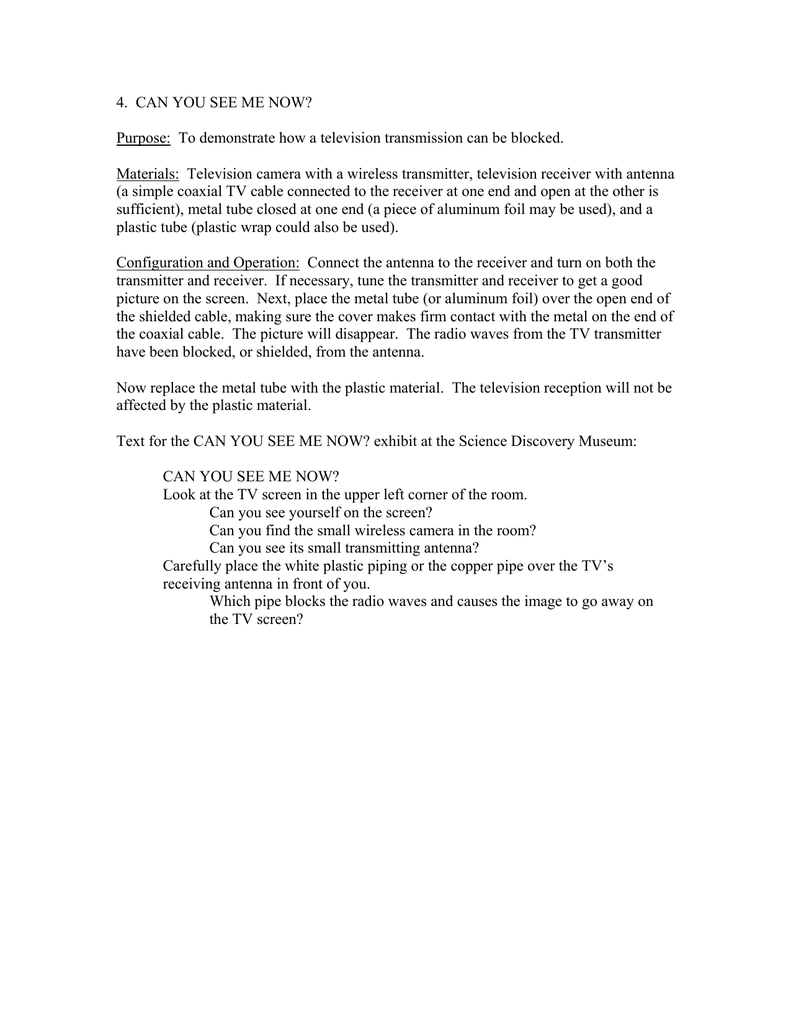 4. CAN YOU SEE ME NOW?
Purpose: To demonstrate how a television transmission can be blocked.
Materials: Television camera with a wireless transmitter, television receiver with antenna
(a simple coaxial TV cable connected to the receiver at one end and open at the other is
sufficient), metal tube closed at one end (a piece of aluminum foil may be used), and a
plastic tube (plastic wrap could also be used).
Configuration and Operation: Connect the antenna to the receiver and turn on both the
transmitter and receiver. If necessary, tune the transmitter and receiver to get a good
picture on the screen. Next, place the metal tube (or aluminum foil) over the open end of
the shielded cable, making sure the cover makes firm contact with the metal on the end of
the coaxial cable. The picture will disappear. The radio waves from the TV transmitter
have been blocked, or shielded, from the antenna.
Now replace the metal tube with the plastic material. The television reception will not be
affected by the plastic material.
Text for the CAN YOU SEE ME NOW? exhibit at the Science Discovery Museum:
CAN YOU SEE ME NOW?
Look at the TV screen in the upper left corner of the room.
Can you see yourself on the screen?
Can you find the small wireless camera in the room?
Can you see its small transmitting antenna?
Carefully place the white plastic piping or the copper pipe over the TV's
receiving antenna in front of you.
Which pipe blocks the radio waves and causes the image to go away on
the TV screen?