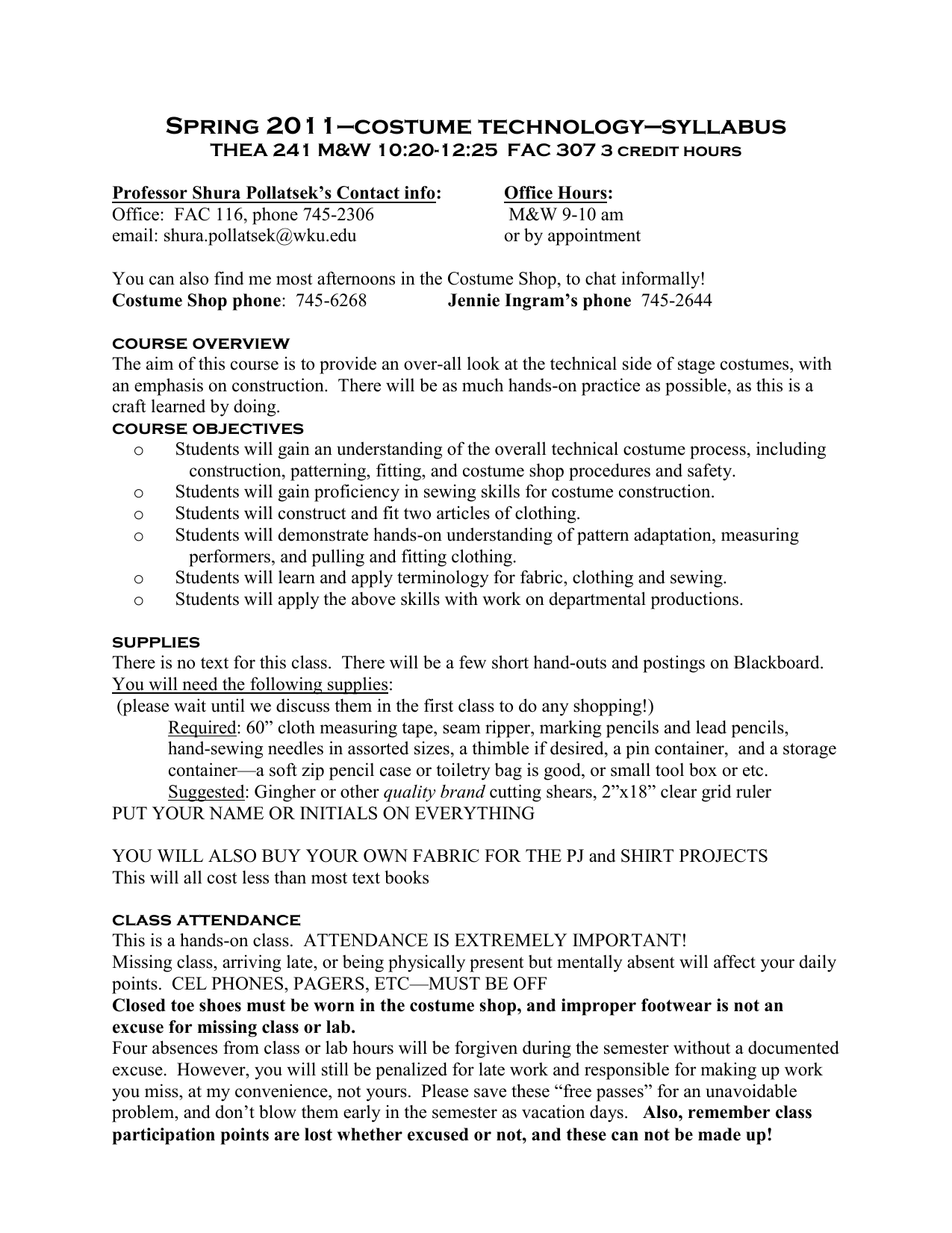 Spring 2011—costume technology—syllabus
THEA 241 M&W 10:20-12:25 FAC 307 3 credit hours
Professor Shura Pollatsek's Contact info:
Office: FAC 116, phone 745-2306
email: [email protected]
Office Hours:
M&W 9-10 am
or by appointment
You can also find me most afternoons in the Costume Shop, to chat informally!
Costume Shop phone: 745-6268
Jennie Ingram's phone 745-2644
course overview
The aim of this course is to provide an over-all look at the technical side of stage costumes, with
an emphasis on construction. There will be as much hands-on practice as possible, as this is a
craft learned by doing.
course objectives
o
Students will gain an understanding of the overall technical costume process, including
construction, patterning, fitting, and costume shop procedures and safety.
o
Students will gain proficiency in sewing skills for costume construction.
o
Students will construct and fit two articles of clothing.
o
Students will demonstrate hands-on understanding of pattern adaptation, measuring
performers, and pulling and fitting clothing.
o
Students will learn and apply terminology for fabric, clothing and sewing.
o
Students will apply the above skills with work on departmental productions.
supplies
There is no text for this class. There will be a few short hand-outs and postings on Blackboard.
You will need the following supplies:
(please wait until we discuss them in the first class to do any shopping!)
Required: 60" cloth measuring tape, seam ripper, marking pencils and lead pencils,
hand-sewing needles in assorted sizes, a thimble if desired, a pin container, and a storage
container—a soft zip pencil case or toiletry bag is good, or small tool box or etc.
Suggested: Gingher or other quality brand cutting shears, 2"x18" clear grid ruler
PUT YOUR NAME OR INITIALS ON EVERYTHING
YOU WILL ALSO BUY YOUR OWN FABRIC FOR THE PJ and SHIRT PROJECTS
This will all cost less than most text books
class attendance
This is a hands-on class. ATTENDANCE IS EXTREMELY IMPORTANT!
Missing class, arriving late, or being physically present but mentally absent will affect your daily
points. CEL PHONES, PAGERS, ETC—MUST BE OFF
Closed toe shoes must be worn in the costume shop, and improper footwear is not an
excuse for missing class or lab.
Four absences from class or lab hours will be forgiven during the semester without a documented
excuse. However, you will still be penalized for late work and responsible for making up work
you miss, at my convenience, not yours. Please save these "free passes" for an unavoidable
problem, and don't blow them early in the semester as vacation days. Also, remember class
participation points are lost whether excused or not, and these can not be made up!
ABSENCES: the 5th unexcused absence costs you 5% of your total semester's points
the 6th unexcused absence—10%
7th unexcused absence—15%
8th unexcused absence—20%
more than 8 can jeopardize your chances of passing the class
EXCUSED ABSENCES:
I will excuse absences in the case of serious illness, emergency, or death in the family. You may
be required to furnish written proof, such as a doctor's note, obituary, etc. Approved university
activities will be excused if you notify me in advance, and make arrangements to cover the work
you will miss.
TARDINESS: (not being present at the very start of class, ready to work)
Four unexcused tardies will equal one unexcused absence. Being more than a few minutes late
will also hurt your participation points for the day.
grade components
CLASS PARTICIPATION- 3 per class or lab/class work session (31x3=93)
PRODUCTION WORK—45 points for completing 18 hours. Each hour missing below the
required 18 will cost you 5 points. For detailed policy, please see separate lab hour
policy.
QUIZZES (6)——60 points total
these are simple quizzes to make sure you are retaining information
SMALL ASSIGNMENTS & HOMEWORK --5 pts ea
BASIC TECHNIQUES-25 points
QUILT SQUARE PROJECT—35 points
SHORTS/PJ PROJECT—40 points
SHIRT PROJECT—60 points
FINAL EXAM--55 points
Project grades will be based on skills, effort, and overall appearance.
Late assignments will lose 10% of the assignment's value (one letter grade) per day they
are late.
It is the student's responsibility to keep track of material and assignments missed, and
make arrangements to make up work and quizzes. I want you to make up missed work, but it
is your responsibility to talk to me—I will not chase you down!
Missed quizzes may be made up, at my discretion. The same penalty applies as for late work,
minus 10% per day—DO make them up, but DON'T put it off!!!
You are welcome to come in during afternoon hours to finish up projects, just please check
ahead of time with me or with Jennie.
grading formula
approx. %
Activity
point value
of total grade
Class Participation
93
20%
Production Work
45
10
Quizzes
60
14%
Small Assignments
30
7%
Basic Techniques
25
6%
Quilt Square
35
8%
Shorts/PJ
40
9%
Period Shirt
60
14%
Final Exam
55
12%
total
443
100%
A=90-100%, B-80-89%, C=70-79%, D=60-69, F=59 or below
other policies
CEL PHONES AND OTHER NOISE MAKERS—please keep them off during class!
INCOMPLETES
Incompletes will be granted only under very extreme circumstances.
ACADEMIC DISHONESTY
Any cheating or plagiarizing on assignments or quizzes will cause zero points for said
assignment, and possibly failure of the course for grave offenses.
DISABILITIES
Students with disabilities who require accommodations (academic adjustments and /or auxiliary
aids or services) for this course must contact the Office for Student Disability Services, Downing
University Center, A-200. The OFSDS telephone number is (270) 745-5004 V/TDD.
Per university policy, please do not request accommodations directly from the professor or
instructor without a letter of accommodation from the Office for Student Disability Services.
CHANGES
I reserve the right to make reasonable changes to the syllabus, including schedule, due dates, or
points at any time. Changes will be announced with sufficient warning for you to plan ahead.
Lab Hour and Production Work Expectations

You must schedule your two lab hours per week with the Shop Supervisor at the
beginning of the semester.

You are expected to be present and on time for these hours. When we do production
work, whether in class time or lab hours, our shop work plan is usually mapped out a
week in advance under the assumption that everyone scheduled to work will be there.

Banking hours is considered a schedule change and is not permitted without prior
approval from the Shop Supervisor. If you are working on a project and would like to
stay beyond your scheduled time to finish something you may do so, but if you wish
these hours to be counted towards your total, you must first receive permission. Staying
late without approval will not allow you to miss future scheduled hours!

With prior permission from the Shop Supervisor lab hours can be temporarily rescheduled. This is a privilege, not a right, so please do not abuse it! Barring any
extreme and unforeseen circumstances these arrangements should occur a week in
advance. (Extreme and unforeseen circumstances include situations such as a death in
the family or illness.) Depending on circumstances and shop schedules you may be
required to complete re-scheduled production work hours prior to the time you have
scheduled to take off.

The first time you miss production work time, whether during class hours or lab hours,
you may make up the hours at a 1 to 1 ratio. Beyond this, any hours missed may be made
up, but at a 2 to 1 ratio (two makeup hours to compensate for one missed hour.) Make up
hours must be scheduled and approved in advance by the Shop Supervisor. Make up
hours can happen during regular shop hours or during crunch weekends. DO NOT
WAIT UNTIL THE END OF THE SEMESTER- WE WON'T NEED YOU THEN!!