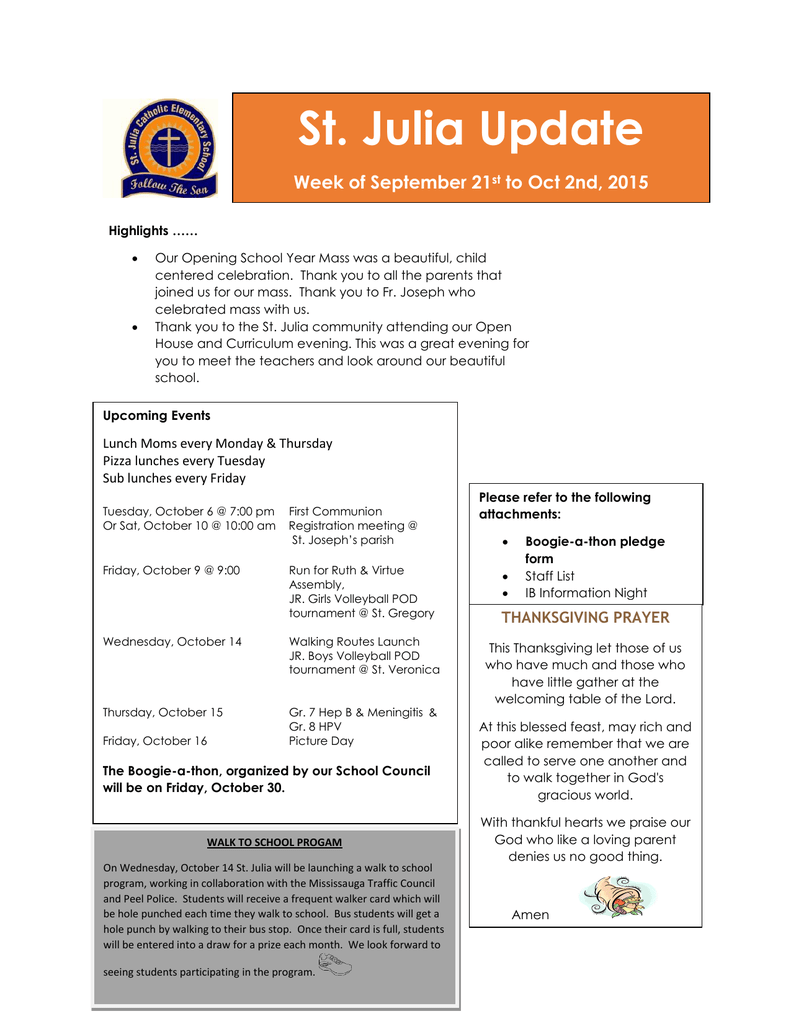 St. Julia Update
Week of September 21st to Oct 2nd, 2015
Highlights ……


Our Opening School Year Mass was a beautiful, child
centered celebration. Thank you to all the parents that
joined us for our mass. Thank you to Fr. Joseph who
celebrated mass with us.
Thank you to the St. Julia community attending our Open
House and Curriculum evening. This was a great evening for
you to meet the teachers and look around our beautiful
school.
Upcoming Events
Lunch Moms every Monday & Thursday
Pizza lunches every Tuesday
Sub lunches every Friday
Tuesday, October 6 @ 7:00 pm
Or Sat, October 10 @ 10:00 am
Friday, October 9 @ 9:00
First Communion
Registration meeting @
St. Joseph's parish
Run for Ruth & Virtue
Assembly,
JR. Girls Volleyball POD
tournament @ St. Gregory
Wednesday, October 14
Walking Routes Launch
JR. Boys Volleyball POD
tournament @ St. Veronica
Thursday, October 15
Gr. 7 Hep B & Meningitis &
Gr. 8 HPV
Picture Day
Friday, October 16
The Boogie-a-thon, organized by our School Council
will be on Friday, October 30.
WALK TO SCHOOL PROGAM
On Wednesday,
October
14 St. Julia will
launching
walk to school
Parents
are welcome
to be
attend
oura events
program, working in collaboration with the Mississauga Traffic Council
and Peel Police. Students will receive a frequent walker card which will
be hole punched each time they walk to school. Bus students will get a
hole punch by walking to their bus stop. Once their card is full, students
will be entered into a draw for a prize each month. We look forward to
seeing students participating in the program.
Please refer to the following
attachments:



Boogie-a-thon pledge
form
Staff List
IB Information Night
THANKSGIVING PRAYER
This Thanksgiving let those of us
who have much and those who
have little gather at the
welcoming table of the Lord.
At this blessed feast, may rich and
poor alike remember that we are
called to serve one another and
to walk together in God's
gracious world.
With thankful hearts we praise our
God who like a loving parent
denies us no good thing.
Amen
From the Office….
AFTER SCHOOL ARRANGEMENTS If your child's pick up schedule has changed please let the classroom
teacher know by sending a note or adding it to the agenda. As you can appreciate, the office is a very
busy place and at times we cannot always respond to late day messages or phone calls. To ensure that
your child is notified of any changes to your schedules please send a note or call early in the school day.
VISITORS TO THE SCHOOL All visitors, including parents and former students must check in at the main office
before proceeding to any other area of the school. If you are dropping off a lunch for your child, please
leave it at the table by the entrance where there are pens and labels available for identification. We thank
the school community for dropping off lunches at the 11:45 am bell, to limit the amount of doorbell
interruptions to the office. If you are picking up your child early, the best practice is to send a note to the
teacher with the time for your child to come to the office, this way we avoid interrupting the classes. Please
report to the office and sign them out.
RUN FOR RUTH
On Thursday, December 27, 2013 the St. Julia community suffered a great loss. Ruth Katelyn Cruz, a grade
4 student at St. Julia passed away after a long and hard fought battle against a brain tumour. In memory of
Ruth Katelyn Cruz, we hold our annual Run for Ruth in October. This year it will be held on Friday, October 9,
2015. The day will begin with a school gathering around the Peace Garden for a beautiful liturgy. Throughout
the day, each class will walk or run around the neighbourhood, showing their support for such an important
cause. We are asking students to donate a toonie. The Cruz family has asked that all proceeds raised be
donated to The Make a Wish Foundation & Share Life. We look forward to a successful Run for Ruth 2015.
MISSED WORK DUE TO ABSENCES
When children are absent from school they miss important lessons and work that extends from these
teachings. If a child is absent due to illness we kindly request that children get the needed rest they require
so they can come back to school healthy. The teachers will not be sending daily work home for your
son/daughter to "catch up". They will spend time assisting students on their return to school. If your
son/daughter is absent due to extended illness, please contact Mrs. Nichols to discuss some available
options.
ILLNESS
Children who come to school are expected to participate fully in the class program. This includes taking
recess breaks with the class. If your child needs to remain indoors for recesses a medical note should be
provided.
CROSS COUNTRY
The MBC Family Meet will be held at Terry Fox Park in Brampton (formerly Chinguacousy) on
Friday, October 16th. The DP Board Meet will be held on Oct. 26 at Centennial Park.
Congratulations to the following team members:
Grade 4/5 girls: Abbey S, Julia A, Gabrielle A, Megan G, Elizabeth G, Leana G, Zara M, Ava V, Sienna A,
Emma V
Grade 4/5 boys: Reuben R, Lucas G, Sebastian P, Michael C, Carter B, Nicolas P, Sebastian L, Patrick P,
Riley
Grade 6 girls:
Nikole F, Alesha J, Venice E, Jolina M
Grade 6 boys: Matteo M, William L, Ikenna A, Zachary D, Justin C
Grade 7 girls:
Simone C, Maya J, Lynelle L, Julia R
Grade 7 boys: Robert M, Sebastian M, Christian N, Anthony F, Chanslar O
Grade 8 girls:
Michelle JM, Monica F, Olivia S, Magda B, Vanessa B, Alicia R, Maria P
Grade 8 boys: Kevin I, Justin S, Quinn L, Quentin W, Scotty E, Joshua M
Thank you to our coaches: Ms. Jenkins, Mrs. Galasso, Mrs. Quintana, Mrs. Starnino & Mrs. Corrente
Pupil Accommodation Review Policy Public Consultation
The Ministry of Education released the new Pupil Accommodation Review Guideline (PARG) in March 2015. This
guideline sets expectations for all school boards on managing and reviewing underutilized school space,
including potential school closures, and for the greater coordination and sharing of planning related information
between school boards and other community partners.
The guideline requires all school boards in the province to develop or revise Pupil Accommodation Review
Policies and to invite public input into the policy before it is finalized.
A survey to collect feedback on the Dufferin-Peel Catholic District School Board's draft amended Policy 6.51 Pupil
Accommodation Review will be available for review and comment on the Board's website at www.dpcdsb.org
until 4:30 pm on Friday, October 16, 2015. Supporting documents will also be available for reference and review.
Please consider reviewing and providing input on this policy.
Please join me in welcoming back our staff:
TEACHER
GRADE Voice Mail
Ms. O'Donohue
Ms. Burns
Ms. Laing
Ms. Chai
Ms. Di lorio
Ms. Nasato
Ms. Marcanio
Ms. Cicak
Ms. Kerrigan
Ms. Bitti
Ms. Singh
Ms. Starnino
Mr. Di Costanza
Ms. Hewitt
Ms. Jenkins
Ms. Cardoso
Mr. Morrice
Ms. Laratta
Mr. Pritchard
Mr. Monahan
Ms. Buczek
Ms. Galasso
Ms. Miceli
Ms. Quintana
Ms. Corrente
Ms. Wendel
Ms. Zivkovic
Ms. Fernandez
Mrs. Pace PT
FDK
53986
FDK
55995
FDK
53994
1
53969
1/2
53992
1 /2
53993
2
53971
2/3
53961
3
53988
3
53980
4
53991
4
53991
5
53989
5
53944
5/6
53986
6
53978
6
53985
7
53972
7
53977
8
53974
8
53964
8
53975
NM/NS 53965
SERT
SERT
ESL/SERT/PT
SERC
PT
53973
53984
53990
53946
53987
53951
DECE TEAM
Ms. Centrone, Ms. Freitas, Ms. Roach
ERW TEAM
Ms. Gasparini, Ms. Jose, Ms. Piekarz, Ms. Pimental, Ms. Sikora,
Ms. Lalonde, Mr. Turner
LIBRARY
Ms. Cheong
53963
FSL
Mlle. Giansante
53959
Mlle. Rago
53945
HEAD CUSTODIAN
NIGHT CUSTODIANS
Mr. Reale
Ms. Gallego & Mr. Matugas
LUNCH HOUR STUDENT MONITORS
Mrs. Vivilecchia, Mr. Cini, Ms. Vinueza, Mrs. Mucci & Ms. Longo
Traffic Safety Council
Please be advised that Traffic Safety Council has scheduled site inspections for two locations that
serve both schools named above. The locations are Second Line and Sombrero Way and Second
Line and Lamplight Way. Both will be done on October 21 2015. The site inspection for Second Line
and Sombrero Way will be held from 8:15 – 9:05 and 3:15 – 4:10. The site inspection for Second
Line and Lamplight Way will be done from 8:35 – 9:05 and 3:40 – 4:10.