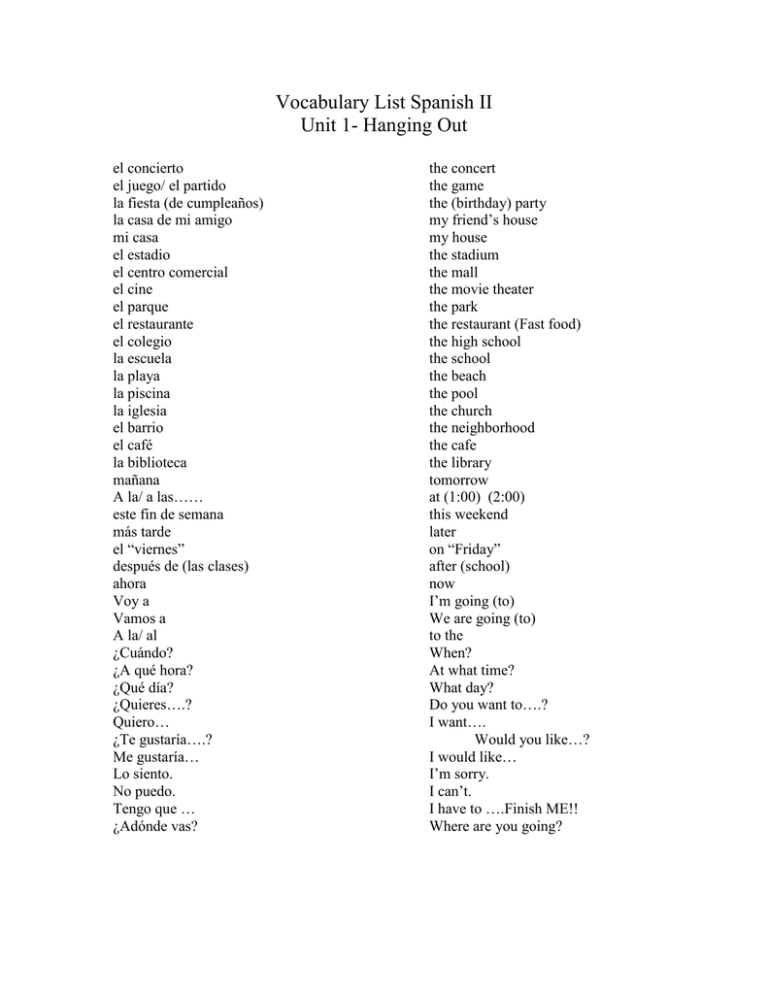 Vocabulary List Spanish II
Unit 1- Hanging Out
el concierto
el juego/ el partido
la fiesta (de cumpleaños)
la casa de mi amigo
mi casa
el estadio
el centro comercial
el cine
el parque
el restaurante
el colegio
la escuela
la playa
la piscina
la iglesia
el barrio
el café
la biblioteca
mañana
A la/ a las……
este fin de semana
más tarde
el "viernes"
después de (las clases)
ahora
Voy a
Vamos a
A la/ al
¿Cuándo?
¿A qué hora?
¿Qué día?
¿Quieres….?
Quiero…
¿Te gustaría….?
Me gustaría…
Lo siento.
No puedo.
Tengo que …
¿Adónde vas?
the concert
the game
the (birthday) party
my friend's house
my house
the stadium
the mall
the movie theater
the park
the restaurant (Fast food)
the high school
the school
the beach
the pool
the church
the neighborhood
the cafe
the library
tomorrow
at (1:00) (2:00)
this weekend
later
on "Friday"
after (school)
now
I'm going (to)
We are going (to)
to the
When?
At what time?
What day?
Do you want to….?
I want….
Would you like…?
I would like…
I'm sorry.
I can't.
I have to ….Finish ME!!
Where are you going?