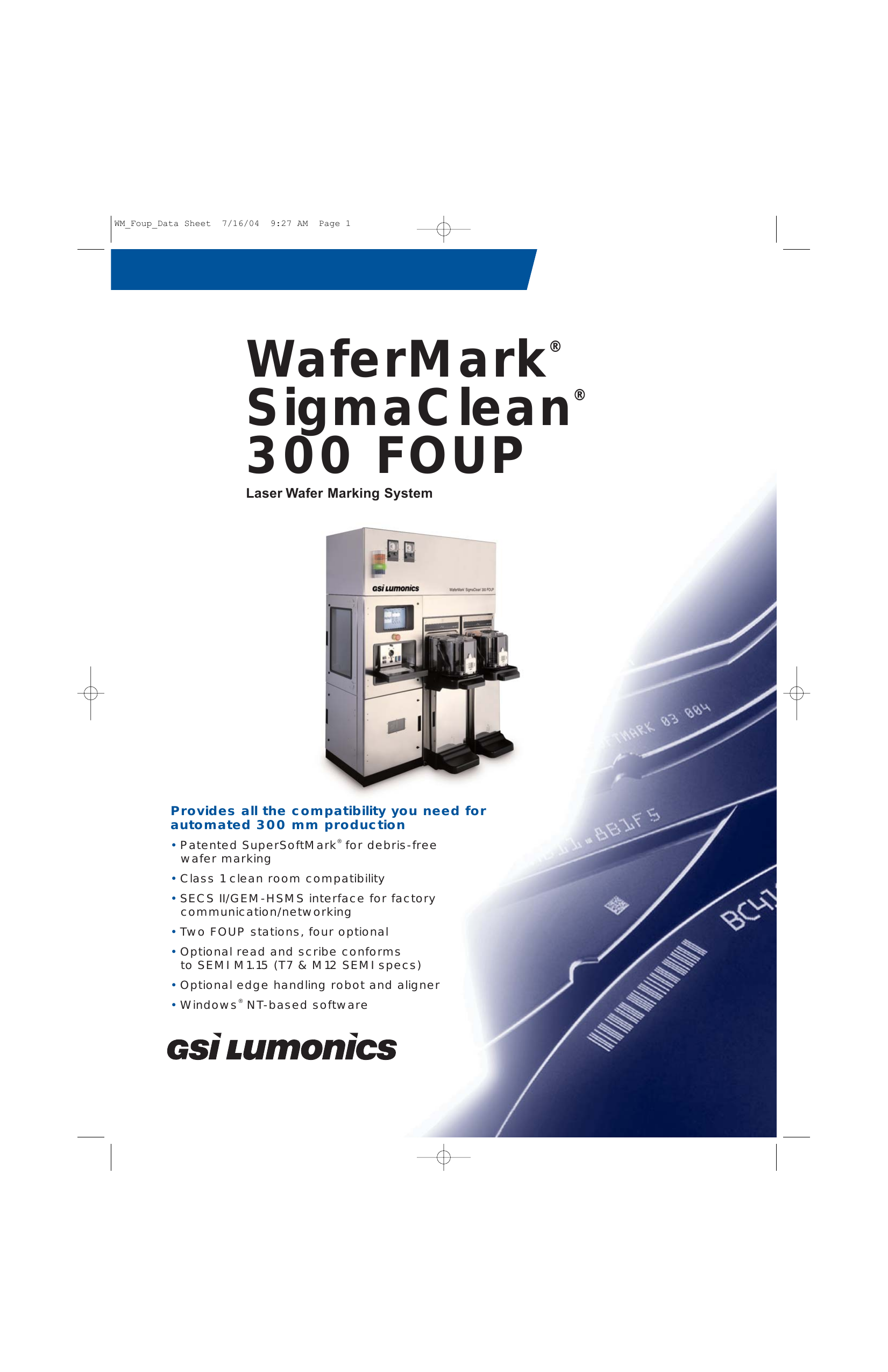 WM_Foup_Data Sheet
7/16/04
9:27 AM
Page 1
WaferMark
SigmaClean
300 FOUP
®
Laser Wafer Marking System
Provides all the compatibility you need for
automated 300 mm production
• Patented SuperSoftMark® for debris-free
wafer marking
• Class 1 clean room compatibility
• SECS II/GEM-HSMS interface for factory
communication/networking
• Two FOUP stations, four optional
• Optional read and scribe conforms
to SEMI M1.15 (T7 & M12 SEMI specs)
• Optional edge handling robot and aligner
• Windows® NT-based software
®
WM_Foup_Data Sheet
7/16/04
9:27 AM
Page 2
Automated Laser Marking
for 300 mm Wafer
Traceability
marks, and it features an ultra-stable diodepumped laser that was specifically designed for
high-contrast marking of wafers. The system
provides the ability to mark OCR, BC412, and
2-D Matrix font formats.
other standard 300 mm equipment, tightly
integrated robotic transport, vision and laser
technologies, automated system data logging
functions. These critical features – and more –
are brought together under a Windows NT®
GUI-based interface for high productivity. Only
the WaferMark SigmaClean 300 FOUP provides
this level of integration with proven dependability.
The WaferMark® SigmaClean® 300 FOUP uses
laser technology to place permanent, highly
readable marks on wafers to allow traceability
of the wafers through the semiconductor
processes. The most recent addition to
GSI Lumonics' proven WaferMark family, it
provides the compatibility, cleanliness levels,
mark quality, and reliability required to support
high-volume 300 mm production.
Worldwide Service and
Support
Throughout the semiconductor world, our
applications engineers and materials scientists
continue to develop new solutions in step with
semiconductor process advancements. Our
service technicians are trained in every aspect
of maintenance and troubleshooting, and parts
are stocked locally in North America, Japan,
Hong Kong, Taiwan, Korea, and Europe.
And The Highest Quality
Marks, Of Course
Because it's a WaferMark system from
GSI Lumonics, you'll benefit from our 20+
years of wafer marking experience. The system
incorporates our field-proven, patented
SuperSoftMark® system for producing durable
Proven Technology
Standards-based factory networking, FOUP
wafer carrier support for compatibility with
Specifications
Utilities:
• Marking Modes: Dot Matrix Mode (straight line or arc marking)
®
• SuperSoftMark Process:
- Debris Free: based on 0.02 particles/cm, 0.17 µm particle size,
measured over a 5 mm area
- Dot Diameter: 70 µm + 10 µm
- Inside Diameter: 42 µm + 11 µm
- Dot Roundness: major to minor axis ratio less than 1.1
- Dot Depth: 2.6 µm + 0.4 µm
- Throughput: 125 wafers/hour single pulse,
5 x 9 dot matrix, 12 characters
- Throughput Using Edge Handling Option: 40 wafers/hour
- Material: polished, non-coated pure silicon wafers
• Marking Fonts (Standard):
- 9x17 Single Density Dot Matrix (DM9X17V3)
- 10x18 Double Density Dot Matrix (DMDSMI62)
- 5x9 SEMI-OCR (DMSEMI60 or DM5X9S3)
- T1-93 SEMI Specification BC-412 Bar Code (BBC412A2)
- T7 2D Data Matrix
- Checksum function is user selectable
• Mark Characters: Maximum number of characters = 80 characters
per group
• Mark Field: 50 mm x 50 mm positionable after wafer aligned
• Mark Location:Within a 25 mm band around the wafer circumference
• Mark Repeatability: +/-125 µm in both X and Y axes,
relative to the primary fiducial
• Character Formation: Meets SEMI Specification M12-92
• Laser Type: Acousto-optic Q-switched Nd:YLF diode pumped laser
• Optics: Flat field focusing lens
Options:
• Read & Scribe, Bar Code Reader Input, Edge Handling,
WaferTrace®
•
•
•
•
609.6
(24.0)
609.6
(24.0)
ACCESS AREA
711.2
(28.0)
1640.8
(64.6)
609.6
(24.0)
Wafer Handling:
Wafer Size: 300 mm wafers (optional 200 mm bridge capability)
Alignment: Optical alignment, high resolution wafer aligner
Wafer Transport: Pick and place robotic arm with single effectors
Send and Receive Modules: Two fixed FOUP loaders
1813.6
(71.4)
736.6
(29.0)
1204.0
(47.4)
467.4
(18.4)
1813.6
(71.4)
Workstation:
• Enclosure: Stainless steel, Class 1 clean room compatible with
Class 1 mini-environment
• Control System:
- Windows NT operating system
- Embedded computer controller with hard disk job storage
- Keyboard and flat panel display
- Multiple job file storage capability
- Menu-driven "fill in the blank" software
- Fault and error logging capabilities
- System diagnostic indicators displayed on front panel and
electronics console
- SECS II/GEM interface
- 4-color programmable signal tower
Laser and Optics:
• Electrical: 208 VAC +5%, single phase, 50 Hz or 60 Hz, 23 FLA
• Mark Point Exhaust:
- 20 CFM (560 l/min.) flow rate max.
- 32 mm (1.25") diameter port
• Process Vacuum: 20 hg - 25 hg
• Ambient Conditions:
- Static Charge: 197 Volts/cm (550 Volts/inch) max.
- Air Cooled System Temperature: 12.8˚C - 27˚C (55˚F - 80˚F)
- Humidity: 40%-60% non-condensing
• Dimensions:
- 2159 mm (height) x 1641 mm (width) x 1204 mm (depth)
- 85" (height) x 64.6" (width) x 47.4" (depth)
• Weight:
- 1425 lb. (646.4 Kg)
O "Z" AXIS
Marking Performance:
1640.8
(64.6)
-124.5
(-4.9)
LIGHT
TOWER
FLAT PANEL
MONITOR
2159.0
(85.0)
BREAKER
SWITCH
O "Y" AXIS
ELECTRONICS
PANEL AND
KEY SWITCH
1676.4
(66.0)
-899.2
(-35.4)
FAULT
DISPLAY
PANEL
Dimensions in mm (inches)
Specifications are subject to change. Please consult Product Center for complete details.
The classification of the WaferMark® SigmaClean® 300 FOUP is Class 1/I.
www.gsilumonics.com
Product Center
60 Fordham Road, Wilmington
MA 01887, USA
TEL: +1 (978) 661-4300
FAX: +1 (978) 988-8798
© July 2004, GSI Lumonics Inc.
GSI Lumonics is a trademark.
WaferMark, WaferTrace, SigmaClean, Windows NT and SuperSoftMark
are registered trademarks. Printed in Canada, Item # 172
For sales information, visit our web site
or contact your local distributor.