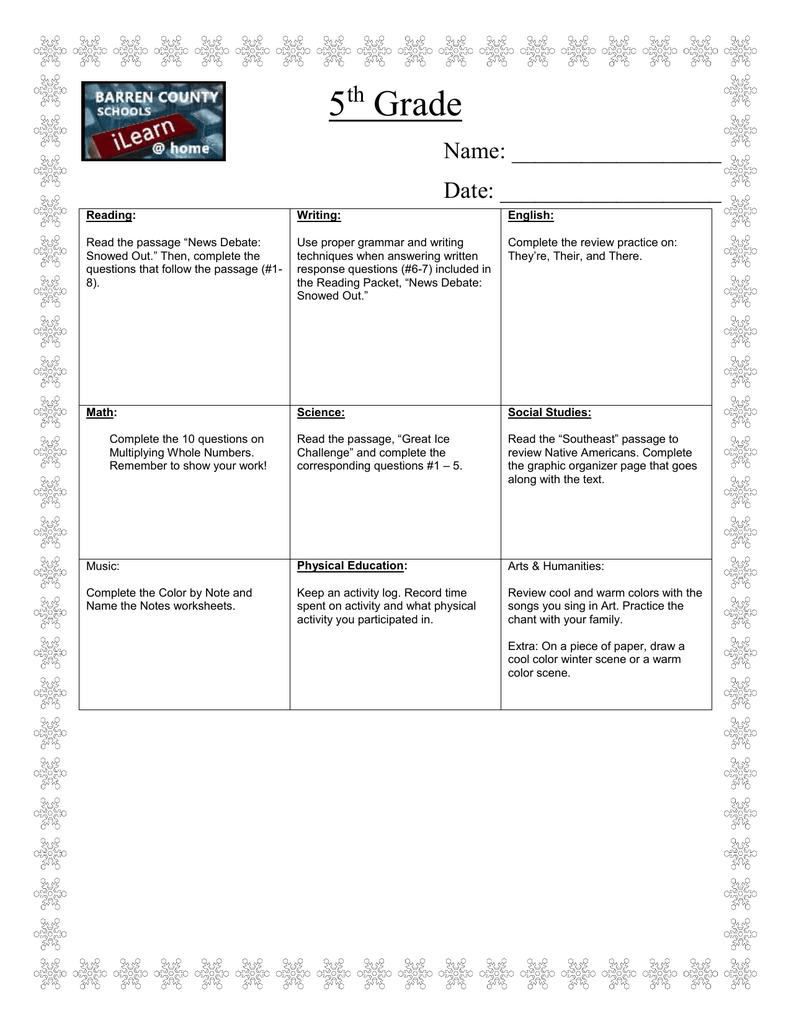 Third Grade
Name
5th Grade
Name: ____________________
Date: _____________________
Reading:
Writing:
English:
Read the passage "News Debate:
Snowed Out." Then, complete the
questions that follow the passage (#18).
Use proper grammar and writing
techniques when answering written
response questions (#6-7) included in
the Reading Packet, "News Debate:
Snowed Out."
Complete the review practice on:
They're, Their, and There.
Math:
Science:
Social Studies:
Read the passage, "Great Ice
Challenge" and complete the
corresponding questions #1 – 5.
Read the "Southeast" passage to
review Native Americans. Complete
the graphic organizer page that goes
along with the text.
Music:
Physical Education:
Arts & Humanities:
Complete the Color by Note and
Name the Notes worksheets.
Keep an activity log. Record time
spent on activity and what physical
activity you participated in.
Review cool and warm colors with the
songs you sing in Art. Practice the
chant with your family.
Complete the 10 questions on
Multiplying Whole Numbers.
Remember to show your work!
Extra: On a piece of paper, draw a
cool color winter scene or a warm
color scene.