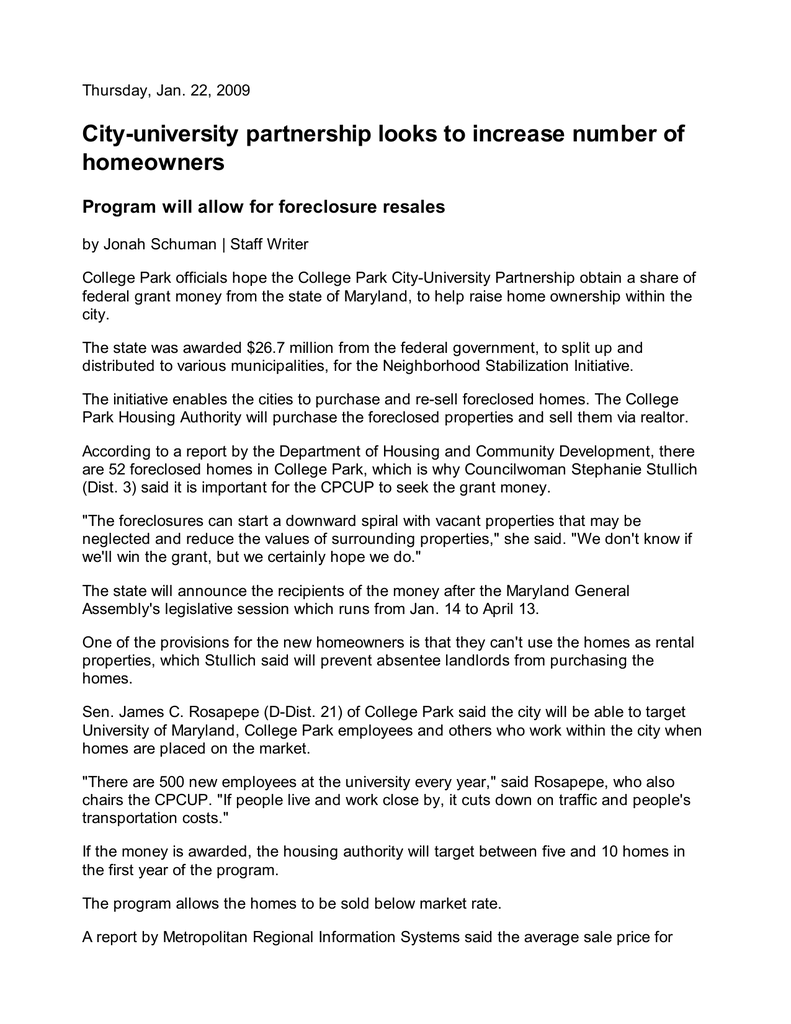 Thursday, Jan. 22, 2009
City-university partnership looks to increase number of
homeowners
Program will allow for foreclosure resales
by Jonah Schuman | Staff Writer
College Park officials hope the College Park City-University Partnership obtain a share of
federal grant money from the state of Maryland, to help raise home ownership within the
city.
The state was awarded $26.7 million from the federal government, to split up and
distributed to various municipalities, for the Neighborhood Stabilization Initiative.
The initiative enables the cities to purchase and re-sell foreclosed homes. The College
Park Housing Authority will purchase the foreclosed properties and sell them via realtor.
According to a report by the Department of Housing and Community Development, there
are 52 foreclosed homes in College Park, which is why Councilwoman Stephanie Stullich
(Dist. 3) said it is important for the CPCUP to seek the grant money.
"The foreclosures can start a downward spiral with vacant properties that may be
neglected and reduce the values of surrounding properties," she said. "We don't know if
we'll win the grant, but we certainly hope we do."
The state will announce the recipients of the money after the Maryland General
Assembly's legislative session which runs from Jan. 14 to April 13.
One of the provisions for the new homeowners is that they can't use the homes as rental
properties, which Stullich said will prevent absentee landlords from purchasing the
homes.
Sen. James C. Rosapepe (D-Dist. 21) of College Park said the city will be able to target
University of Maryland, College Park employees and others who work within the city when
homes are placed on the market.
"There are 500 new employees at the university every year," said Rosapepe, who also
chairs the CPCUP. "If people live and work close by, it cuts down on traffic and people's
transportation costs."
If the money is awarded, the housing authority will target between five and 10 homes in
the first year of the program.
The program allows the homes to be sold below market rate.
A report by Metropolitan Regional Information Systems said the average sale price for
homes in College Park in 2008 was $259,419. The average listed price for homes for sale
was $310,125.
"The [housing authority] is going to be honest and truthful," Rosapepe said. They're only
going to sell to people that can afford them."
Councilman Bob Catlin (Dist. 2) said with student housing projects Starview Plaza, The
Varsity, Mazza Grandmarc apartments and Northgate Condominiums all expected to be
completed within the next two years, the city is able to turn its attention to increasing
home ownership, since there will be less of a demand for rental housing within the city's
neighborhoods.
"With the advent of additional student housing we'll see more foreclosures as we go
forward," he said. "This program could have great affability over its five-year course."