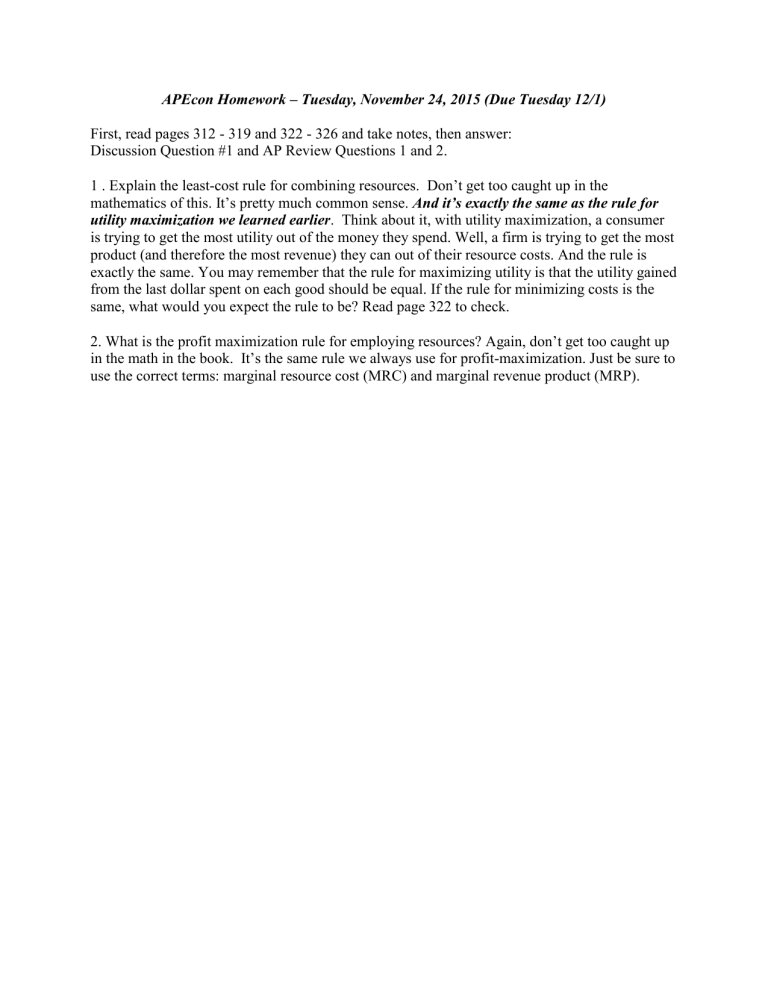 APEcon Homework – Tuesday, November 24, 2015 (Due Tuesday 12/1)
First, read pages 312 - 319 and 322 - 326 and take notes, then answer:
Discussion Question #1 and AP Review Questions 1 and 2.
1 . Explain the least-cost rule for combining resources. Don't get too caught up in the mathematics of this. It's pretty much common sense. And it's exactly the same as the rule for utility maximization we learned earlier . Think about it, with utility maximization, a consumer is trying to get the most utility out of the money they spend. Well, a firm is trying to get the most product (and therefore the most revenue) they can out of their resource costs. And the rule is exactly the same. You may remember that the rule for maximizing utility is that the utility gained from the last dollar spent on each good should be equal. If the rule for minimizing costs is the same, what would you expect the rule to be? Read page 322 to check.
2. What is the profit maximization rule for employing resources? Again, don't get too caught up in the math in the book. It's the same rule we always use for profit-maximization. Just be sure to use the correct terms: marginal resource cost (MRC) and marginal revenue product (MRP).