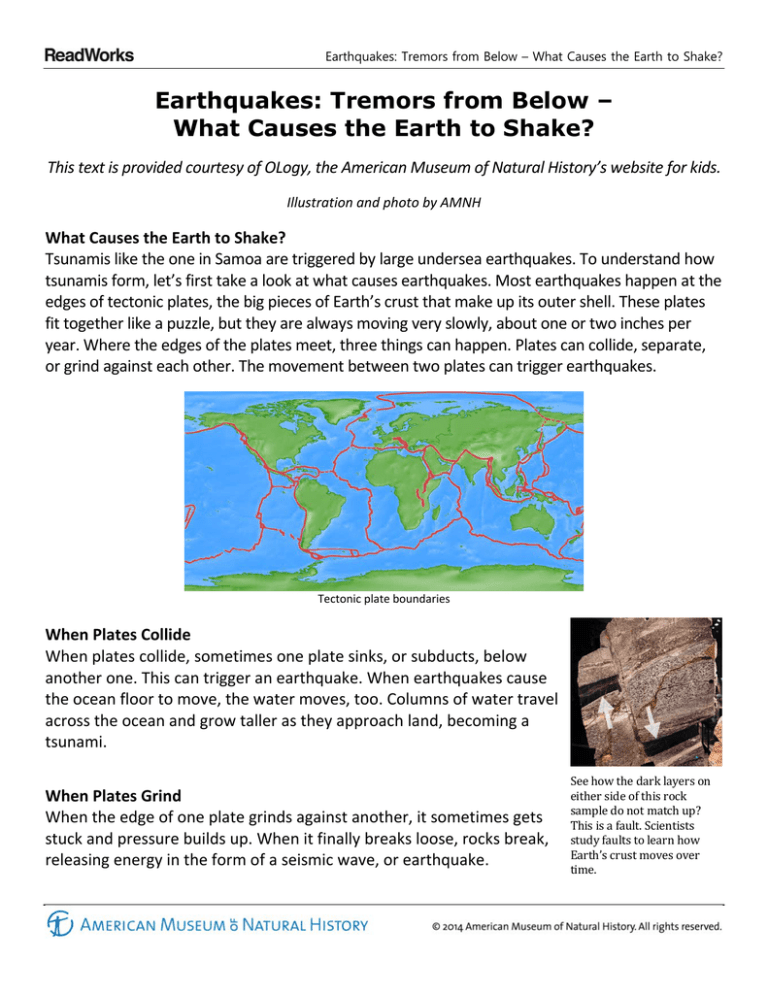 Earthquakes: Tremors from Below – What Causes the Earth to Shake?
Earthquakes: Tremors from Below –
What Causes the Earth to Shake?
This text is provided courtesy of OLogy, the American Museum of Natural History's website for kids. Illustration and photo by AMNH What Causes the Earth to Shake? Tsunamis like the one in Samoa are triggered by large undersea earthquakes. To understand how tsunamis form, let's first take a look at what causes earthquakes. Most earthquakes happen at the edges of tectonic plates, the big pieces of Earth's crust that make up its outer shell. These plates fit together like a puzzle, but they are always moving very slowly, about one or two inches per year. Where the edges of the plates meet, three things can happen. Plates can collide, separate, or grind against each other. The movement between two plates can trigger earthquakes. Tectonic plate boundaries When Plates Collide When plates collide, sometimes one plate sinks, or subducts, below another one. This can trigger an earthquake. When earthquakes cause the ocean floor to move, the water moves, too. Columns of water travel across the ocean and grow taller as they approach land, becoming a tsunami. When Plates Grind When the edge of one plate grinds against another, it sometimes gets stuck and pressure builds up. When it finally breaks loose, rocks break, releasing energy in the form of a seismic wave, or earthquake. Seehowthedarklayerson
eithersideofthisrock
sampledonotmatchup?
Thisisafault.Scientists
studyfaultstolearnhow
Earth'scrustmovesover
time.