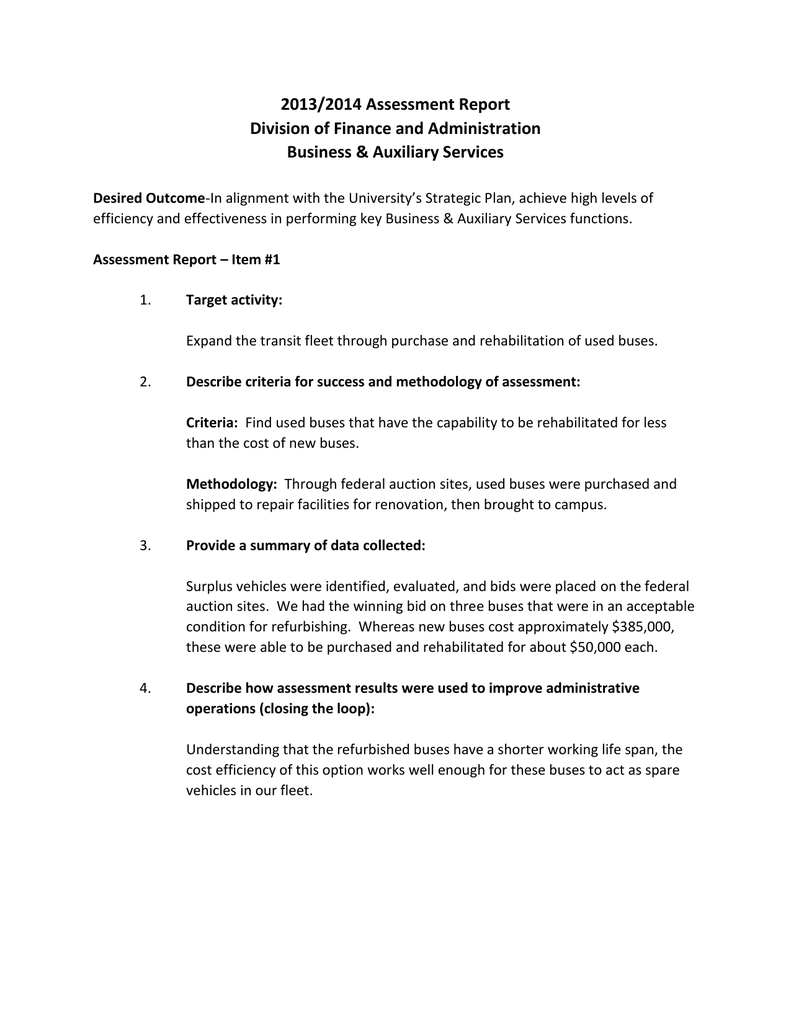 2013/2014 Assessment Report
Division of Finance and Administration
Business & Auxiliary Services
Desired Outcome-In alignment with the University's Strategic Plan, achieve high levels of
efficiency and effectiveness in performing key Business & Auxiliary Services functions.
Assessment Report – Item #1
1.
Target activity:
Expand the transit fleet through purchase and rehabilitation of used buses.
2.
Describe criteria for success and methodology of assessment:
Criteria: Find used buses that have the capability to be rehabilitated for less
than the cost of new buses.
Methodology: Through federal auction sites, used buses were purchased and
shipped to repair facilities for renovation, then brought to campus.
3.
Provide a summary of data collected:
Surplus vehicles were identified, evaluated, and bids were placed on the federal
auction sites. We had the winning bid on three buses that were in an acceptable
condition for refurbishing. Whereas new buses cost approximately $385,000,
these were able to be purchased and rehabilitated for about $50,000 each.
4.
Describe how assessment results were used to improve administrative
operations (closing the loop):
Understanding that the refurbished buses have a shorter working life span, the
cost efficiency of this option works well enough for these buses to act as spare
vehicles in our fleet.