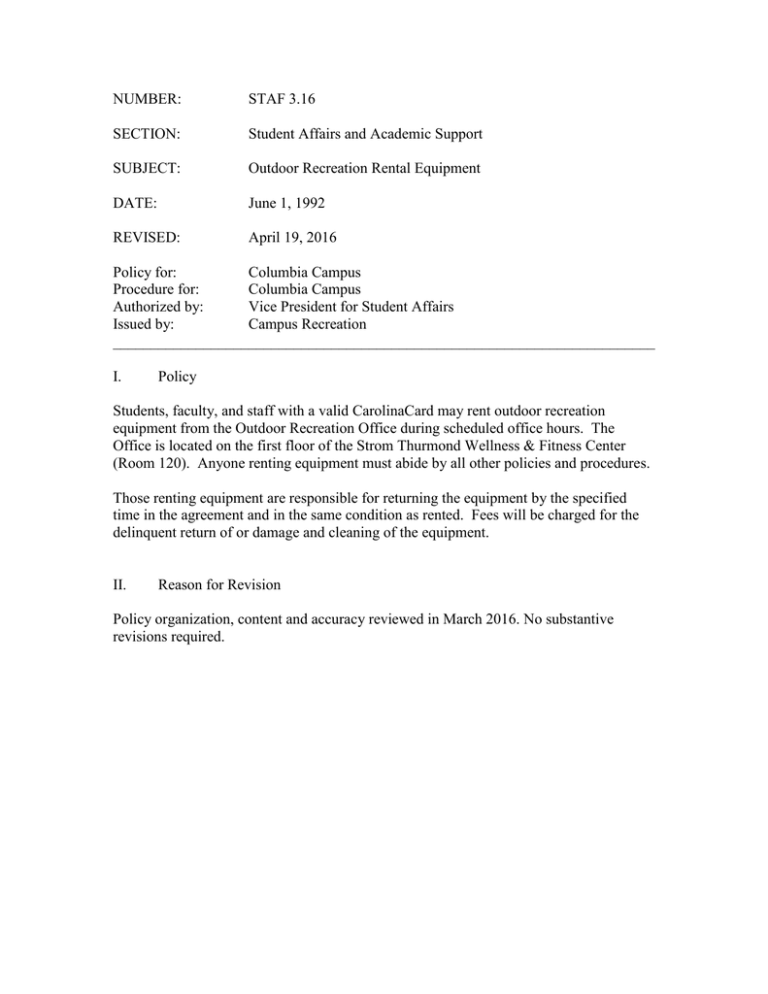 NUMBER:
STAF 3.16
SECTION:
Student Affairs and Academic Support
SUBJECT:
Outdoor Recreation Rental Equipment
DATE:
June 1, 1992
REVISED:
April 19, 2016
Policy for:
Columbia Campus
Procedure for:
Columbia Campus
Authorized by:
Vice President for Student Affairs
Issued by:
Campus Recreation
________________________________________________________________________
I.
Policy
Students, faculty, and staff with a valid CarolinaCard may rent outdoor recreation
equipment from the Outdoor Recreation Office during scheduled office hours. The
Office is located on the first floor of the Strom Thurmond Wellness & Fitness Center
(Room 120). Anyone renting equipment must abide by all other policies and procedures.
Those renting equipment are responsible for returning the equipment by the specified
time in the agreement and in the same condition as rented. Fees will be charged for the
delinquent return of or damage and cleaning of the equipment.
II.
Reason for Revision
Policy organization, content and accuracy reviewed in March 2016. No substantive
revisions required.