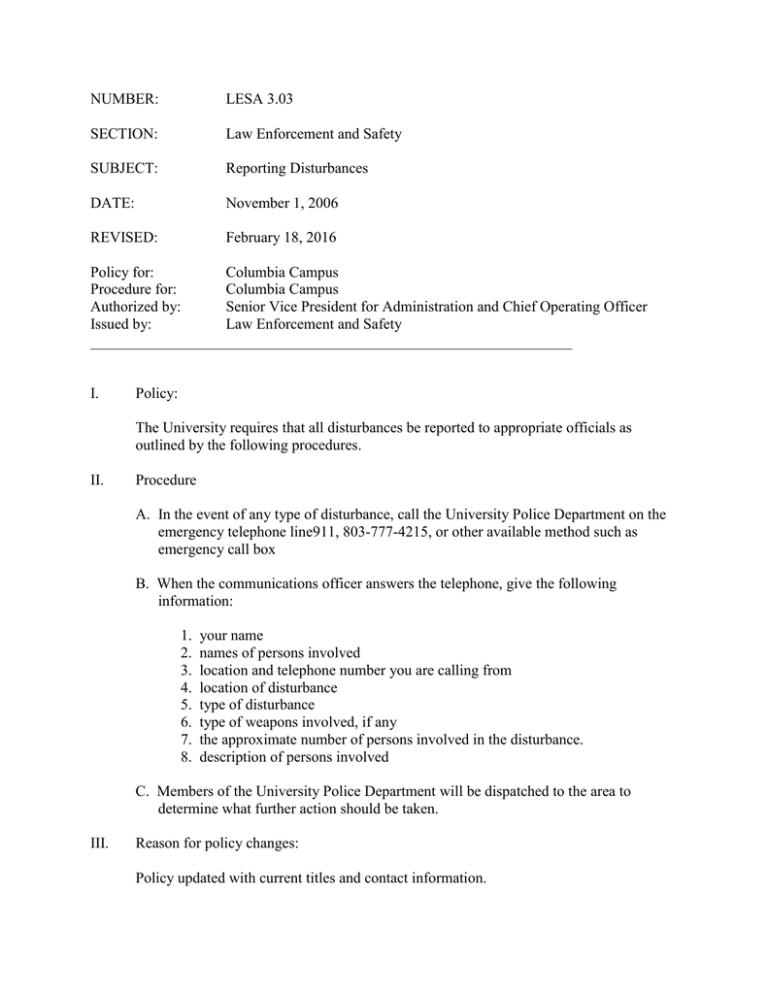 NUMBER:
LESA 3.03
SECTION:
Law Enforcement and Safety
SUBJECT:
Reporting Disturbances
DATE:
November 1, 2006
REVISED:
February 18, 2016
Policy for:
Columbia Campus
Procedure for:
Columbia Campus
Authorized by:
Senior Vice President for Administration and Chief Operating Officer
Issued by:
Law Enforcement and Safety
________________________________________________________________
I.
Policy:
The University requires that all disturbances be reported to appropriate officials as
outlined by the following procedures.
II.
Procedure
A. In the event of any type of disturbance, call the University Police Department on the
emergency telephone line911, 803-777-4215, or other available method such as
emergency call box
B. When the communications officer answers the telephone, give the following
information:
1.
2.
3.
4.
5.
6.
7.
8.
your name
names of persons involved
location and telephone number you are calling from
location of disturbance
type of disturbance
type of weapons involved, if any
the approximate number of persons involved in the disturbance.
description of persons involved
C. Members of the University Police Department will be dispatched to the area to
determine what further action should be taken.
III.
Reason for policy changes:
Policy updated with current titles and contact information.