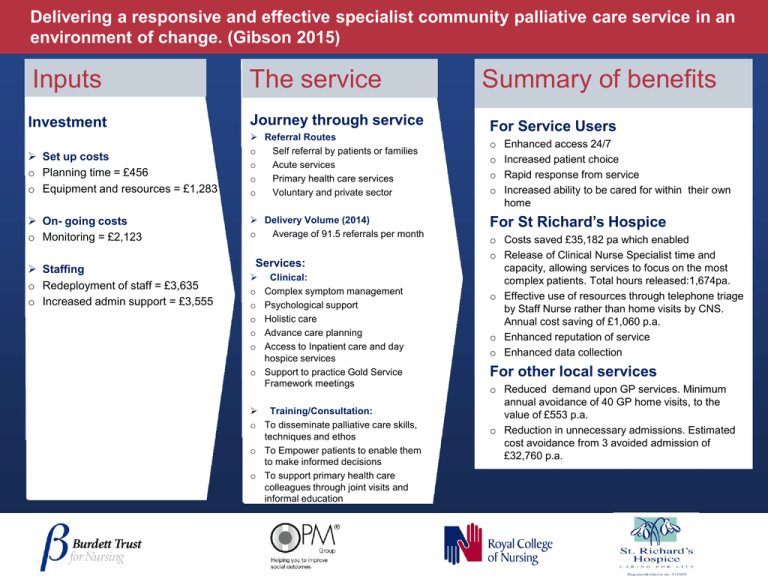 Delivering a responsive and effective specialist community palliative care service in an
environment of change. (Gibson 2015)
Inputs
The service
Investment
Journey through service
 Set up costs
o Planning time = £456
o Equipment and resources = £1,283
 Referral Routes
o
Self referral by patients or families
o
Acute services
o
Primary health care services
o
Voluntary and private sector
 On- going costs
o Monitoring = £2,123
 Delivery Volume (2014)
o
Average of 91.5 referrals per month
 Staffing
o Redeployment of staff = £3,635
o Increased admin support = £3,555
Services:

o
o
o
o
o
Clinical:
Complex symptom management
Psychological support
Holistic care
Advance care planning
Access to Inpatient care and day
hospice services
o Support to practice Gold Service
Framework meetings
 Training/Consultation:
o To disseminate palliative care skills,
techniques and ethos
o To Empower patients to enable them
to make informed decisions
o To support primary health care
colleagues through joint visits and
informal education
Summary of benefits
For Service Users
o
o
o
o
Enhanced access 24/7
Increased patient choice
Rapid response from service
Increased ability to be cared for within their own
home
For St Richard's Hospice
o Costs saved £35,182 pa which enabled
o Release of Clinical Nurse Specialist time and
capacity, allowing services to focus on the most
complex patients. Total hours released:1,674pa.
o Effective use of resources through telephone triage
by Staff Nurse rather than home visits by CNS.
Annual cost saving of £1,060 p.a.
o Enhanced reputation of service
o Enhanced data collection
For other local services
o Reduced demand upon GP services. Minimum
annual avoidance of 40 GP home visits, to the
value of £553 p.a.
o Reduction in unnecessary admissions. Estimated
cost avoidance from 3 avoided admission of
£32,760 p.a.