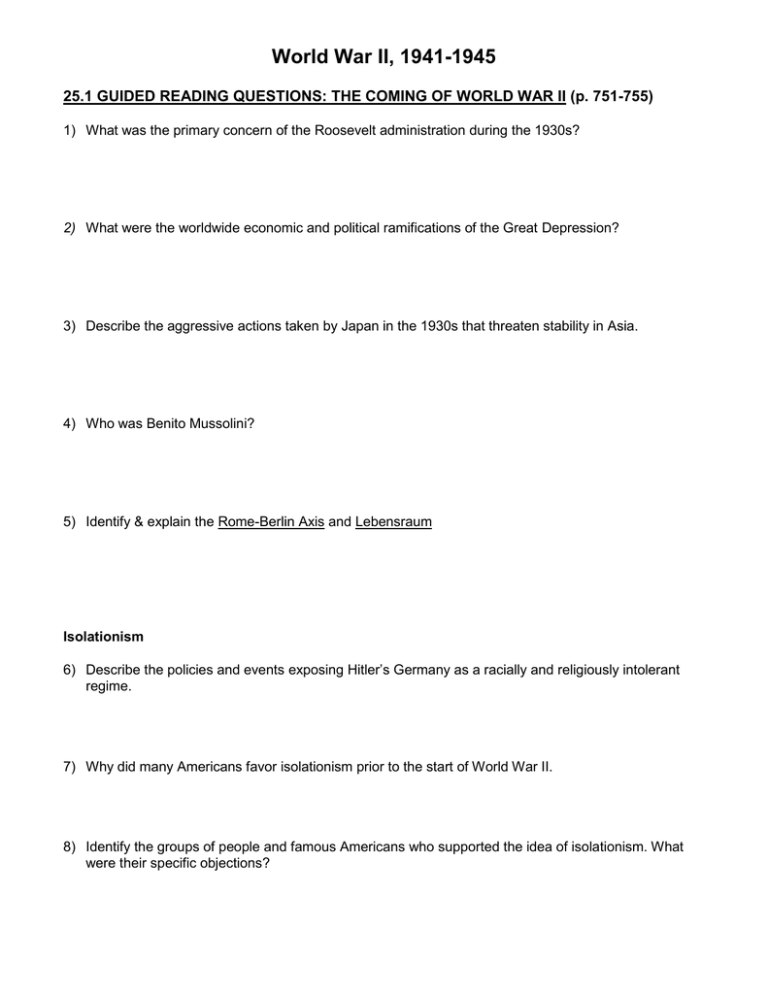 World War II, 1941-1945
25.1 GUIDED READING QUESTIONS: THE COMING OF WORLD WAR II (p. 751-755)
1) What was the primary concern of the Roosevelt administration during the 1930s?
2) What were the worldwide economic and political ramifications of the Great Depression?
3) Describe the aggressive actions taken by Japan in the 1930s that threaten stability in Asia.
4) Who was Benito Mussolini?
5) Identify & explain the Rome-Berlin Axis and Lebensraum
Isolationism
6) Describe the policies and events exposing Hitler's Germany as a racially and religiously intolerant
regime.
7) Why did many Americans favor isolationism prior to the start of World War II.
8) Identify the groups of people and famous Americans who supported the idea of isolationism. What
were their specific objections?
Roosevelt Readies for War
9) What was President Roosevelt's view of the war prior to United States involvement in the war?
10) Identify & explain Blitzkrieg and Selective Service Act, 1940.
11) Describe how the Lend Lease Act (1941) moved America closer to participation in World War II.
12) Identify the "common principles" that President Roosevelt and Prime Minister Churchill agreed to in
the Atlantic Charter.
Pearl Harbor
13) Identify the diplomatic and military events in 1940 and 1941 that foreshadow war between Japan
and the United States.
14) What was Japan's overall objective for Asia?
15) What was Japan's military objective for the attack on Pearl Harbor?
16) How did the United States become involved in the war in Europe?