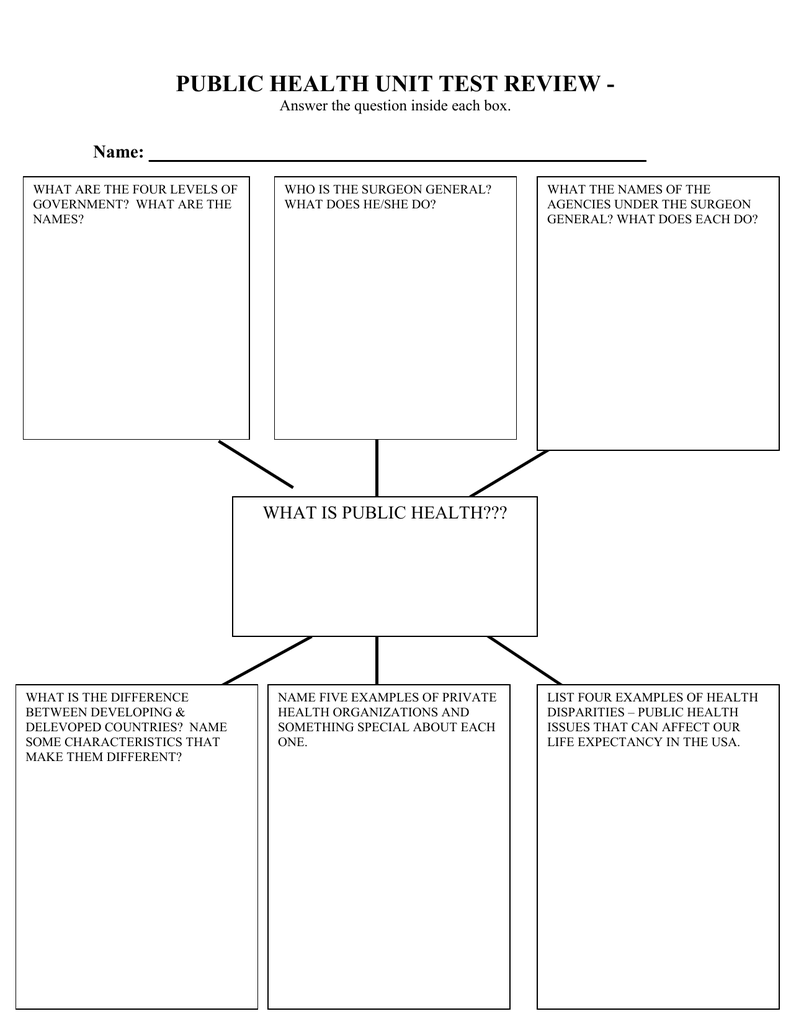 PUBLIC HEALTH UNIT TEST REVIEW Answer the question inside each box.
Name: _______________________________________________________
WHAT ARE THE FOUR LEVELS OF
GOVERNMENT? WHAT ARE THE
NAMES?
WHO IS THE SURGEON GENERAL?
WHAT DOES HE/SHE DO?
WHAT THE NAMES OF THE
AGENCIES UNDER THE SURGEON
GENERAL? WHAT DOES EACH DO?
WHAT IS PUBLIC HEALTH???
WHAT IS THE DIFFERENCE
BETWEEN DEVELOPING &
DELEVOPED COUNTRIES? NAME
SOME CHARACTERISTICS THAT
MAKE THEM DIFFERENT?
NAME FIVE EXAMPLES OF PRIVATE
HEALTH ORGANIZATIONS AND
SOMETHING SPECIAL ABOUT EACH
ONE.
401250720
LIST FOUR EXAMPLES OF HEALTH
DISPARITIES – PUBLIC HEALTH
ISSUES THAT CAN AFFECT OUR
LIFE EXPECTANCY IN THE USA.