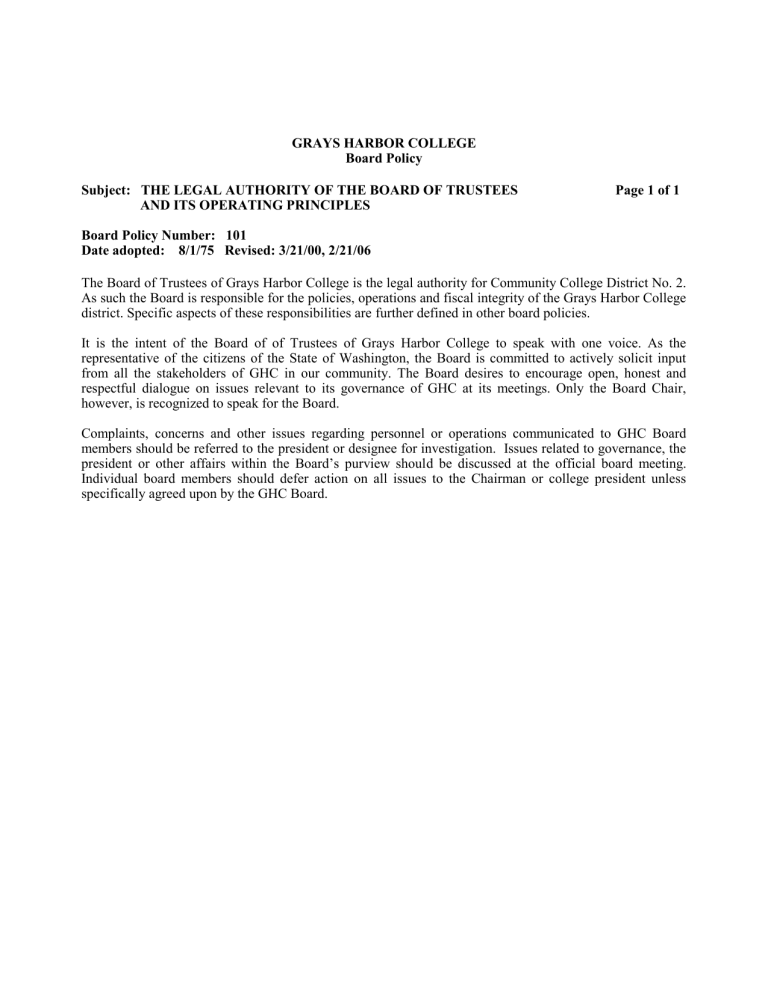 GRAYS HARBOR COLLEGE
Board Policy
Subject: THE LEGAL AUTHORITY OF THE BOARD OF TRUSTEES
AND ITS OPERATING PRINCIPLES
Board Policy Number: 101
Date adopted: 8/1/75 Revised: 3/21/00, 2/21/06
Page 1 of 1
The Board of Trustees of Grays Harbor College is the legal authority for Community College District No. 2.
As such the Board is responsible for the policies, operations and fiscal integrity of the Grays Harbor College district. Specific aspects of these responsibilities are further defined in other board policies.
It is the intent of the Board of of Trustees of Grays Harbor College to speak with one voice. As the representative of the citizens of the State of Washington, the Board is committed to actively solicit input from all the stakeholders of GHC in our community. The Board desires to encourage open, honest and respectful dialogue on issues relevant to its governance of GHC at its meetings. Only the Board Chair, however, is recognized to speak for the Board.
Complaints, concerns and other issues regarding personnel or operations communicated to GHC Board members should be referred to the president or designee for investigation. Issues related to governance, the president or other affairs within the Board's purview should be discussed at the official board meeting.
Individual board members should defer action on all issues to the Chairman or college president unless specifically agreed upon by the GHC Board.