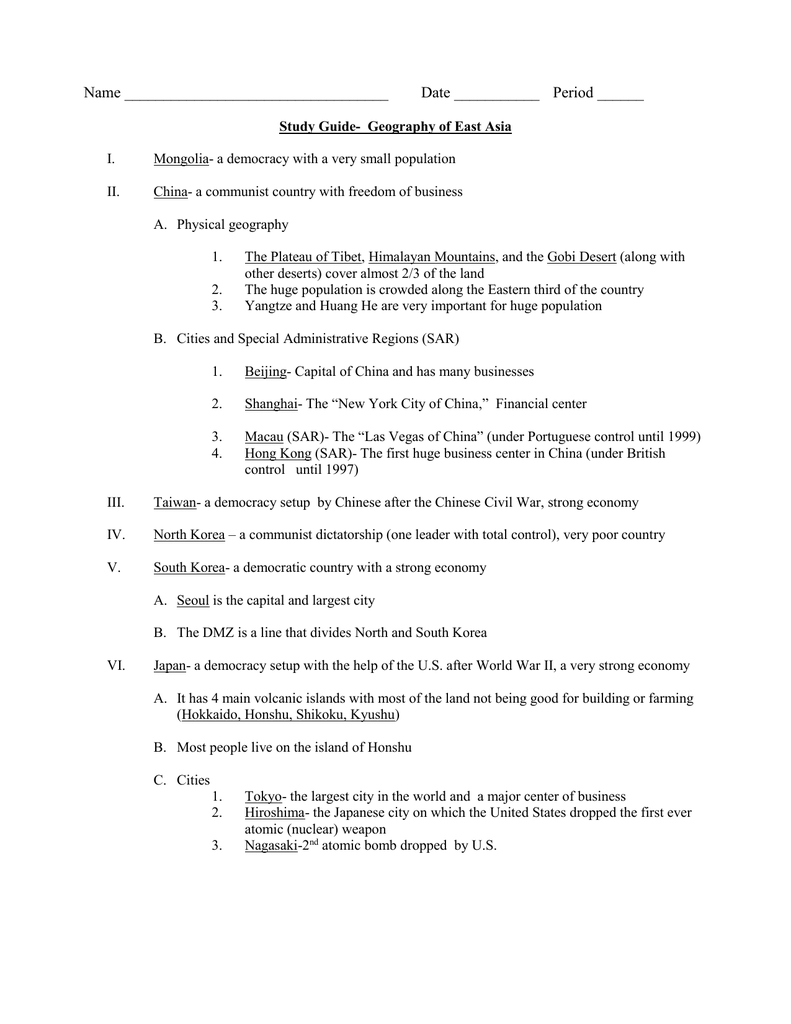 Name __________________________________
Date ___________ Period ______
Study Guide- Geography of East Asia
I.
Mongolia- a democracy with a very small population
II.
China- a communist country with freedom of business
A. Physical geography
1.
2.
3.
The Plateau of Tibet, Himalayan Mountains, and the Gobi Desert (along with
other deserts) cover almost 2/3 of the land
The huge population is crowded along the Eastern third of the country
Yangtze and Huang He are very important for huge population
B. Cities and Special Administrative Regions (SAR)
1.
Beijing- Capital of China and has many businesses
2.
Shanghai- The "New York City of China," Financial center
3.
4.
Macau (SAR)- The "Las Vegas of China" (under Portuguese control until 1999)
Hong Kong (SAR)- The first huge business center in China (under British
control until 1997)
III.
Taiwan- a democracy setup by Chinese after the Chinese Civil War, strong economy
IV.
North Korea – a communist dictatorship (one leader with total control), very poor country
V.
South Korea- a democratic country with a strong economy
A. Seoul is the capital and largest city
B. The DMZ is a line that divides North and South Korea
VI.
Japan- a democracy setup with the help of the U.S. after World War II, a very strong economy
A. It has 4 main volcanic islands with most of the land not being good for building or farming
(Hokkaido, Honshu, Shikoku, Kyushu)
B. Most people live on the island of Honshu
C. Cities
1.
2.
3.
Tokyo- the largest city in the world and a major center of business
Hiroshima- the Japanese city on which the United States dropped the first ever
atomic (nuclear) weapon
Nagasaki-2nd atomic bomb dropped by U.S.