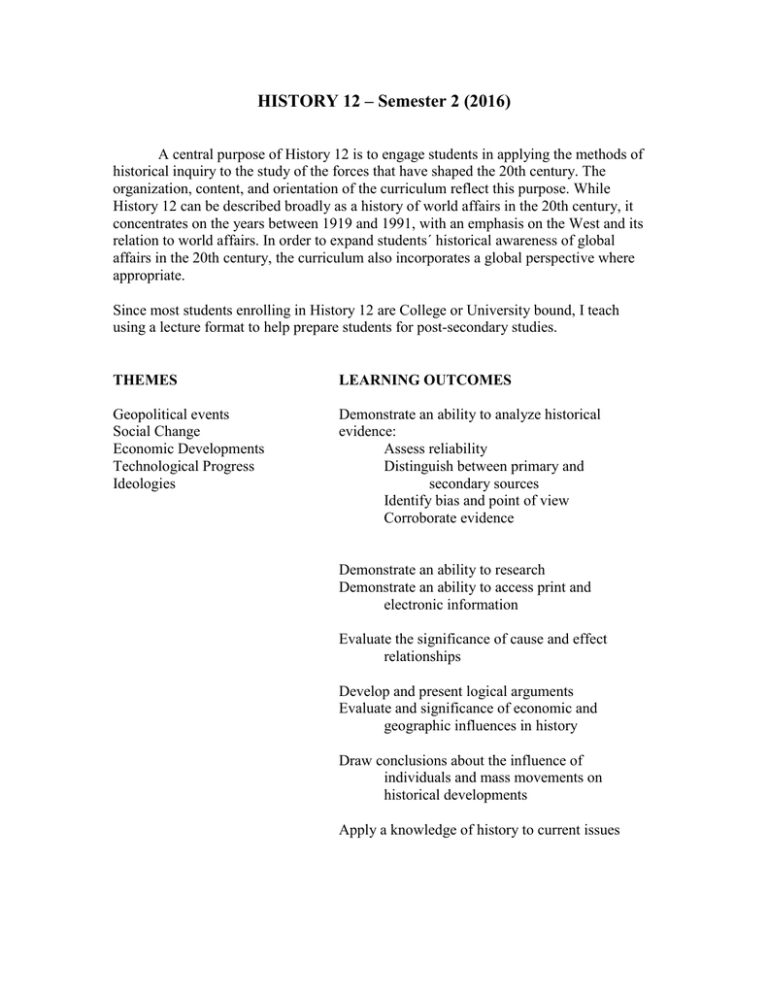 HISTORY 12 – Semester 2 (2016)
A central purpose of History 12 is to engage students in applying the methods of
historical inquiry to the study of the forces that have shaped the 20th century. The
organization, content, and orientation of the curriculum reflect this purpose. While
History 12 can be described broadly as a history of world affairs in the 20th century, it
concentrates on the years between 1919 and 1991, with an emphasis on the West and its
relation to world affairs. In order to expand students´ historical awareness of global
affairs in the 20th century, the curriculum also incorporates a global perspective where
appropriate.
Since most students enrolling in History 12 are College or University bound, I teach
using a lecture format to help prepare students for post-secondary studies.
THEMES
LEARNING OUTCOMES
Geopolitical events
Social Change
Economic Developments
Technological Progress
Ideologies
Demonstrate an ability to analyze historical
evidence:
Assess reliability
Distinguish between primary and
secondary sources
Identify bias and point of view
Corroborate evidence
Demonstrate an ability to research
Demonstrate an ability to access print and
electronic information
Evaluate the significance of cause and effect
relationships
Develop and present logical arguments
Evaluate and significance of economic and
geographic influences in history
Draw conclusions about the influence of
individuals and mass movements on
historical developments
Apply a knowledge of history to current issues
________________________________________________________________________
UNIT ONE
Week of
Topic
Goals
Activity
CONFLICT
AND
CHALLENGE
THE WORLD
TO 1919
Feb 1
Isms and Essentials of WWI
Understand and apply isms
to events to 1919
WWI Quiz
Treaty of Versailles and
Paris Peace Settlement
write subjectively about
key issues at PPS
Doc. Int
(DBQ) Comp.
Ques.
role play/empathy
Versailles Sim.
identify key Marxist
components
Film
Feb 15
Russian Revolution
Quiz
identify causes of Russ.
Rev.
DBQ
Lenin and Power
RR Test
Readings for Unit One
UNIT TWO
PROMISE AND
COLLAPSE
Twentieth Century History
The World This Century
Week of Topic
Feb 29
Search for Peace and
Security
pp. 13, 31-34, 37-50, 54-60
pp. 27-66, 104-112
Goals
Activity
Explain the significance of
the search for p and s
Thesis/
Paragraph
Identify and evaluate forces
of Fascism in Italy and
Nazism in Germany
Quiz
Art as an ideological
expressive
Film analysis
Dadaism and Surrealism
Major Trends in American
Society 1920s
Identify political,
economic, social trends
Causes and Consequences of
the Great Depression
Write subjectively about
key issues and historical
significance
Nature of Totalitarian States
Mar 7
DBQ
Power Point Pr.
Thesis/
Paragraph
Readings for Unit Two
UNIT THREE
Twentieth Century History
The World This Century
Week of
Topic
Mar 29
Hitler's Germany
TURMOIL AND
TRAGEDY
1933-1945
pp. 51-53, 58-67, 71-72, 81-127, 139-146
pp. 67-103
Goals
Activity
Identify domestic,
DBQ
political, economic,
social characteristics
Thesis/Paragraph
Stalin and the USSR
Militarism and Imperialism
in Japan
Apr4
Spanish Civil War
Identify and discuss the
elements of Stalinism to
1941
Evaluate impact of
Japanese totalitarianism
upon society and the
individual
Understand historical
significance to WWII
Quiz
DBQ
Film Analysis
Middle East and India
Understand the
relationship between
imperialism and national
self-determination
Thesis/para
Topic
Week of
Apr 11
Hitler's Germany – Why
Appeasement?
Goals
Evaluate appeasement as
a method of preventing
war
Activity
Major Strategies of WWII –
Total War
Identify the effectiveness
of blitzkrieg
Major Battles of WWII –
European and Pacific
Theatres
Identify the key battles
and turning points in
Europe and the Pacific
Film Analysis
Role of Technology on the
outcome of WWII
Historical empathy
Unit Test
Play-Doh
Appeasement
Student presentations
Holocaust Coroner's
Inquest
Moral Issues of WWII –
Holocaust/Ground Zero
Readings for Unit Three
UNIT FOUR
TRANSFORMATION
AND TENSION
Twentieth Century History
The World This Century
Week of
Topic
May 16
pp. 147-205
pp. 121-153
Goals
Origins of the Cold War
U.S. and U.S.S.R.
Perspectives
Activity
Identify and discuss
causes of the Cold War
Political Cartoon
analysis
Evaluate the methods
used by the super powers
in their global hegemony
Quiz
Role of the United Nations
Truman Doctrine to
NATO
Communism in China
Discuss the responses of
the USA to perceived
threat of communist
expansion
The Korean War
May 23
May 30
DBQ/Quiz
Retreat from Stalinism
Sino-Soviet Split
DBQ
Role of Nuclear Weapons
and the Space Race
Political cartoon
analysis
Hungarian and
Czechoslovakian Revolutions
DBQ
Cuban Missile Crisis
European Economic
Community
Assess the significance of
the Missile Crisis
Film Analysis
Seminar
Evaluate the forces that
promoted cooperation in
Europe in the post-war
years
Readings for Unit Four
Twentieth Century History
The World This Century
pp. 206-224, 231-234, 240-243, 258-176
pp. 154-178, 196-199, 213-214, 223-228
UNIT FIVE
PROGRESS
AND
UNCERTAINTY
1963-1991
Week of
Topic
Goals
Activity
A Turf War – Middle East
Israel to the Gulf War
Evaluate the impact of
Arab-Jewish nationalism
In-class essay
Jun 6
Evaluate the role of the
superpowers in the
Middle East
DBQ
The Vietnam War Part I
The Vietnam War Part II
Evaluate the role of
nationalism in SE Asia
China and Economic
Revolution
Jun 13
DBQ
Quiz
The Collapse of the Cold
War
Evaluate the impact of
change – econ/political
Discuss the decline of
communism in Eastern
Europe and the USSR
Quiz
In-class essay
Unit Test
Détente and Containment
Comparative Analysis
Matrix Construction
Define global integration
and the forces which
produced it
Human Rights – be
familiar with the antiapartheid movement in
South Africa and the civil
rights movement in the
USA
Discuss the role of
prominent 20th century
female leaders
Power Point bios.
Competition for
Resources
Final Exam Preparation
Detailed Unit Reviews IV
Final Exam
Readings for Unit Five
Twentieth Century History
The World This Century
pp. 217-230, 235-239, 244-257, 277-280, 288-308
pp. 179-195, 204-211, 214-223, 242-252, 236-241
EVALUATION
A. TESTS
Format: Multiple Choice
Analysis
Interpretation
Essay
Contain the following skills:
1. KNOWLEDGE (35%)
sequence and chronology
historical terms
2. APPLICATION (40%)
distinguish between fact, inference,
judgment
interpret political cartoons, graphs
evaluate primary and secondary
source material
B. ASSIGNMENT SAMPLES
Historical periodical critiques
Versailles Summit Simulation (internet research)
Historical Biography
Artistic mediums
Art as a Historical Medium
Decision-making model
University thesis-style essay
Film Analyses
ADDENDUM
1.
2.
3.
4.
3. ESSAY (25%)
develop and defend a thesis statement
form judgments based on historical
evidence
Tutorials (before unit tests)
Final exam prep. Sessions
Final exam is worth 30-50% of the overall
mark
Each term will be broken down into values
of 60% on tests and quizzes and 40% on
written assignments/projects
Useful Information:
Ms. Lacroix enjoys spending her lunch "hours" (i.e. 52 minutes between 12:55 and 1:41)
lounging in room 310, brewing some tea. If you ever need help, please don't hesitate to drop by.
The kettle is always ready to go.
If you are absent, the first place to visit is the internet:
http://sd67.bc.ca/teachers/llacroix
On that page you will find a link to History 12, where I am pretty darn punctual in updating the
day or week's lessons, including downloadable links to lesson plans and Power Points. Then, after
you have had a good look at the lesson, please see me to ensure you are clear on what we
covered.
My school e-mail address is llacroix@summer.com.
Rules? Not really… I consider them useful guidelines for adult students:
1. Turn your phones to silent. Not even on vibrate. If you really, really, really need to take
a call/text/tweet, please leave the room to do so. Then, perhaps a self-evaluation is
in order to determine just how bad the addiction to your phone has become.
2. You don't need my permission to use the bathroom. You don't need anyone's permission
to use the bathroom. Your parents spent tireless months teaching you how to use
the bathroom, and I am not here to undo their good work. If you need to use the
bathroom, please leave the room to do so. Without my permission.
3. Hungry? Feel free to consume healthy snacks and beverages in 310. Also, feel free to
treat room 310 like your family kitchen. That is, unless, you tend to just throw your
cups and packaging on the floor and expect your parents to pick up after you. Then
treat 310 like MY kitchen, where I would expect you to recycle what you can and
dispose of the rest in the garbage.
4. Late? Enter the room quietly and NEVER walk in front of the old lady. Ever.
5. Late assignments? Hand them in as soon as possible. Any assignments that are 2 units
past date will not be accepted. (i.e. an assignment from "Promise & Collapse" unit
will no longer be accepted once we have begun our unit on "Transformation &
Tension")
Checkmymark.com. I use this online grading program, so check it for any academic
updates. Another great way is just to ask me how you're doing.