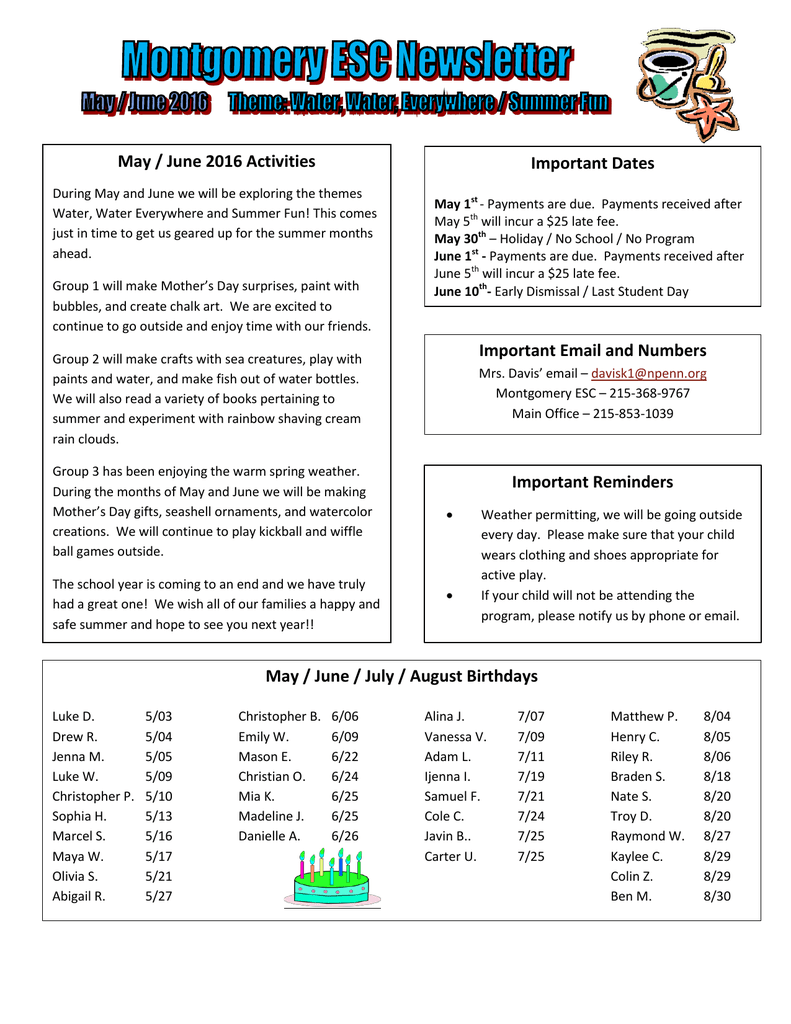 O Decemb
May / June 2016 Activities
Important Dates
During May and June we will be exploring the themes
Water, Water Everywhere and Summer Fun! This comes
just in time to get us geared up for the summer months
ahead.
Group 1 will make Mother's Day surprises, paint with
bubbles, and create chalk art. We are excited to
continue to go outside and enjoy time with our friends.
May 1st - Payments are due. Payments received after
May 5th will incur a $25 late fee.
May 30th – Holiday / No School / No Program
June 1st - Payments are due. Payments received after
June 5th will incur a $25 late fee.
June 10th- Early Dismissal / Last Student Day
Important Email and Numbers
Group 2 will make crafts with sea creatures, play with
paints and water, and make fish out of water bottles.
We will also read a variety of books pertaining to
summer and experiment with rainbow shaving cream
rain clouds.
Group 3 has been enjoying the warm spring weather.
During the months of May and June we will be making
Mother's Day gifts, seashell ornaments, and watercolor
creations. We will continue to play kickball and wiffle
ball games outside.
The school year is coming to an end and we have truly
had a great one! We wish all of our families a happy and
safe summer and hope to see you next year!!
Mrs. Davis' email – [email protected]
Montgomery ESC – 215-368-9767
Main Office – 215-853-1039
Important Reminders


Weather permitting, we will be going outside
every day. Please make sure that your child
wears clothing and shoes appropriate for
active play.
If your child will not be attending the
program, please notify us by phone or email.
May / June / July / August
 Birthdays
Luke D.
Drew R.
Jenna M.
Luke W.
Christopher P.
Sophia H.
Marcel S.
Maya W.
Olivia S.
Abigail R.
5/03
5/04
5/05
5/09
5/10
5/13
5/16
5/17
5/21
5/27
Christopher B.
Emily W.
Mason E.
Christian O.
Mia K.
Madeline J.
Danielle A.
6/06
6/09
6/22
6/24
6/25
6/25
6/26
Alina J.
Vanessa V.
Adam L.
Ijenna I.
Samuel F.
Cole C.
Javin B..
Carter U.
7/07
7/09
7/11
7/19
7/21
7/24
7/25
7/25
Matthew P.
Henry C.
Riley R.
Braden S.
Nate S.
Troy D.
Raymond W.
Kaylee C.
Colin Z.
Ben M.
8/04
8/05
8/06
8/18
8/20
8/20
8/27
8/29
8/29
8/30
Parent Corner: When You Get Angry
(continued from April)
Feeling stories
Take those old magazines and ask your children to cut out pictures of people showing different feelings: anger,
happiness, fear, and sadness. Use the pictures as story starters. What made these people feel this way? What makes you
feel these feelings? This helps children understand feelings, and it's fun, too.
Anger Cans and Can't
When you are angry you cannot
 Hit, bite, or hurt someone
 Break or destroy something
 Hurt an animal
 Hurt your own body
 Use rude or insulting words
When you are angry you can
 Play with play dough, sand, or water
 Tell the people involved how you feel
 Draw or paint a picture, write a story
 Talk things over
 Ask for help
 Listen to music
 Go someplace quiet to cool down
 Rip up paper
Parent Count May 2004
Reprinted with permission from: The Penn State Better Kid Care Program
<http://extension.psu.edu/youth/betterkidcare>, Penn State University, Claudia C. Mincemoyer, Ph.D., Program
Director.