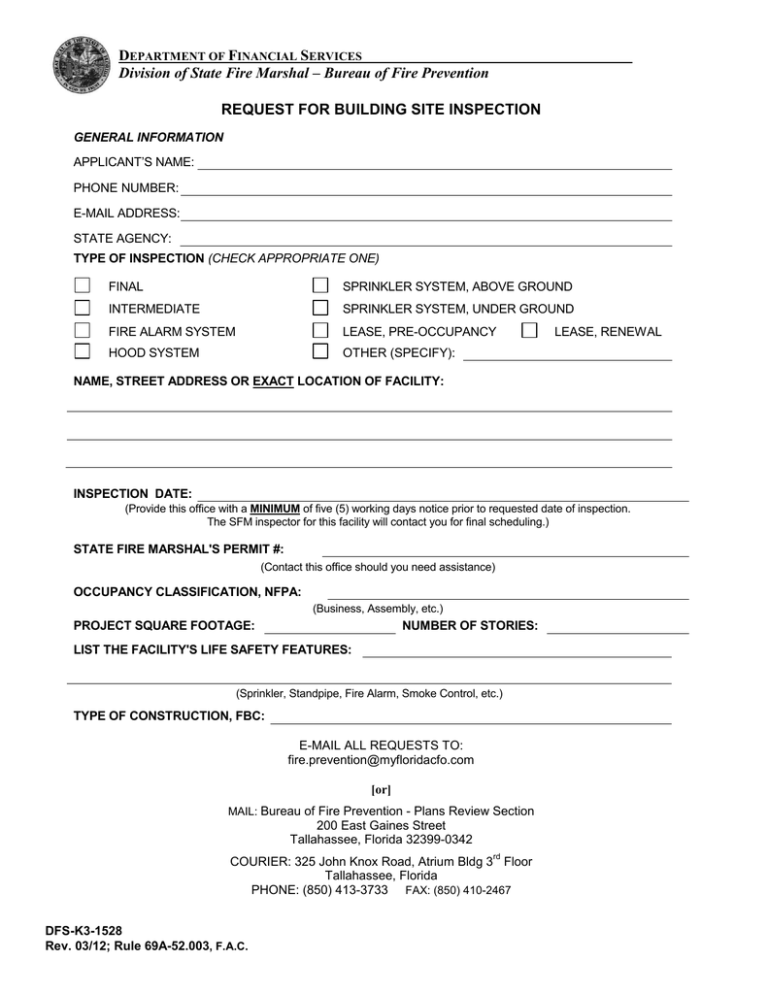 DEPARTMENT OF FINANCIAL SERVICES
Division of State Fire Marshal – Bureau of Fire Prevention
REQUEST FOR BUILDING SITE INSPECTION
GENERAL INFORMATION
APPLICANT'S NAME:
PHONE NUMBER:
E-MAIL ADDRESS:
STATE AGENCY:
TYPE OF INSPECTION (CHECK APPROPRIATE ONE)
FINAL
SPRINKLER SYSTEM, ABOVE GROUND
INTERMEDIATE
SPRINKLER SYSTEM, UNDER GROUND
FIRE ALARM SYSTEM
LEASE, PRE-OCCUPANCY
HOOD SYSTEM
OTHER (SPECIFY):
LEASE, RENEWAL
NAME, STREET ADDRESS OR EXACT LOCATION OF FACILITY:
INSPECTION DATE:
(Provide this office with a MINIMUM of five (5) working days notice prior to requested date of inspection.
The SFM inspector for this facility will contact you for final scheduling.)
STATE FIRE MARSHAL'S PERMIT #:
(Contact this office should you need assistance)
OCCUPANCY CLASSIFICATION, NFPA:
(Business, Assembly, etc.)
PROJECT SQUARE FOOTAGE:
NUMBER OF STORIES:
LIST THE FACILITY'S LIFE SAFETY FEATURES:
(Sprinkler, Standpipe, Fire Alarm, Smoke Control, etc.)
TYPE OF CONSTRUCTION, FBC:
E-MAIL ALL REQUESTS TO:
[email protected]
[or]
MAIL: Bureau of Fire Prevention - Plans Review Section
200 East Gaines Street
Tallahassee, Florida 32399-0342
rd
COURIER: 325 John Knox Road, Atrium Bldg 3 Floor
Tallahassee, Florida
PHONE: (850) 413-3733 FAX: (850) 410-2467
DFS-K3-1528
Rev. 03/12; Rule 69A-52.003, F.A.C.