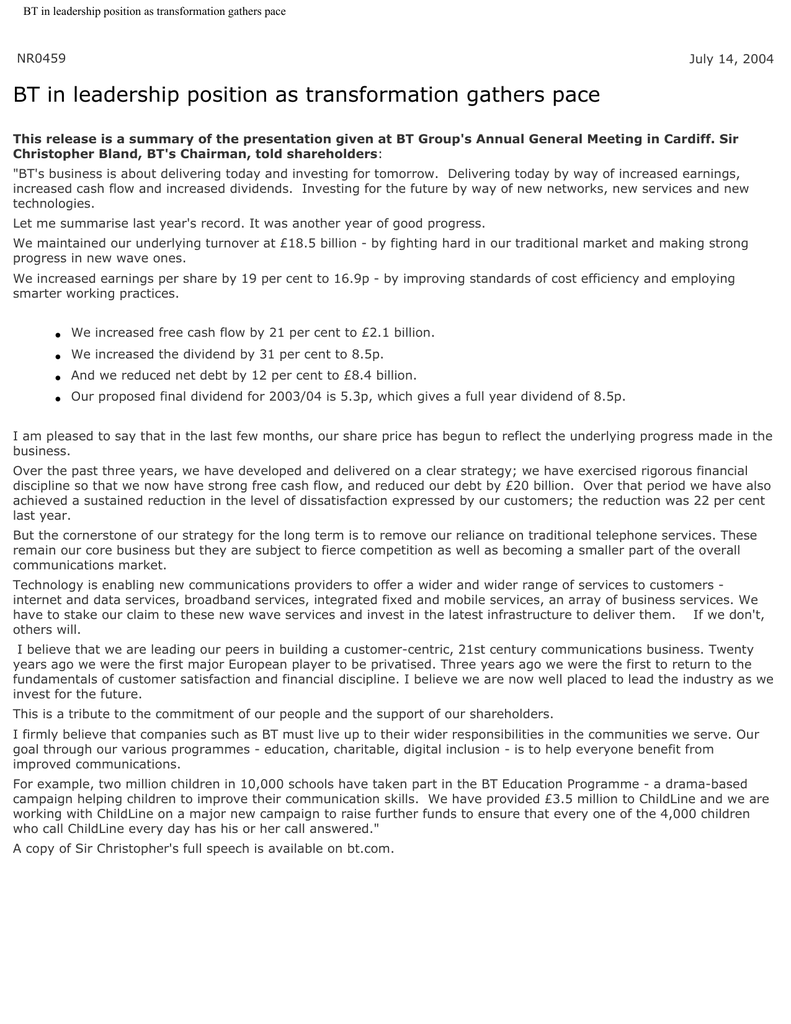 BT in leadership position as transformation gathers pace
NR0459
July 14, 2004
BT in leadership position as transformation gathers pace
This release is a summary of the presentation given at BT Group's Annual General Meeting in Cardiff. Sir
Christopher Bland, BT's Chairman, told shareholders:
"BT's business is about delivering today and investing for tomorrow. Delivering today by way of increased earnings,
increased cash flow and increased dividends. Investing for the future by way of new networks, new services and new
technologies.
Let me summarise last year's record. It was another year of good progress.
We maintained our underlying turnover at £18.5 billion - by fighting hard in our traditional market and making strong
progress in new wave ones.
We increased earnings per share by 19 per cent to 16.9p - by improving standards of cost efficiency and employing
smarter working practices.
●
We increased free cash flow by 21 per cent to £2.1 billion.
●
We increased the dividend by 31 per cent to 8.5p.
●
And we reduced net debt by 12 per cent to £8.4 billion.
●
Our proposed final dividend for 2003/04 is 5.3p, which gives a full year dividend of 8.5p.
I am pleased to say that in the last few months, our share price has begun to reflect the underlying progress made in the
business.
Over the past three years, we have developed and delivered on a clear strategy; we have exercised rigorous financial
discipline so that we now have strong free cash flow, and reduced our debt by £20 billion. Over that period we have also
achieved a sustained reduction in the level of dissatisfaction expressed by our customers; the reduction was 22 per cent
last year.
But the cornerstone of our strategy for the long term is to remove our reliance on traditional telephone services. These
remain our core business but they are subject to fierce competition as well as becoming a smaller part of the overall
communications market.
Technology is enabling new communications providers to offer a wider and wider range of services to customers internet and data services, broadband services, integrated fixed and mobile services, an array of business services. We
have to stake our claim to these new wave services and invest in the latest infrastructure to deliver them. If we don't,
others will.
I believe that we are leading our peers in building a customer-centric, 21st century communications business. Twenty
years ago we were the first major European player to be privatised. Three years ago we were the first to return to the
fundamentals of customer satisfaction and financial discipline. I believe we are now well placed to lead the industry as we
invest for the future.
This is a tribute to the commitment of our people and the support of our shareholders.
I firmly believe that companies such as BT must live up to their wider responsibilities in the communities we serve. Our
goal through our various programmes - education, charitable, digital inclusion - is to help everyone benefit from
improved communications.
For example, two million children in 10,000 schools have taken part in the BT Education Programme - a drama-based
campaign helping children to improve their communication skills. We have provided £3.5 million to ChildLine and we are
working with ChildLine on a major new campaign to raise further funds to ensure that every one of the 4,000 children
who call ChildLine every day has his or her call answered."
A copy of Sir Christopher's full speech is available on bt.com.