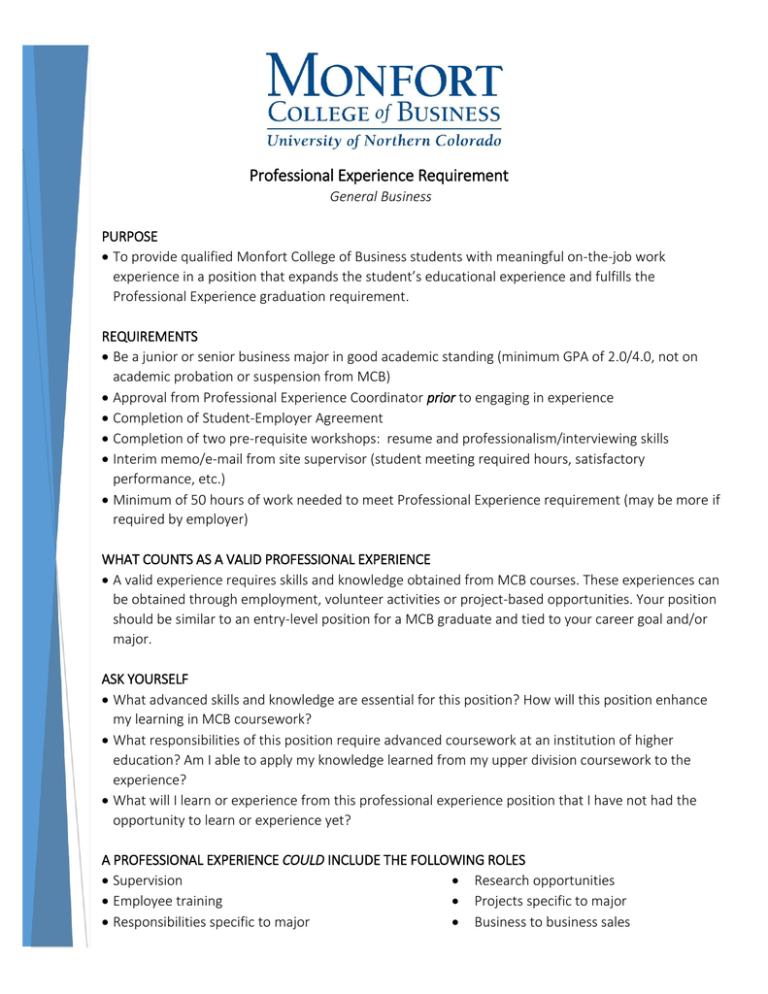 Professional Experience Requirement
General Business
PURPOSE
 To provide qualified Monfort College of Business students with meaningful on-the-job work
experience in a position that expands the student's educational experience and fulfills the
Professional Experience graduation requirement.
REQUIREMENTS
 Be a junior or senior business major in good academic standing (minimum GPA of 2.0/4.0, not on
academic probation or suspension from MCB)
 Approval from Professional Experience Coordinator prior to engaging in experience
 Completion of Student-Employer Agreement
 Completion of two pre-requisite workshops: resume and professionalism/interviewing skills
 Interim memo/e-mail from site supervisor (student meeting required hours, satisfactory
performance, etc.)
 Minimum of 50 hours of work needed to meet Professional Experience requirement (may be more if
required by employer)
WHAT COUNTS AS A VALID PROFESSIONAL EXPERIENCE
 A valid experience requires skills and knowledge obtained from MCB courses. These experiences can
be obtained through employment, volunteer activities or project-based opportunities. Your position
should be similar to an entry-level position for a MCB graduate and tied to your career goal and/or
major.
ASK YOURSELF
 What advanced skills and knowledge are essential for this position? How will this position enhance
my learning in MCB coursework?
 What responsibilities of this position require advanced coursework at an institution of higher
education? Am I able to apply my knowledge learned from my upper division coursework to the
experience?
 What will I learn or experience from this professional experience position that I have not had the
opportunity to learn or experience yet?
A PROFESSIONAL EXPERIENCE COULD INCLUDE THE FOLLOWING ROLES
 Supervision
 Research opportunities
 Employee training
 Projects specific to major
 Responsibilities specific to major
 Business to business sales
Professional Experience Requirement
General Business
POSITIONS THAT WILL TYPICALLY NOT BE CONSIDERED A PROFESSIONAL EXPERIENCE
 Telemarketing
 Waiter/host/bartender
 Cashier
 Point of sale representative
 Customer service representative
 Administrative assistant
 Bank teller
 Sales floor personnel
 Community adviser
 General laborer
 Receptionist
GENERAL BUSINESS PROFESSIONAL EXPERIENCE OVERVIEW
 As a student studying general business, you are able to choose from any of the areas of emphasis to
complete your Professional Experience requiremnent.
QUESTIONS
 Visit the MCB PE website at http://mcb.unco.edu/ProfessionalExperience/ for more information or
contact the Professional Experience Coordinator at [email protected] To
schedule an appointment with the Professional Experience coordinator, please call 970-351-2088.
**Be sure to check your BearMail account regularly for important updates and announcements.