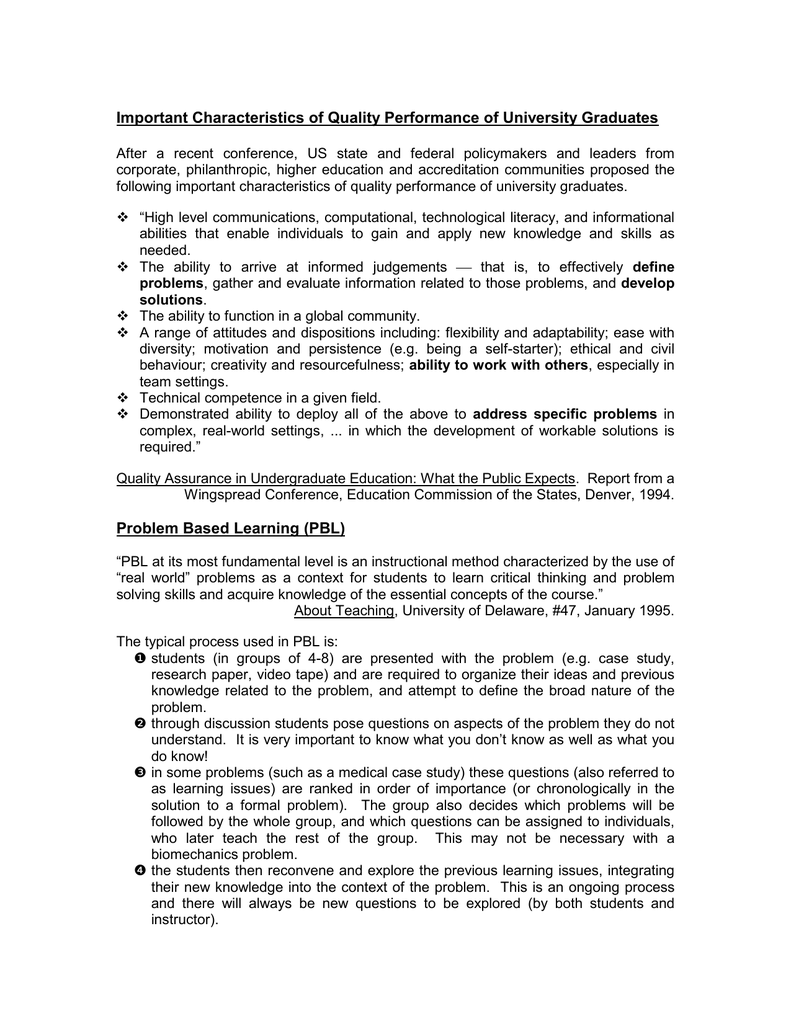 Important Characteristics of Quality Performance of University Graduates
After a recent conference, US state and federal policymakers and leaders from
corporate, philanthropic, higher education and accreditation communities proposed the
following important characteristics of quality performance of university graduates.
! "High level communications, computational, technological literacy, and informational
abilities that enable individuals to gain and apply new knowledge and skills as
needed.
! The ability to arrive at informed judgements  that is, to effectively define
problems, gather and evaluate information related to those problems, and develop
solutions.
! The ability to function in a global community.
! A range of attitudes and dispositions including: flexibility and adaptability; ease with
diversity; motivation and persistence (e.g. being a self-starter); ethical and civil
behaviour; creativity and resourcefulness; ability to work with others, especially in
team settings.
! Technical competence in a given field.
! Demonstrated ability to deploy all of the above to address specific problems in
complex, real-world settings, ... in which the development of workable solutions is
required."
Quality Assurance in Undergraduate Education: What the Public Expects. Report from a
Wingspread Conference, Education Commission of the States, Denver, 1994.
Problem Based Learning (PBL)
"PBL at its most fundamental level is an instructional method characterized by the use of
"real world" problems as a context for students to learn critical thinking and problem
solving skills and acquire knowledge of the essential concepts of the course."
About Teaching, University of Delaware, #47, January 1995.
The typical process used in PBL is:
❶ students (in groups of 4-8) are presented with the problem (e.g. case study,
research paper, video tape) and are required to organize their ideas and previous
knowledge related to the problem, and attempt to define the broad nature of the
problem.
❷ through discussion students pose questions on aspects of the problem they do not
understand. It is very important to know what you don't know as well as what you
do know!
❸ in some problems (such as a medical case study) these questions (also referred to
as learning issues) are ranked in order of importance (or chronologically in the
solution to a formal problem). The group also decides which problems will be
followed by the whole group, and which questions can be assigned to individuals,
who later teach the rest of the group. This may not be necessary with a
biomechanics problem.
❹ the students then reconvene and explore the previous learning issues, integrating
their new knowledge into the context of the problem. This is an ongoing process
and there will always be new questions to be explored (by both students and
instructor).