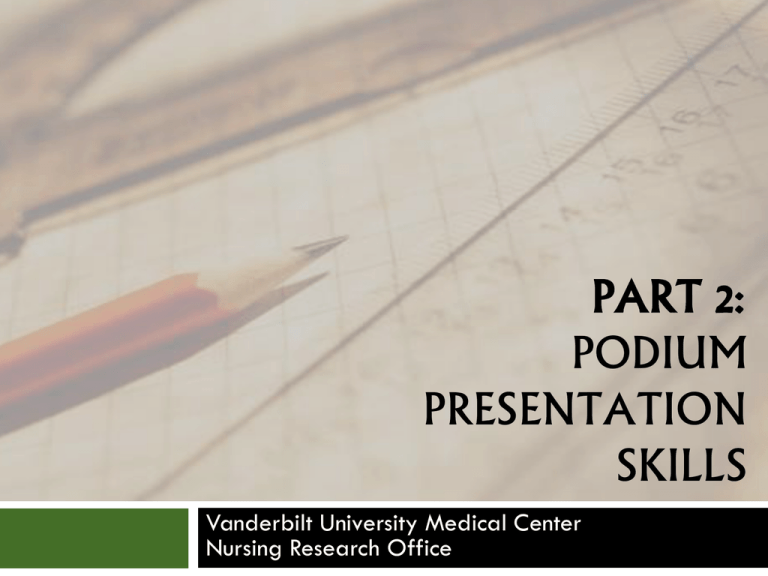 PART 2:
PODIUM
PRESENTATION
SKILLS
Vanderbilt University Medical Center
Nursing Research Office
Objective
 The objective of this presentation is to
prepare you for a successful presentation.
Time Limit
 If you are given a time limit for your
presentation it is important not to deviate
from your script.
 On average you will spend 1 minute
discussing each slide.
Not Using PowerPoint
 Be more deliberate with the transition of
topics
 Have notes with you that might include:
• Key points you want to make
• Discussion questions
• Handouts for audience
Practice
 Practice by yourself in front of a mirror
 Practice in front of an audience:
• Schedule a block of time that is twice as
long as the scheduled presentation
• Tape record your presentation
• Invite co-workers that are and are not
familiar with the topic.
Tips for a Successful Presentation
 Know your material  Podium panic
 Eye contact
 Security items
 Body language
 Questions & answers
 Voice
Tips: Know your Material
 Speech should come across as a conversation
 Do not memorize material
 Do not read your slides word for word
Know your Material - Graphics
 Be sure to orient people to your graphics
• What does each color represent
• Clearly state what the axes represent
• Describe how the graphic fits into your
presentation
Tips: Eye Contact
 It is important to have eye contact with your
audience at all times.
•
Pick out a friendly face and keep them as a
focal point.
• If in a large auditorium, you will need several
"friendly" faces.
Tips: Body Language
Do's
 Make eye contact
 Professional stance,
with your hands out of
pockets and arms
relaxed
Do Not's
 Chew gum/candy
 Bite your fingernails
 Click or tap pen or
pencil
 Play with clothing
pieces
 Shuffle notes
Tips: Voice
 Articulate clearly
 Speak slowly
 Vocalize pauses and punctuation
 Speak loudly
Tips: Podium Panic
 For some speakers presentations can make
them extremely nervous. To combat podium
panic keep these tips in mind:
o Audiences are forgiving o Nervousness is usually
o Be prepared
not visible to the
o Practice
audience
o Be yourself
o Avoid caffeine/other
o Deep breathing
stimulants before
presentation
Tips: Security Items
 Print out a copy of your slides and take with
you to the podium
 Have multiple copies of your presentation
(e.g. email it to your self, jump drive)
 Bring your own clicker (to advance slides) in
case one is not provided.
Tips: Questions & Answers
 At the end of your presentation leave time
for questions and answers.
• Do not argue with members of the
audience
• Be honest
• Keep answers brief
• It is ok not to know the answer
Day of Presentation
 Pick out clothes that look professional and
make you feel comfortable.
 Check equipment before the presentation
starts.
 Practice relaxation techniques (i.e. breathing
or muscle relaxation) before you approach
the podium.
Next Steps
 If you need assistance with your PowerPoint slides
or the outline of your presentation we can help:
Nursing Research Office
S-2413 MCN
3.2992
www.VanderbiltNursingEBP.com
References
1)
Houser, J. (2012). Communicating Research Findings, In Nursing
Research: Reading, Using, and Creating Evidence (2nd ed.).
Sudbury, MA.
2)
Zerwic, J.J., Grandfield, K., Kavanaugh, K. et al. Tips for Better
Visual Elements in Poster and Podium Presentations. Educ Health
(Abingdon), 23(2), 267.
3)
Houser, J. (2006). Presenting Your Research Effectively, In
Clinical Research in Practice: A Guide for the Bedside Scientist.
Sudbury, MA.