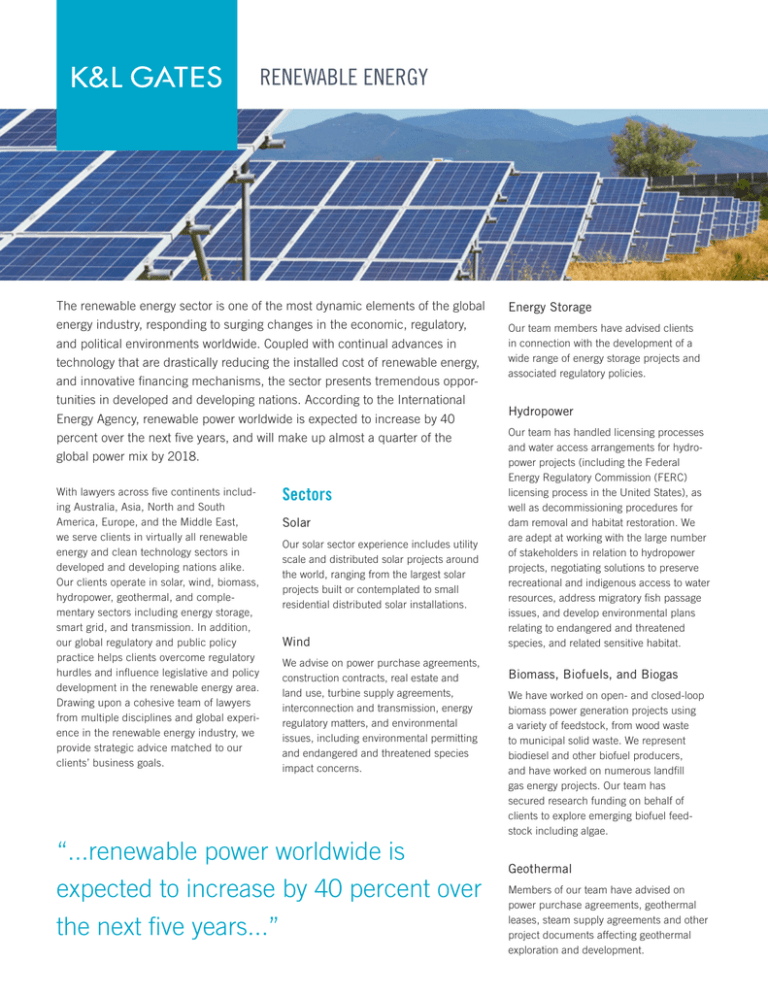 RENEWABLE ENERGY
The renewable energy sector is one of the most dynamic elements of the global
energy industry, responding to surging changes in the economic, regulatory,
and political environments worldwide. Coupled with continual advances in
technology that are drastically reducing the installed cost of renewable energy,
and innovative financing mechanisms, the sector presents tremendous opportunities in developed and developing nations. According to the International
Energy Agency, renewable power worldwide is expected to increase by 40
percent over the next five years, and will make up almost a quarter of the
global power mix by 2018.
With lawyers across five continents including Australia, Asia, North and South
America, Europe, and the Middle East,
we serve clients in virtually all renewable
energy and clean technology sectors in
developed and developing nations alike.
Our clients operate in solar, wind, biomass,
hydropower, geothermal, and complementary sectors including energy storage,
smart grid, and transmission. In addition,
our global regulatory and public policy
practice helps clients overcome regulatory
hurdles and influence legislative and policy
development in the renewable energy area.
Drawing upon a cohesive team of lawyers
from multiple disciplines and global experience in the renewable energy industry, we
provide strategic advice matched to our
clients' business goals.
Sectors
Solar
Our solar sector experience includes utility
scale and distributed solar projects around
the world, ranging from the largest solar
projects built or contemplated to small
residential distributed solar installations.
Wind
We advise on power purchase agreements,
construction contracts, real estate and
land use, turbine supply agreements,
interconnection and transmission, energy
regulatory matters, and environmental
issues, including environmental permitting
and endangered and threatened species
impact concerns.
"...renewable power worldwide is
expected to increase by 40 percent over
the next five years..."
Energy Storage
Our team members have advised clients
in connection with the development of a
wide range of energy storage projects and
associated regulatory policies.
Hydropower
Our team has handled licensing processes
and water access arrangements for hydropower projects (including the Federal
Energy Regulatory Commission (FERC)
licensing process in the United States), as
well as decommissioning procedures for
dam removal and habitat restoration. We
are adept at working with the large number
of stakeholders in relation to hydropower
projects, negotiating solutions to preserve
recreational and indigenous access to water
resources, address migratory fish passage
issues, and develop environmental plans
relating to endangered and threatened
species, and related sensitive habitat.
Biomass, Biofuels, and Biogas
We have worked on open- and closed-loop
biomass power generation projects using
a variety of feedstock, from wood waste
to municipal solid waste. We represent
biodiesel and other biofuel producers,
and have worked on numerous landfill
gas energy projects. Our team has
secured research funding on behalf of
clients to explore emerging biofuel feedstock including algae.
Geothermal
Members of our team have advised on
power purchase agreements, geothermal
leases, steam supply agreements and other
project documents affecting geothermal
exploration and development.
How We Can Help
• Project development and feasibility
Our lawyers help emerging energy and
technology companies form and organize;
secure grants, venture capital, and other
sources of financing; establish strategic alliances; engage in mergers and acquisitions
transactions; commercialize their products
through technology licensing; and protect
their intellectual property.
• Siting and permitting
We have advised on all aspects of projects,
from conception to completion and ongoing
commercial operation, including:
• Real estate and property access
• Project financing
• Environmental regulation and pro-
tected species
• Mergers and acquisitions
• Tax
• Power purchase agreements and
renewable credits
• Interconnection and transmission
• Construction contracts and disputes
• Regulatory and government policy
Argentina
Brazil
Aruba
Canada
Australia
Chile
Bermuda (UK)
China
Dominican
Republic
France
Germany
Greece
Lesotho
Philippines
Singapore
United Kingdom
Guatemala
Malaysia
Poland
South Africa
United States
Italy
Mexico
Puerto Rico
Spain
U.S. Virgin Islands
Japan
Mozambique
Romania
Turkey
Vietnam
Learn more about our Renewable Energy practice at klgates.com.
12015
Location of projects handled by K&L Gates lawyers indicated in blue.