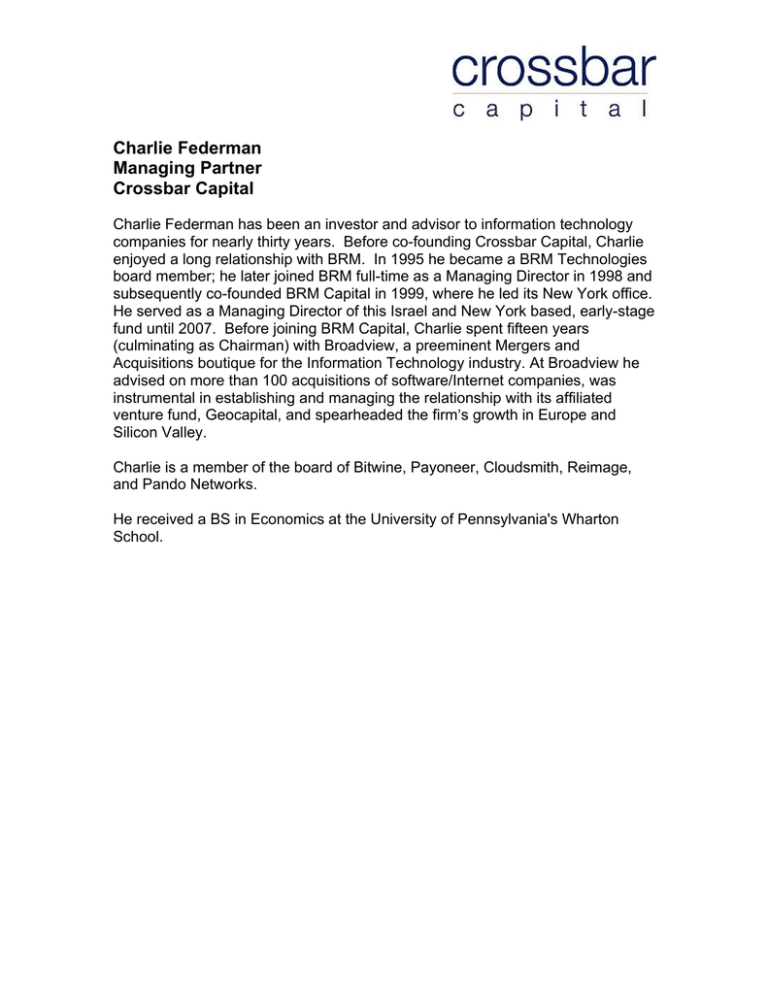 Charlie Federman
Managing Partner
Crossbar Capital
Charlie Federman has been an investor and advisor to information technology
companies for nearly thirty years. Before co-founding Crossbar Capital, Charlie
enjoyed a long relationship with BRM. In 1995 he became a BRM Technologies
board member; he later joined BRM full-time as a Managing Director in 1998 and
subsequently co-founded BRM Capital in 1999, where he led its New York office.
He served as a Managing Director of this Israel and New York based, early-stage
fund until 2007. Before joining BRM Capital, Charlie spent fifteen years
(culminating as Chairman) with Broadview, a preeminent Mergers and
Acquisitions boutique for the Information Technology industry. At Broadview he
advised on more than 100 acquisitions of software/Internet companies, was
instrumental in establishing and managing the relationship with its affiliated
venture fund, Geocapital, and spearheaded the firm s growth in Europe and
Silicon Valley.
Charlie is a member of the board of Bitwine, Payoneer, Cloudsmith, Reimage,
and Pando Networks.
He received a BS in Economics at the University of Pennsylvania's Wharton
School.