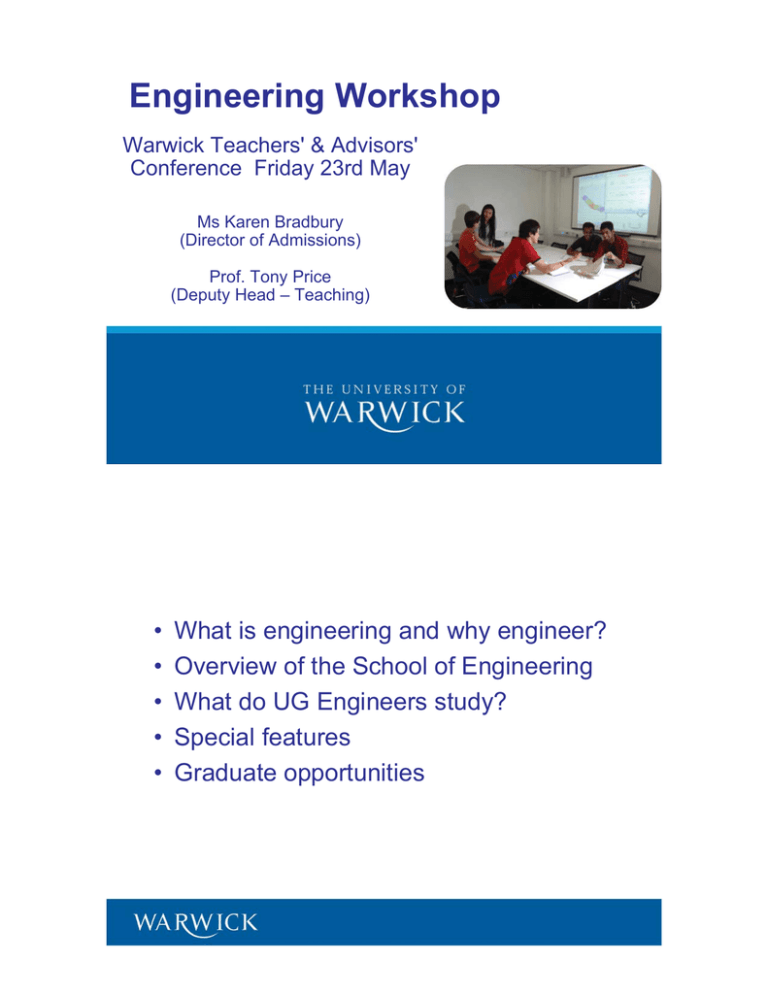 Engineering Workshop
Warwick Teachers' & Advisors'
Conference Friday 23rd May
Ms Karen Bradbury
(Director of Admissions)
Prof. Tony Price
(Deputy Head – Teaching)
•
•
•
•
•
What is engineering and why engineer?
Overview of the School of Engineering
What do UG Engineers study?
Special features
Graduate opportunities
Our profession, engineering, underpins the progress
of humankind. For thousands of years, engineers
have unlocked the natural resources of the earth for
the benefit of humanity. Engineers have given
practical application to scientific endeavour – driving
economic growth and bringing billions out of poverty.
In the future, it will be engineers using the earth's
resources in new ways who continue that progress,
solving the great challenges we face today.
Lord Browne of Madingley, 2011, For the Engineering Leaders of
Tomorrow, Royal Academy of Engineering, pp.24
School of Engineering (SoE):
• SoE is one of only 5 unified (integrated) departments of engineering in the
Russell Group (others: Cambridge, Oxford, Durham, Exeter).
• Ranked 5th/6th/7th in 2014 league tables out of 25-50 entries (Guardian,
Times, CUG).
• SoE is the 2nd largest UK recruiter of undergraduate students into an
integrated department (2nd only to Cambridge) and we are the 3rd largest
integrated department based on academic staff numbers.
• Total income 2014/15 forecast £21M: research £11.2M, teaching £10.4M
Student numbers:
1100 UGs
55 PGTs
132 PGRs
22% O/seas
16% Female
50% O/seas
13% Female
56% O/seas
24% Female
Undergraduate engineering degrees
•
•
•
•
•
•
•
•
Engineering
Automotive Engineering
Civil Engineering
Electronic Engineering
Mechanical Engineering
Manufacturing & Mechanical Engineering
Engineering and Business Management
Engineering and Business Studies
Postgraduate taught degrees
•
•
•
•
•
•
•
Advanced Mechanical Engineering
Biomedical Engineering
Communications and Information Engineering
Energy and Power Engineering
Information Engineering (CUSP)
Sustainable Energy Technologies
Tunnelling and Underground Space
Core subjects in 1st year
• Circuits, Devices and Power Systems
• Design for Function
– project work
– materials and production methods
• Engineering Mathematics and
Systems Modelling
• Mechanics and Thermodynamics
• Introduction to Engineering Business
Management
• Engineering Skills
Optional modules in 1st year
Choose one from:
• Aesthetics of Design
• Biomedical Engineering
• Multimedia Technology
• Introduction to Philosophy
• Technology in International Development
• Foreign Language
Core subjects in 2nd year
• Engineering Design
• Energy Conversion and Power
Systems
• Engineering Materials
• Engineering Mathematics and
Technical Computing
• Mechanics and Thermofluids
• Technical Operations
Management
Optional modules in 2nd year
Choose one from:
• Computer Engineering & Programming
• Forensic Engineering
• Starting a Business
• Motor Vehicle Technology
• Foreign Language
• Introduction to Secondary Teaching
(incl. Warwick in Schools)
3rd year
• Project
• Core modules dependent
upon specialism
• Limited optionality
Electronic Engineering
z
General Engineering
z
Manufacturing and Mechanical
Engineering
z
Mechanical Engineering
z
Fluid Dynamics
A year in research
(5 year degree)
z
An intercalated year
(5 year degree)
Civil Engineering
Sustainability
z
Robotics
Automotive Engineering
Communications
Group project, core and
optional modules, an
elective
Business Management
4th year
z
z
z
z
z
z
z
z
z
z
z
z
z
z
z
z
z
z
z
z
z
2012 graduate employment statistics
(for 176 Engineers, six months after graduation)
5%
21%
7%
67.5%
67%
Working/startingworkin
nextmonth
FullͲtimestudy,training
orresearch
Travelling/other
Unemployedandlooking
forwork
Knorr-Bremse
Sales & Marketing Director
RNIB
Chief Scientist
Career progression
1st graduate 1965
Vicon
Director of Engineering
Sophos
Co-Founder & Board Member
Foreign and Commonwealth Office
Head of Science and Innovation
British Airways
Airline Pilot – Senior First Officer
Amazon.com
Technology Director, Vendor Core Systems
Met Office
Development Engineer
Apple
iPhone Hardware Manager
BBC
Resource Development Manager
BMW Group
Supplier Quality Engineer
Severn Trent
Assistant Solutions Engineer
National Grid
Mechanical Engineer
Flight structures
Aerospace Stress Engineer
There is good econometric evidence that the
demand for graduate engineers exceeds
supply and the demand is pervasive across all
sectors of the economy. The implication of this
is that the economy needs more graduate
engineers for both engineering and nonengineering jobs. The evidence can be seen in
a persistent, sizeable wage premium for
people holding engineering degrees
and this premium has grown over the
last 20 years.
RAEng, 2012. Jobs and growth: the importance of engineering skills to the
UK economy, pp.40
Any questions?