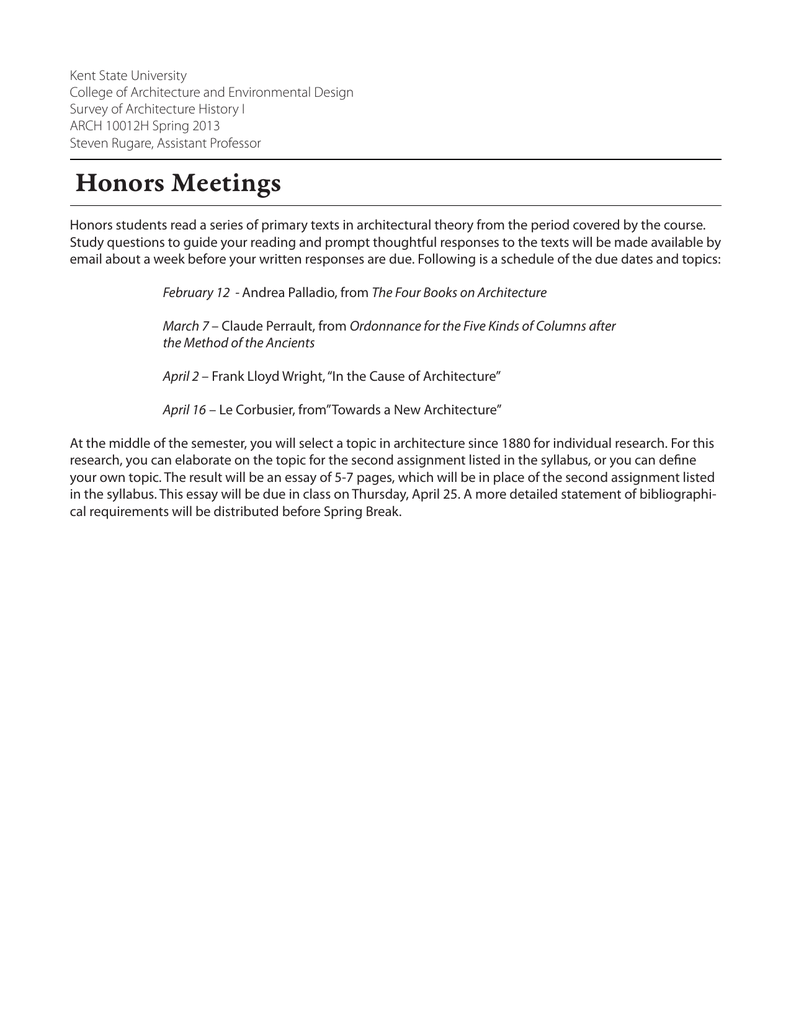 Kent State University
College of Architecture and Environmental Design
Survey of Architecture History I
ARCH 10012H Spring 2013
Steven Rugare, Assistant Professor
Honors Meetings
Honors students read a series of primary texts in architectural theory from the period covered by the course.
Study questions to guide your reading and prompt thoughtful responses to the texts will be made available by
email about a week before your written responses are due. Following is a schedule of the due dates and topics:
February 12 - Andrea Palladio, from The Four Books on Architecture
March 7 – Claude Perrault, from Ordonnance for the Five Kinds of Columns after
the Method of the Ancients
April 2 – Frank Lloyd Wright, "In the Cause of Architecture"
April 16 – Le Corbusier, from"Towards a New Architecture"
At the middle of the semester, you will select a topic in architecture since 1880 for individual research. For this
research, you can elaborate on the topic for the second assignment listed in the syllabus, or you can define
your own topic. The result will be an essay of 5-7 pages, which will be in place of the second assignment listed
in the syllabus. This essay will be due in class on Thursday, April 25. A more detailed statement of bibliographical requirements will be distributed before Spring Break.