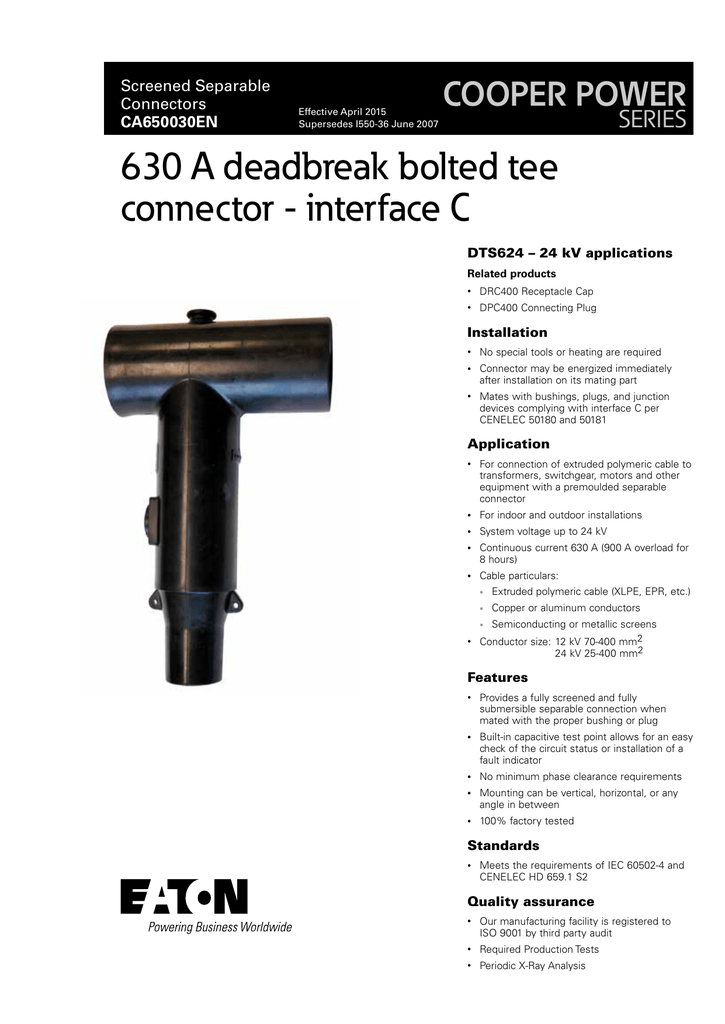 Screened Separable
Connectors
CA650030EN
COOPER POWER
Electrical Apparatus
Effective April 2015
Supersedes I550-36 June 2007
SERIES
630 A deadbreak bolted tee
connector - interface C
DTS624 – 24 kV applications
Related products
•
DRC400 Receptacle Cap
•
DPC400 Connecting Plug
Installation
•
No special tools or heating are required
•
Connector may be energized immediately
after installation on its mating part
•
Mates with bushings, plugs, and junction
devices complying with interface C per
CENELEC 50180 and 50181
Application
•
For connection of extruded polymeric cable to
transformers, switchgear, motors and other
equipment with a premoulded separable
connector
•
For indoor and outdoor installations
•
System voltage up to 24 kV
•
Continuous current 630 A (900 A overload for
8 hours)
•
Cable particulars:
• Extruded polymeric cable (XLPE, EPR, etc.)
•
•
Copper or aluminum conductors
•
Semiconducting or metallic screens
Conductor size:12 kV 70-400 mm2
24 kV 25-400 mm2
Features
•
Provides a fully screened and fully
submersible separable connection when
mated with the proper bushing or plug
•
Built-in capacitive test point allows for an easy
check of the circuit status or installation of a
fault indicator
•
No minimum phase clearance requirements
•
Mounting can be vertical, horizontal, or any
angle in between
•
100% factory tested
Standards
•
Meets the requirements of IEC 60502-4 and
CENELEC HD 659.1 S2
Quality assurance
•
Our manufacturing facility is registered to
ISO 9001 by third party audit
•
Required Production Tests
•
Periodic X-Ray Analysis
Catalog Data CA650030EN
630 A deadbreak bolted tee connector - interface C
Effective April 2015
Features and detailed description
1. Clamping Screw
Tin-plated copper screw secures the conductor contact to the
bushing
1
3
2.Insulation
Moulded EPDM insulating rubber is formulated and mixed
in-house to ensure high quality
3. Basic Insulating Plug
4
Moulded epoxy part has a threaded metal insert to accept
the clamping screw
5
12
4. Capacitive Test Point
Capacitive test point provides means to check circuit status
6
11
2
5. Rubber Cap
Moulded EPDM conducting rubber cap protects and earths
the test point during normal operation
6. Internal Screen
Moulded EPDM conducting rubber screen controls electrical
stress
7
10
7. Capacitive Test Point (Optional)
Provides a means to mount a fault indicator. A moulded
EPDM conducting rubber cap provides a watertight seal.
9
8
8. Stress Relief
The configuration of the outer screen and the cable adapter
provide cable stress relief
9. Cable Adapter
The sized opening provides an interference fit to maintain a
watertight seal and provides the initial cable stress relief
10. Earthing Eyes
Moulded into the external screen for connection of an
earthing wire
11. External Screen
Moulded EPDM conducting rubber mates with the cable
screen to maintain screen continuity and ensure that the
assembly is at earth potential
12. Conductor Contact
Inertia welded bimetallic compression connector accepts
copper or aluminum conductors
Figure 1. 630 A, 24 kV Class DTS624 deadbreak tee connector.
Packaging
•
Supplied in a kit with all necessary parts, approximate weight 3 kg
Table 1. Electrical Ratings
DTS624
Maximum System Voltage (Um)
24 kV
Impulse
125 kV
AC Withstand (5 min.)
54 kV
Continuous Current
630 A
Overload (8 hrs. Max.)
900 A
Short Circuit Withstand, 1 sec. (rms sym)
35 kA
NNotes: Ratings are based on IEC Standards and do not reflect maximum capability.
2
www.eaton.com/cooperpowerseries
Catalog Data CA650030EN
630 A deadbreak bolted tee connector - interface C
Effective April 2015
199 mm
109
mm
90 mm
341 mm
Figure 2. DTS624 deadbreak tee connector dimensional information.
Kit contents
Optional Test Point
The complete kit includes 1 each moulded tee housing, cable
adapter, conductor contact, insulating plug, rubber cap, clamping
screw, silicone lubricant, and installation instructions.
If a test point on the tee body is required, add a "T" at the end of
the catalog number.
Example: DTS624F240T
Ordering Information
Ordering Example: For 20 kV cable, 240 mm2 aluminum
conductor, 31.0 mm core insulation diameter, DIN connector,
specify DTS624F240.
The complete catalog number for the tee connector is DTS624RC.
R is the cable range designation and C is the conductor contact
code. Select the cable range designation from Table 2. Select the
conductor contact code from Table 3 for the conductor size and
type of connector required.
Table 2. Cable Insulation Range
Cable Insulation Range Ø (mm)
Cable seal adapters are ordered separately.
Table 3. Conductor Code
Stranded Conductor
Size (mm2)
DIN Type
EDF Type
25
25
E25
Insulation Range
Designation
Min.
Max.
35
35
E35
AA
13.5
17.2
50
50
E50
A
16.3
19.3
70
70
E70
B
18.3
21.0
95
95
E95
C
20.0
24.1
120
120
E120
D
23.1
27.0
150
150
E150
E
25.6
29.0
185
185
E185
F
27.7
32.6
240
240
E240
G
30.9
36.2
300
300
-
H
34.0
39.5
400
400
-
NNotes: Bimetallic connectors can be used with aluminum or copper conductors.
www.eaton.com/cooperpowerseries
3
Catalog Data CA650030EN
630 A deadbreak bolted tee connector - interface C
Effective April 2015
Eaton
1000 Eaton Boulevard
Cleveland, OH 44122
United States
Eaton.com
Eaton's Cooper Power Systems Division
2300 Badger Drive
Waukesha, WI 53188
Eaton.com/cooperpowerseries
© 2015 Eaton
All Rights Reserved
Printed in USA
Publication No. CA650030EN
Eaton and Cooper Power are valuable
trademarks of Eaton in the U.S. and other
countries. You are not permitted to use
these trademarks without the prior written
consent of Eaton.