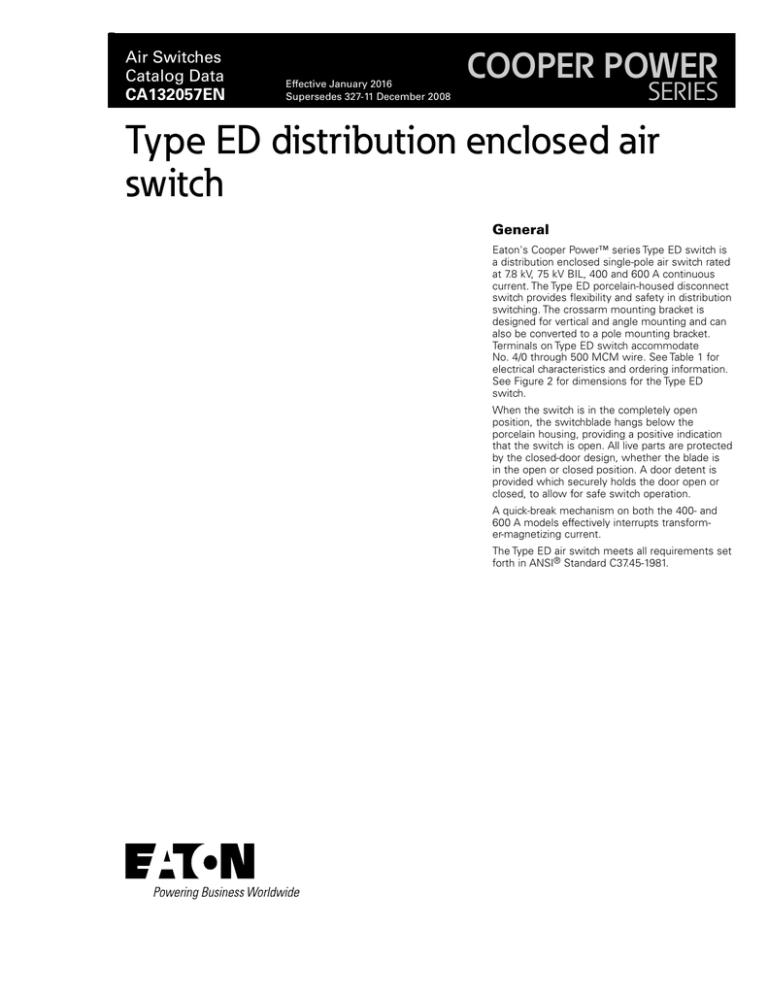 De
Air Switches
Catalog Data
CA132057EN
Effective January 2016
Supersedes 327-11 December 2008
COOPER POWER
SERIES
Type ED distribution enclosed air
switch
General
Eaton's Cooper Power™ series Type ED switch is
a distribution enclosed single-pole air switch rated
at 7.8 kV, 75 kV BIL, 400 and 600 A continuous
current. The Type ED porcelain-housed disconnect
switch provides flexibility and safety in distribution
switching. The crossarm mounting bracket is
designed for vertical and angle mounting and can
also be converted to a pole mounting bracket.
Terminals on Type ED switch accommodate
No. 4/0 through 500 MCM wire. See Table 1 for
electrical characteristics and ordering information.
See Figure 2 for dimensions for the Type ED
switch.
When the switch is in the completely open
position, the switchblade hangs below the
porcelain housing, providing a positive indication
that the switch is open. All live parts are protected
by the closed-door design, whether the blade is
in the open or closed position. A door detent is
provided which securely holds the door open or
closed, to allow for safe switch operation.
A quick-break mechanism on both the 400- and
600 A models effectively interrupts transformer-magnetizing current.
The Type ED air switch meets all requirements set
forth in ANSI® Standard C37.45-1981.
Catalog Data CA132057EN
Type ED distribution enclosed air switch
Effective January 2016
Figure 1. Type ED switch.
Figure 2. Dimensions for Type ED switch.
Table 1. Electrical Characteristics and Ordering Information
Catalog
Number
FW4A1
FW3A1
Maximum
Design Voltage
Rating (kV)
7.8
7.8
Continuous
Current (amp)
400
600
Momentary Rating
(amps rms)
20000
20000
Impulse Withstand
Voltage (BIL) - 1.2 x 50
Microsecond Wave (kV)
75
75
Minimum
Power-Frequency
Withstand
(kV rms)
27
24
27
24
Shipping weight
lb (kg)
29.1 (13.2)
29.6 (13.4)
Eaton
1000 Eaton Boulevard
Cleveland, OH 44122
United States
Eaton.com
Eaton's Cooper Power Systems Division
2300 Badger Drive
Waukesha, WI 53188
United States
Eaton.com/cooperpowerseries
© 2016 Eaton
All Rights Reserved
Printed in USA
Publication No. CA132057EN
Eaton is a registered trademark.
All other trademarks are property
of their respective owners.
For Eaton's Cooper Power series product
information call 1-877-277-4636 or visit:
www.eaton.com/cooperpowerseries.