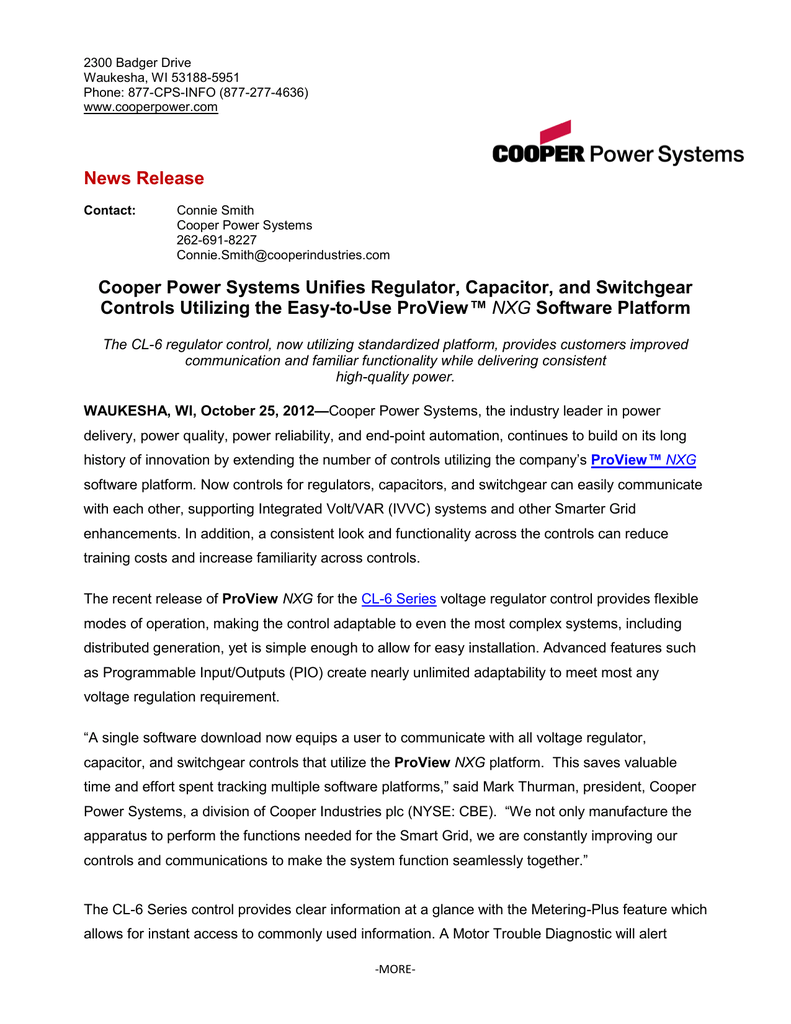 2300 Badger Drive
Waukesha, WI 53188-5951
Phone: 877-CPS-INFO (877-277-4636)
www.cooperpower.com
News Release
Contact:
Connie Smith
Cooper Power Systems
262-691-8227
[email protected]
Cooper Power Systems Unifies Regulator, Capacitor, and Switchgear
Controls Utilizing the Easy-to-Use ProView™ NXG Software Platform
The CL-6 regulator control, now utilizing standardized platform, provides customers improved
communication and familiar functionality while delivering consistent
high-quality power.
WAUKESHA, WI, October 25, 2012—Cooper Power Systems, the industry leader in power
delivery, power quality, power reliability, and end-point automation, continues to build on its long
history of innovation by extending the number of controls utilizing the company's ProView™ NXG
software platform. Now controls for regulators, capacitors, and switchgear can easily communicate
with each other, supporting Integrated Volt/VAR (IVVC) systems and other Smarter Grid
enhancements. In addition, a consistent look and functionality across the controls can reduce
training costs and increase familiarity across controls.
The recent release of ProView NXG for the CL-6 Series voltage regulator control provides flexible
modes of operation, making the control adaptable to even the most complex systems, including
distributed generation, yet is simple enough to allow for easy installation. Advanced features such
as Programmable Input/Outputs (PIO) create nearly unlimited adaptability to meet most any
voltage regulation requirement.
"A single software download now equips a user to communicate with all voltage regulator,
capacitor, and switchgear controls that utilize the ProView NXG platform. This saves valuable
time and effort spent tracking multiple software platforms," said Mark Thurman, president, Cooper
Power Systems, a division of Cooper Industries plc (NYSE: CBE). "We not only manufacture the
apparatus to perform the functions needed for the Smart Grid, we are constantly improving our
controls and communications to make the system function seamlessly together."
The CL-6 Series control provides clear information at a glance with the Metering-Plus feature which
allows for instant access to commonly used information. A Motor Trouble Diagnostic will alert
-MORE-
Cooper Power Systems – Page 2
customers to apparatus problems before they incur costs and can reduce the need for expensive
manual operations checks. Smart Grid enhancing features of the CL-6 Series voltage regulator
control include alternate configuration settings, Adaptive ADD-AMP™, improved communications
programmability, and enhanced ARL (Auto-Restore-Local) that restores auto operation and
settings upon loss of communications. SCADA ready, the CL-6 control will integrate easily into
existing systems. This powerful software enhances functionality for computers equipped with the
Microsoft ® Windows® 7 operating system.
For more information on the wide range of products offered by Cooper Power Systems visit,
www.cooperpower.com.
Cooper Power Systems, ProView, and ADD-AMP are valuable trademarks of Cooper Industries
in the U.S. and other countries.
Microsoft® and Windows® are either registered trademarks or trademarks of Microsoft Corporation
in the United States and/or other countries.
###
Editor's Note: For additional information, contact Mike Petrasek of Burson-Marsteller at
(412) 394-6611 or [email protected]
About Cooper Power Systems
Cooper Power Systems, a subsidiary of Cooper Industries plc (NYSE: CBE), and a global manufacturer and
provider of world-class power delivery apparatus and solutions for the utility, commercial, and industrial
markets. The company maintains a complete portfolio of products and services required to transform,
protect, connect, and build out an electric power system backbone. Smart apparatus – voltage regulators,
capacitors, reclosers, switchgear, smart sensors, and controls – integrated with enterprise level software and
secure communications enable customers to increase productivity, optimize asset efficiency, improve system
reliability, and reduce costs. Reliability and grid-point solutions include: Integrated Volt/Var Control (IVVC),
feeder, and substation automation systems. End-point solutions include: Advanced Metering Infrastructure
(AMI) and Demand Response (DR). The company is a leading provider of engineering optimization and
modeling tools. For more information, please visit www.cooperpower.com.
About Cooper Industries
Cooper Industries plc (NYSE: CBE) is a global electrical products manufacturer with 2011 revenues of $5.4
billion. Founded in 1833 Cooper's sustained success is attributable to a constant focus on innovation and
evolving business practices, while maintaining the highest ethical standards and meeting customer
needs. The Company has seven operating divisions with leading market positions and world-class
products and brands, including Bussmann electrical and electronic fuses; Crouse-Hinds and CEAG
explosion-proof electrical equipment; Halo and Metalux lighting fixtures; and Kyle and McGraw-Edison
power systems products. With this broad range of products, Cooper is uniquely positioned for several longterm growth trends including the global infrastructure build-out, the need to improve the reliability and
productivity of the electric grid, the demand for higher energy-efficient products and the need for improved
electrical safety. In 2011 sixty-two percent of total sales were to customers in the industrial and utility endmarkets and forty percent of total sales were to customers outside the United States. Cooper has
manufacturing facilities in 23 countries as of 2011. For more information, visit the website at
www.cooperindustries.com.