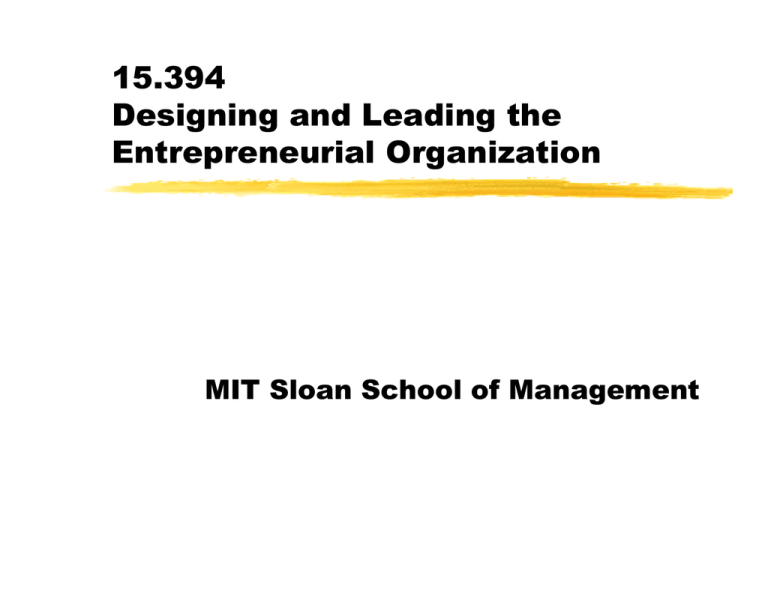 15.394 Designing and Leading the Entrepreneurial Organization
MIT Sloan School of Management
Agenda
?
?
?
Class Cards, Resumes, Learning Objectives
HUMAX Assessment
Zaplet Case Discussion
Initial Organization
? Initial Leadership
? Alan Baratz, Professional CEO
? Going Forward
? Update
?
?
Social Capital Synthesis
Case Discussion
Zaplet
Case Summary
Strategic Alignment
? What is strategy?
?
?
?
What is the firm's value
proposition?
How does the firm create
value?
Why is the value
appropriable/sustainable?
Zaplet Timeline vs.
Nasdaq Composite
6000
Baratz joins as
CEO
5000
4000
Presentation to
Khosla
Corporate strategy
change
3000
2000
Axe develops idea for
Zaplet
1000
CEO search
begins in earnest
Layoffs
occur
1/4/2002
11/4/2001
9/4/2001
7/4/2001
5/4/2001
3/4/2001
1/4/2001
11/4/2000
9/4/2000
7/4/2000
5/4/2000
3/4/2000
1/4/2000
11/4/1999
9/4/1999
7/4/1999
5/4/1999
3/4/1999
0
1/4/1999
Nasdaq Composite
Khosla first calls
Baratz
"Mentor Capitalists"
Sculptor
Set strategic direction, shape prototypes,
get early market feedback
Psychologist
Maintain perspective, calm proteges and
boost their confidence
Diplomat
Mediate conflicts among team members
Kingmaker
Coach neophyte executives
Talent Magnet
Recruit key employees
Process Engineer
Put efficient structures in place
Rainmaker
Raise money
Adapted from: Dorothy Leonard and Walter Swap. 2000. "Gurus in the Garage"
Harvard Business Review. November-December 2000. Reprint #6455.
Congruence
Leadership
People
Strategy
Critical
Tasks
Formal
Organization
Culture
Performance
Case Summary
Social Networks
? What is a network?
?
?
?
Nodes (actors)
Ties (relationships)
Network properties:
?
Structure
?
?
?
?
?
Size
Density
Redundancy
Composition
Focus
The Leader's Network
Government
Press
Public
Superiors
General
Manager
Peers
Subordinates
Professional
Contacts
Customers
Suppliers
Competitors
Social Networks
What is Social Capital?
? How do firms benefit?
? How are networks cultivated
and maintained?
? How do networks relate to
entrepreneurial opportunity?
? What about your network?
?
Baker textbook
Zaplet
Heidi Roizen
Jerry Sanders
HUMAX
Assessment
HUMAX Assessment
Instructions
Completing the Assessment:
?
?
?
Allow 60-90 minutes to complete the assessment.
Plan to complete it in at least two sittings.
Use representative sample of your network.
Don't overemphasize your current Sloan network.
? Don't go through your address book and enter everyone you
find.
?
?
Print the long version of the report.