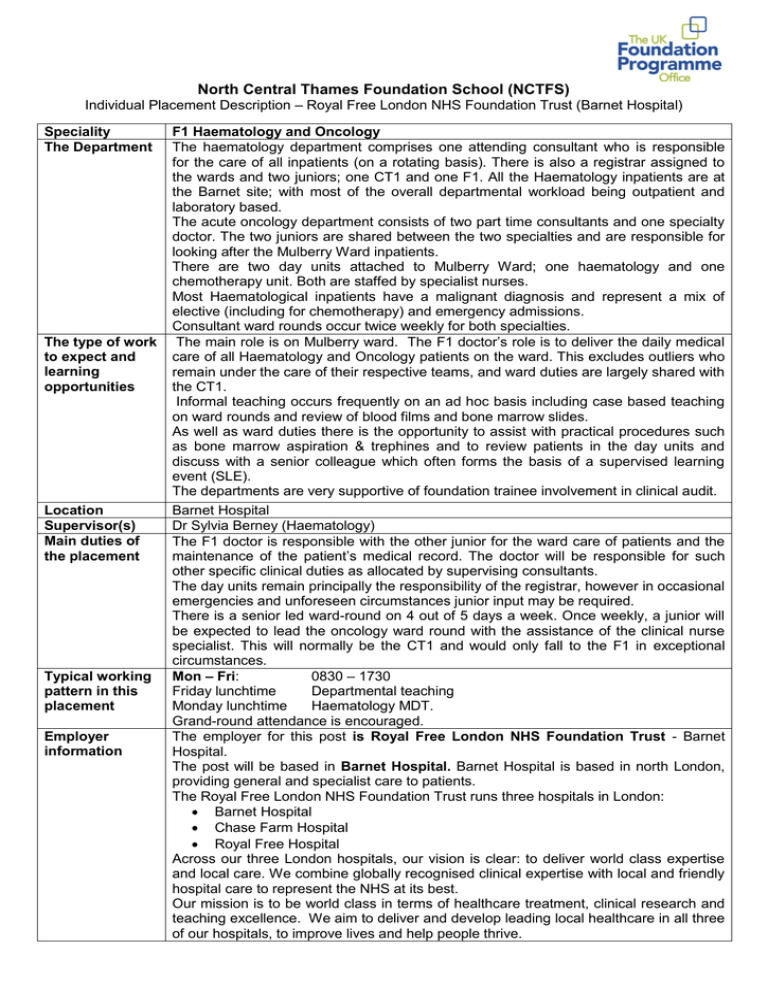 North Central Thames Foundation School (NCTFS)
Individual Placement Description – Royal Free London NHS Foundation Trust (Barnet Hospital)
Speciality
The Department
The type of work
to expect and
learning
opportunities
Location
Supervisor(s)
Main duties of
the placement
Typical working
pattern in this
placement
Employer
information
F1 Haematology and Oncology
The haematology department comprises one attending consultant who is responsible
for the care of all inpatients (on a rotating basis). There is also a registrar assigned to
the wards and two juniors; one CT1 and one F1. All the Haematology inpatients are at
the Barnet site; with most of the overall departmental workload being outpatient and
laboratory based.
The acute oncology department consists of two part time consultants and one specialty
doctor. The two juniors are shared between the two specialties and are responsible for
looking after the Mulberry Ward inpatients.
There are two day units attached to Mulberry Ward; one haematology and one
chemotherapy unit. Both are staffed by specialist nurses.
Most Haematological inpatients have a malignant diagnosis and represent a mix of
elective (including for chemotherapy) and emergency admissions.
Consultant ward rounds occur twice weekly for both specialties.
The main role is on Mulberry ward. The F1 doctor's role is to deliver the daily medical
care of all Haematology and Oncology patients on the ward. This excludes outliers who
remain under the care of their respective teams, and ward duties are largely shared with
the CT1.
Informal teaching occurs frequently on an ad hoc basis including case based teaching
on ward rounds and review of blood films and bone marrow slides.
As well as ward duties there is the opportunity to assist with practical procedures such
as bone marrow aspiration & trephines and to review patients in the day units and
discuss with a senior colleague which often forms the basis of a supervised learning
event (SLE).
The departments are very supportive of foundation trainee involvement in clinical audit.
Barnet Hospital
Dr Sylvia Berney (Haematology)
The F1 doctor is responsible with the other junior for the ward care of patients and the
maintenance of the patient's medical record. The doctor will be responsible for such
other specific clinical duties as allocated by supervising consultants.
The day units remain principally the responsibility of the registrar, however in occasional
emergencies and unforeseen circumstances junior input may be required.
There is a senior led ward-round on 4 out of 5 days a week. Once weekly, a junior will
be expected to lead the oncology ward round with the assistance of the clinical nurse
specialist. This will normally be the CT1 and would only fall to the F1 in exceptional
circumstances.
Mon – Fri:
0830 – 1730
Friday lunchtime
Departmental teaching
Monday lunchtime
Haematology MDT.
Grand-round attendance is encouraged.
The employer for this post is Royal Free London NHS Foundation Trust - Barnet
Hospital.
The post will be based in Barnet Hospital. Barnet Hospital is based in north London,
providing general and specialist care to patients.
The Royal Free London NHS Foundation Trust runs three hospitals in London:
 Barnet Hospital
 Chase Farm Hospital
 Royal Free Hospital
Across our three London hospitals, our vision is clear: to deliver world class expertise
and local care. We combine globally recognised clinical expertise with local and friendly
hospital care to represent the NHS at its best.
Our mission is to be world class in terms of healthcare treatment, clinical research and
teaching excellence. We aim to deliver and develop leading local healthcare in all three
of our hospitals, to improve lives and help people thrive.
How the Royal Free will achieve its mission
We will achieve our mission by making sure that we have:
 Excellent outcomes, in our clinical treatment, research and teaching
 Excellent experiences for patients, staff and GPs
 Excellent value, by improving the efficiency and productivity of our services, and
reducing costs
 Full compliance, meeting or exceeding all regulatory standards and outcomes
we are set
 A strong organisation, investing effectively in our staff and infrastructure to make
sure we are fit for future challenges
How the Royal Free measures its performance
 In order to meet our aims, we want to ensure that our three London hospitals are
in the top 10% of all healthcare providers for:
 quality of clinics and treatments
 medical research
 teaching and training new medical staff
 patient satisfaction and experience
value for money
It is important to note that this description is a typical example of your placement and may be subject
to change.