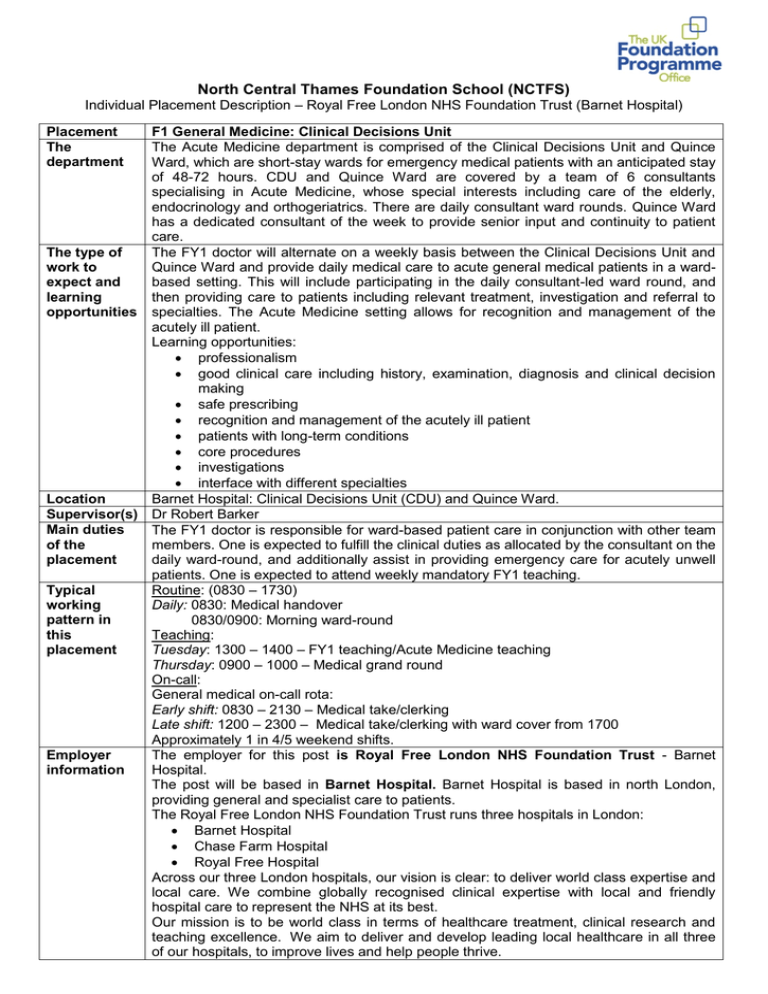 North Central Thames Foundation School (NCTFS)
Individual Placement Description – Royal Free London NHS Foundation Trust (Barnet Hospital)
Placement
The
department
F1 General Medicine: Clinical Decisions Unit
The Acute Medicine department is comprised of the Clinical Decisions Unit and Quince
Ward, which are short-stay wards for emergency medical patients with an anticipated stay
of 48-72 hours. CDU and Quince Ward are covered by a team of 6 consultants
specialising in Acute Medicine, whose special interests including care of the elderly,
endocrinology and orthogeriatrics. There are daily consultant ward rounds. Quince Ward
has a dedicated consultant of the week to provide senior input and continuity to patient
care.
The type of
The FY1 doctor will alternate on a weekly basis between the Clinical Decisions Unit and
work to
Quince Ward and provide daily medical care to acute general medical patients in a wardexpect and
based setting. This will include participating in the daily consultant-led ward round, and
learning
then providing care to patients including relevant treatment, investigation and referral to
opportunities specialties. The Acute Medicine setting allows for recognition and management of the
acutely ill patient.
Learning opportunities:
 professionalism
 good clinical care including history, examination, diagnosis and clinical decision
making
 safe prescribing
 recognition and management of the acutely ill patient
 patients with long-term conditions
 core procedures
 investigations
 interface with different specialties
Location
Barnet Hospital: Clinical Decisions Unit (CDU) and Quince Ward.
Supervisor(s) Dr Robert Barker
Main duties
The FY1 doctor is responsible for ward-based patient care in conjunction with other team
of the
members. One is expected to fulfill the clinical duties as allocated by the consultant on the
placement
daily ward-round, and additionally assist in providing emergency care for acutely unwell
patients. One is expected to attend weekly mandatory FY1 teaching.
Typical
Routine: (0830 – 1730)
working
Daily: 0830: Medical handover
pattern in
0830/0900: Morning ward-round
this
Teaching:
placement
Tuesday: 1300 – 1400 – FY1 teaching/Acute Medicine teaching
Thursday: 0900 – 1000 – Medical grand round
On-call:
General medical on-call rota:
Early shift: 0830 – 2130 – Medical take/clerking
Late shift: 1200 – 2300 – Medical take/clerking with ward cover from 1700
Approximately 1 in 4/5 weekend shifts.
Employer
The employer for this post is Royal Free London NHS Foundation Trust - Barnet
information
Hospital.
The post will be based in Barnet Hospital. Barnet Hospital is based in north London,
providing general and specialist care to patients.
The Royal Free London NHS Foundation Trust runs three hospitals in London:
 Barnet Hospital
 Chase Farm Hospital
 Royal Free Hospital
Across our three London hospitals, our vision is clear: to deliver world class expertise and
local care. We combine globally recognised clinical expertise with local and friendly
hospital care to represent the NHS at its best.
Our mission is to be world class in terms of healthcare treatment, clinical research and
teaching excellence. We aim to deliver and develop leading local healthcare in all three
of our hospitals, to improve lives and help people thrive.
How the Royal Free will achieve its mission
We will achieve our mission by making sure that we have:
 Excellent outcomes, in our clinical treatment, research and teaching
 Excellent experiences for patients, staff and GPs
 Excellent value, by improving the efficiency and productivity of our services, and
reducing costs
 Full compliance, meeting or exceeding all regulatory standards and outcomes we
are set
 A strong organisation, investing effectively in our staff and infrastructure to make
sure we are fit for future challenges
How the Royal Free measures its performance
 In order to meet our aims, we want to ensure that our three London hospitals are
in the top 10% of all healthcare providers for:
 quality of clinics and treatments
 medical research
 teaching and training new medical staff
 patient satisfaction and experience
 value for money
It is important to note that this description is a typical example of your placement and may be subject
to change.