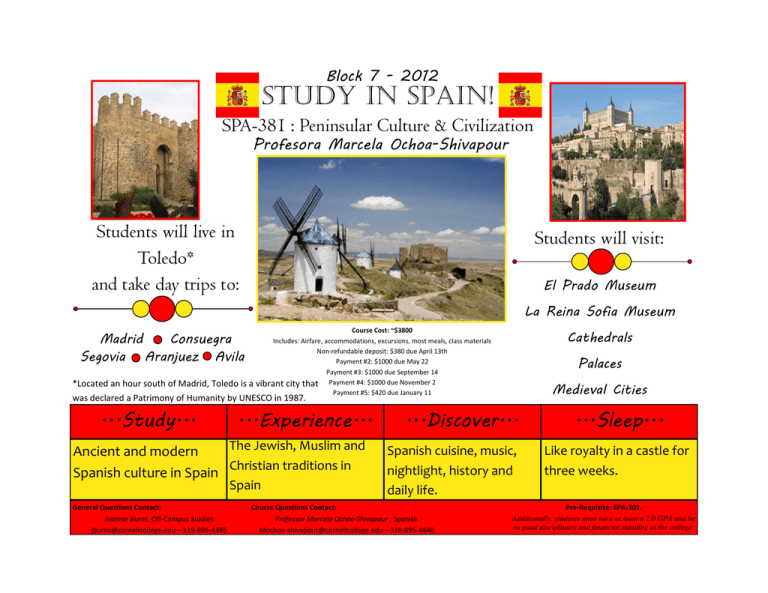 Block 7 - 2012
STUDY IN SPAIN!
SPA-381 : Peninsular Culture & Civilization
Profesora Marcela Ochoa-Shivapour
Students will live in
Toledo*
and take day trips to:
Students will visit:
El Prado Museum
La Reina Sofia Museum
Madrid
Consuegra
Segovia Aranjuez Avila
Course Cost: ~$3800
Includes: Airfare, accommodations, excursions, most meals, class materials
Non-refundable deposit: $380 due April 13th
Payment #2: $1000 due May 22
Payment #3: $1000 due September 14
vibrant city that Payment #4: $1000 due November 2
Payment #5: $420 due January 11
Cathedrals
Palaces
*Located an hour south of Madrid, Toledo is a
was declared a Patrimony of Humanity by UNESCO in 1987.
...Study...
...Experience...
The Jewish, Muslim and
Ancient and modern
Christian traditions in
Spanish culture in Spain
Spain
General Questions Contact:
Jeannie Burns, Off-Campus Studies
jburns@cornellcollege.edu—319-895-4385
Medieval Cities
...Discover...
Spanish cuisine, music,
nightlight, history and
daily life.
Course Questions Contact:
Professor Marcela Ochoa-Shivapour , Spanish
Mochoa-shivapour@cornellcollege.edu—319-895-4440
...Sleep...
Like royalty in a castle for
three weeks.
Pre-Requisite: SPA-301.
Additionally, students must have at least a 2.0 GPA and be
in good disciplinary and financial standing at the college.