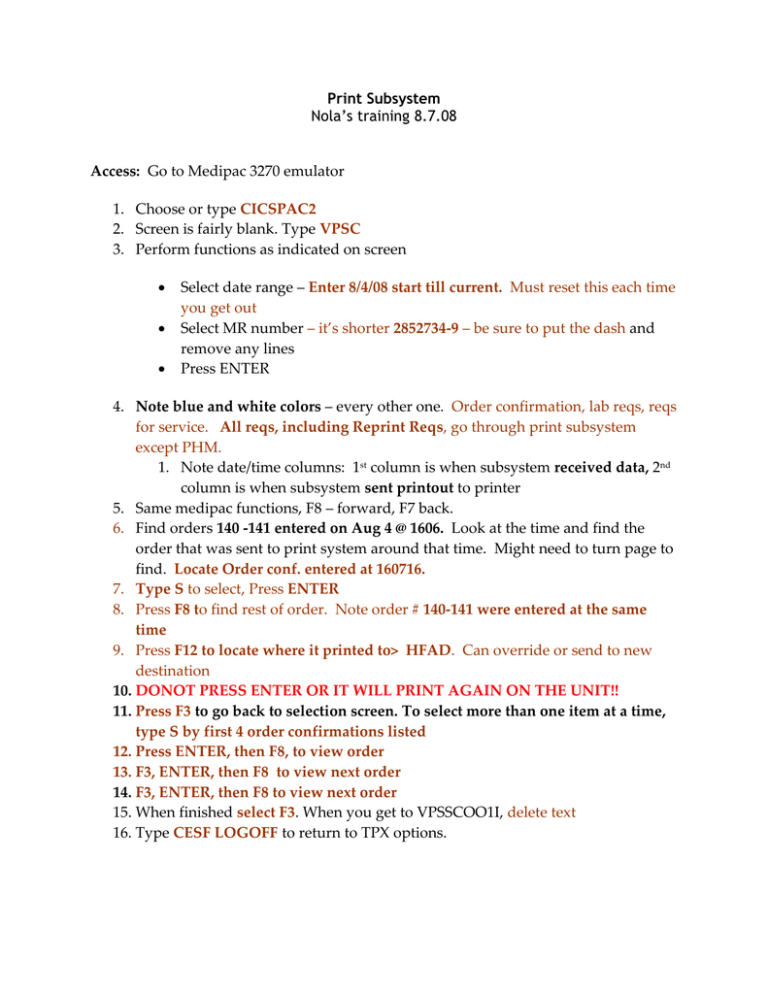 Print Subsystem
Nola's training 8.7.08
Access: Go to Medipac 3270 emulator
1. Choose or type CICSPAC2
2. Screen is fairly blank. Type VPSC
3. Perform functions as indicated on screen



Select date range – Enter 8/4/08 start till current. Must reset this each time
you get out
Select MR number – it's shorter 2852734-9 – be sure to put the dash and
remove any lines
Press ENTER
4. Note blue and white colors – every other one. Order confirmation, lab reqs, reqs
for service. All reqs, including Reprint Reqs, go through print subsystem
except PHM.
1. Note date/time columns: 1st column is when subsystem received data, 2nd
column is when subsystem sent printout to printer
5. Same medipac functions, F8 – forward, F7 back.
6. Find orders 140 -141 entered on Aug 4 @ 1606. Look at the time and find the
order that was sent to print system around that time. Might need to turn page to
find. Locate Order conf. entered at 160716.
7. Type S to select, Press ENTER
8. Press F8 to find rest of order. Note order # 140-141 were entered at the same
time
9. Press F12 to locate where it printed to> HFAD. Can override or send to new
destination
10. DONOT PRESS ENTER OR IT WILL PRINT AGAIN ON THE UNIT!!
11. Press F3 to go back to selection screen. To select more than one item at a time,
type S by first 4 order confirmations listed
12. Press ENTER, then F8, to view order
13. F3, ENTER, then F8 to view next order
14. F3, ENTER, then F8 to view next order
15. When finished select F3. When you get to VPSSCOO1I, delete text
16. Type CESF LOGOFF to return to TPX options.