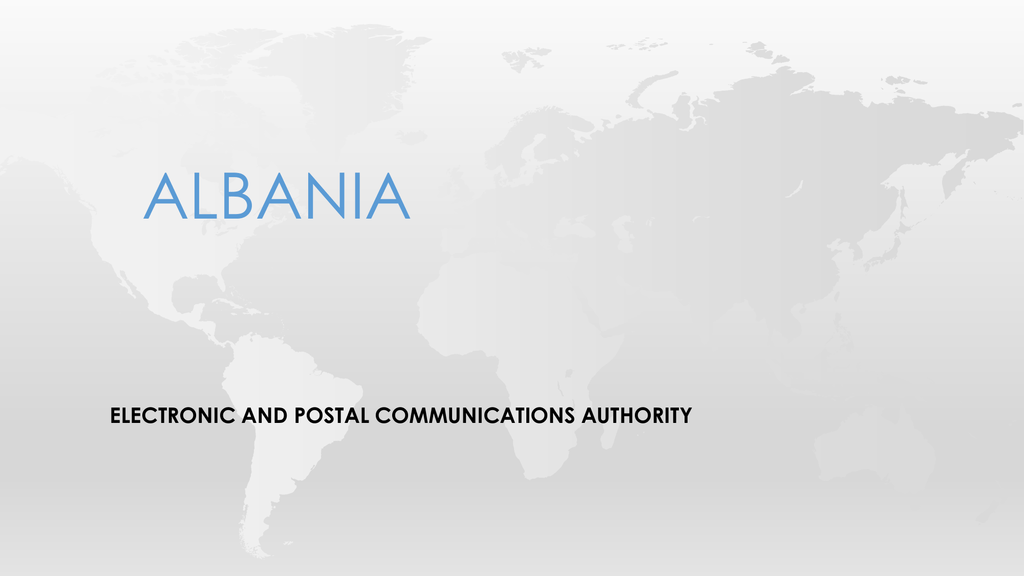 ALBANIA
ELECTRONIC AND POSTAL COMMUNICATIONS AUTHORITY
NRF PLAN

•
790-862 MHz
until finalization of ASO administrators of this band are:
- Audiovisual Media Authority – AMA and
- Electronic and Postal Communications Authority - AKEP
then
•
will be under the administration of AKEP available for mobile
broadband services (TRA-ECS). IMT is considered as a part of TRA-ECS.
Date to be decided by the progress of ASO.
•
470-790 MHz
•
broadcast - GE06
STRATEGY OF TRANSITION TO DIGITAL BROADCASTING
•
Approved 2012
•
Main aspects
-
The deadline for the full transition to digital broadcasting June 2015
-
The way to switch to digital broadcasting, the relevant institutions,
financing and other issues related to this process
- Technical aspects
-
Licensing
ALBANIA AUDIOVISUAL LANDSCAPE
•
The public sector is run by the RTSH (Albanian Radio-Television).
•
Public television includes:
-
1 national television network : TVSH (Analogue terrestrial)
3 regional television networks (Analogue Terrestrial)
Public Radio includes:
•
-
2 national stations (FM)
3 regional stations (FM)
1 satellite program
ALBANIA
•
GE 06 D
Registration of Allotments in ITU
ALBANIA
Frequencies
GE 06 D
Local Networks
STEPS DONE TO FINALIZATION
•
Assistance from OSCE, EU, ITU and other specialized institutions and organizations
•
Consultations with groups of interests
•
Studies for optimization and implementations
•
Ad hoc group leading of process and coordination,
•
Technical secretariat for technical aspects, as specification of networks, systems,
devices etc.
•
Tender procedure
•
Assigning contract for 2 national digital networks for RTSH (Albanian Radio-Television)
•
Opening tender procedure for other private digital networks based on GE 06
PROCESS STARTED
•
RTSH Digital Network has began
•
Is going to be finalized issuing of other licenses …..
Are administered applications of:
- Tv Klan,
- Top Channel,
- Digit-Alb,
- Supersport,
- Tring TV.
Current Digital Networks
(DIGITAL DVB-T)
DIGITAL COVERAGE



For some of them is not issued yet license.
Uses 4 frequencies over almost one third of the
territory for broadcasting 38 programs. (9 to 10
programs per MUX, while the average number of
programs is 5 to 7 channels.
The number of subscribers is not known, however
it is bigger than 100.000 households.
DD situation
Existing analogue transmission
28
SO 2015
Existing digital transmission
28
SO 2015
Allocations as GE-06-D
19
Subject of coordination with neighbors
EXISTING ANALOGUE
TRANSMISSION
EXISTING DIGITAL
TRANSMISSION
WHEN DD
•
APPROVAL OF STRATEGY "ALBANIAN DIGITAL AGENDA 2015-2020"
•
Around table "Digital Communications - Maximizing the Use of
Spectrum" with support of EU and participation of OSCE, ITU,
Operators, Agencies etc. (March 2015):
- Opportunities and
- Challenges
•
Public Consultation for allocation of 790-862 MHZ frequency band
for mobile services by the end of 2015
Thanks for your attention!