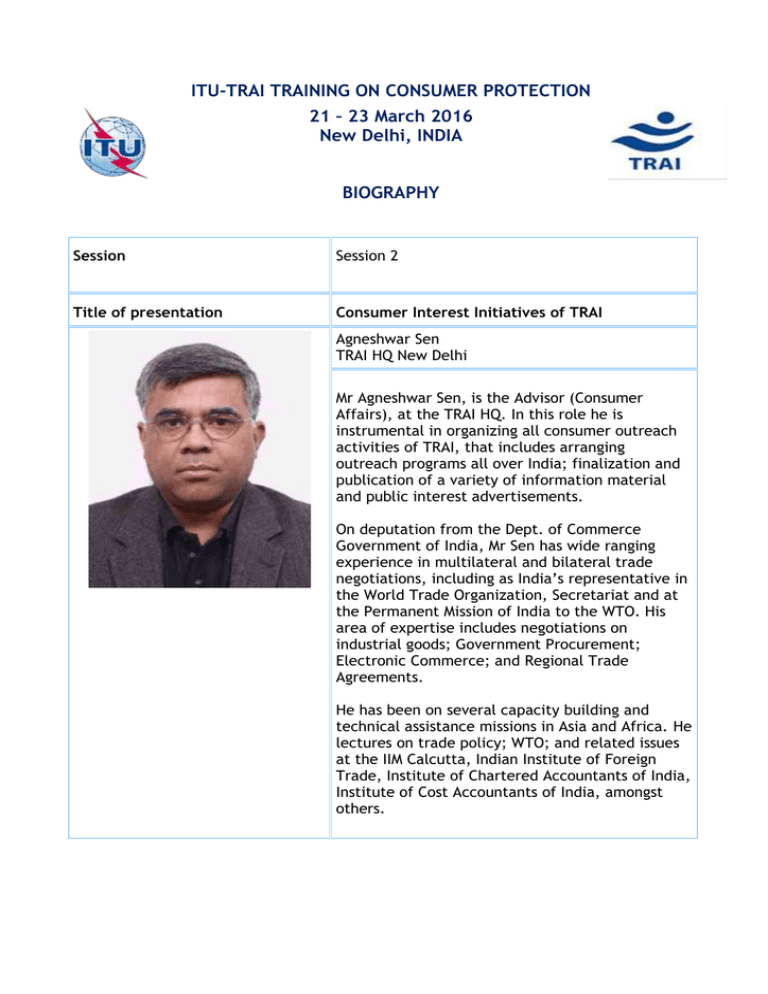 ITU-TRAI TRAINING ON CONSUMER PROTECTION
21 – 23 March 2016
New Delhi, INDIA
BIOGRAPHY
Session
Session 2
Title of presentation
Consumer Interest Initiatives of TRAI
Agneshwar Sen
TRAI HQ New Delhi
Mr Agneshwar Sen, is the Advisor (Consumer
Affairs), at the TRAI HQ. In this role he is
instrumental in organizing all consumer outreach
activities of TRAI, that includes arranging
outreach programs all over India; finalization and
publication of a variety of information material
and public interest advertisements.
On deputation from the Dept. of Commerce
Government of India, Mr Sen has wide ranging
experience in multilateral and bilateral trade
negotiations, including as India's representative in
the World Trade Organization, Secretariat and at
the Permanent Mission of India to the WTO. His
area of expertise includes negotiations on
industrial goods; Government Procurement;
Electronic Commerce; and Regional Trade
Agreements.
He has been on several capacity building and
technical assistance missions in Asia and Africa. He
lectures on trade policy; WTO; and related issues
at the IIM Calcutta, Indian Institute of Foreign
Trade, Institute of Chartered Accountants of India,
Institute of Cost Accountants of India, amongst
others.