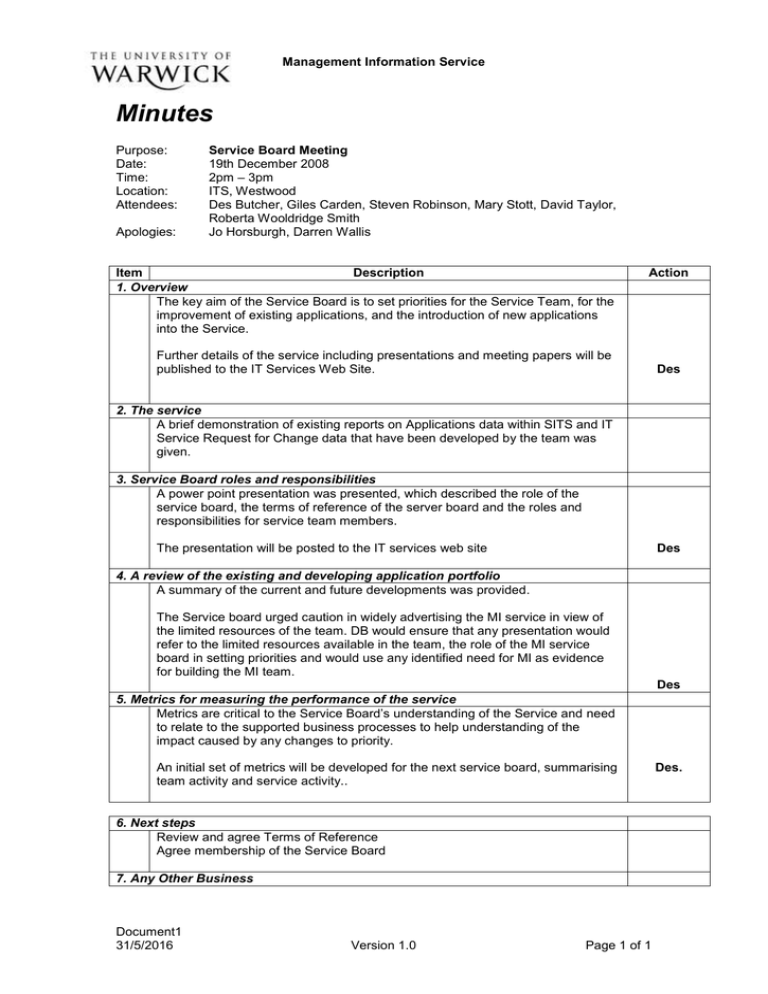 Management Information Service
Minutes
Purpose:
Date:
Time:
Location:
Attendees:
Apologies:
Service Board Meeting
19th December 2008
2pm – 3pm
ITS, Westwood
Des Butcher, Giles Carden, Steven Robinson, Mary Stott, David Taylor,
Roberta Wooldridge Smith
Jo Horsburgh, Darren Wallis
Item
Description
1. Overview
The key aim of the Service Board is to set priorities for the Service Team, for the
improvement of existing applications, and the introduction of new applications
into the Service.
Action
Further details of the service including presentations and meeting papers will be
published to the IT Services Web Site.
Des
2. The service
A brief demonstration of existing reports on Applications data within SITS and IT
Service Request for Change data that have been developed by the team was
given.
3. Service Board roles and responsibilities
A power point presentation was presented, which described the role of the
service board, the terms of reference of the server board and the roles and
responsibilities for service team members.
Des
The presentation will be posted to the IT services web site
4. A review of the existing and developing application portfolio
A summary of the current and future developments was provided.
The Service board urged caution in widely advertising the MI service in view of
the limited resources of the team. DB would ensure that any presentation would
refer to the limited resources available in the team, the role of the MI service
board in setting priorities and would use any identified need for MI as evidence
for building the MI team.
Des
5. Metrics for measuring the performance of the service
Metrics are critical to the Service Board's understanding of the Service and need
to relate to the supported business processes to help understanding of the
impact caused by any changes to priority.
An initial set of metrics will be developed for the next service board, summarising
team activity and service activity..
6. Next steps
Review and agree Terms of Reference
Agree membership of the Service Board
7. Any Other Business
Document1
31/5/2016
Version 1.0
Page 1 of 1
Des.