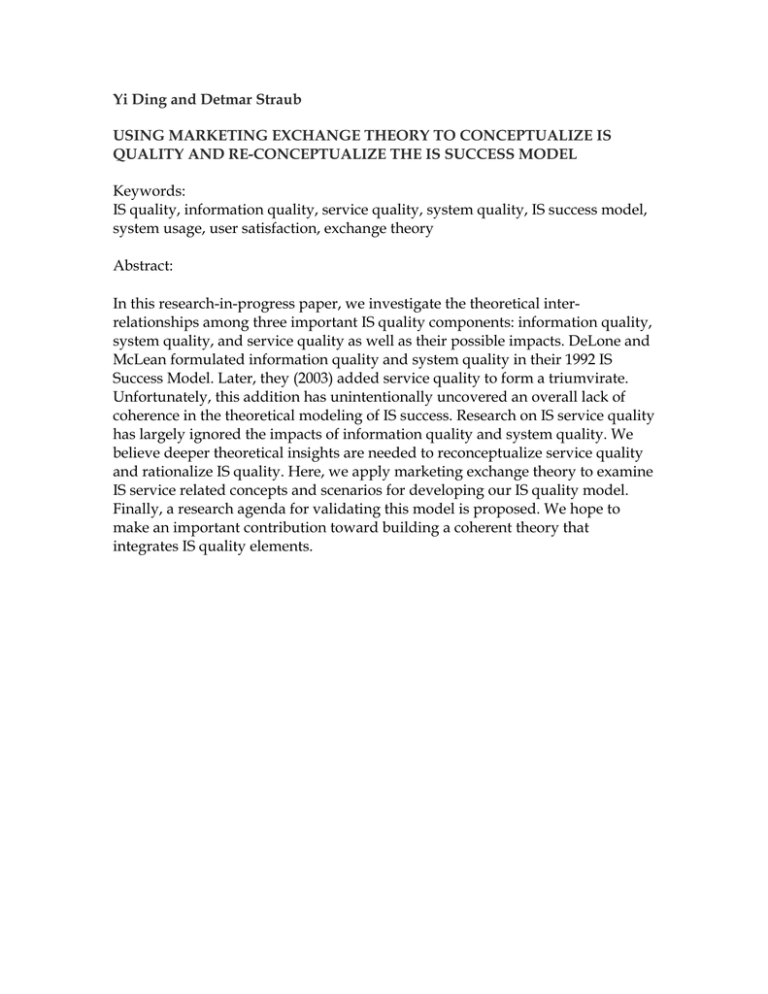 Yi Ding and Detmar Straub
USING MARKETING EXCHANGE THEORY TO CONCEPTUALIZE IS
QUALITY AND RE-CONCEPTUALIZE THE IS SUCCESS MODEL
Keywords:
IS quality, information quality, service quality, system quality, IS success model,
system usage, user satisfaction, exchange theory
Abstract:
In this research-in-progress paper, we investigate the theoretical interrelationships among three important IS quality components: information quality,
system quality, and service quality as well as their possible impacts. DeLone and
McLean formulated information quality and system quality in their 1992 IS
Success Model. Later, they (2003) added service quality to form a triumvirate.
Unfortunately, this addition has unintentionally uncovered an overall lack of
coherence in the theoretical modeling of IS success. Research on IS service quality
has largely ignored the impacts of information quality and system quality. We
believe deeper theoretical insights are needed to reconceptualize service quality
and rationalize IS quality. Here, we apply marketing exchange theory to examine
IS service related concepts and scenarios for developing our IS quality model.
Finally, a research agenda for validating this model is proposed. We hope to
make an important contribution toward building a coherent theory that
integrates IS quality elements.