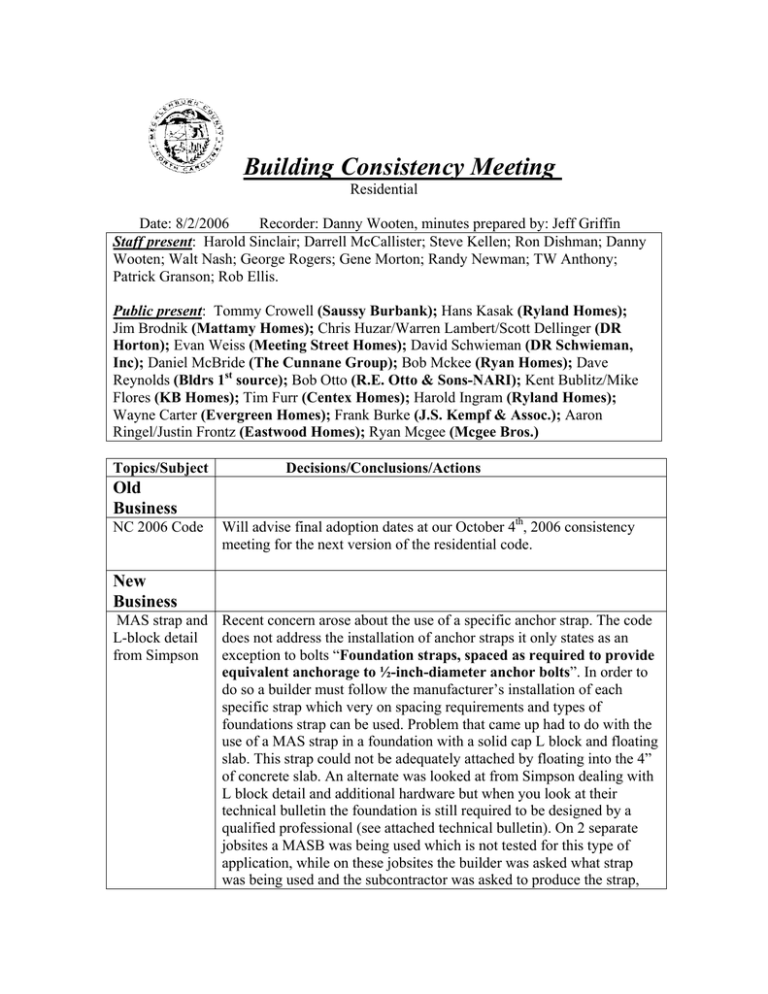 Building Consistency Meeting
Residential
Date: 8/2/2006
Recorder: Danny Wooten, minutes prepared by: Jeff Griffin
Staff present: Harold Sinclair; Darrell McCallister; Steve Kellen; Ron Dishman; Danny
Wooten; Walt Nash; George Rogers; Gene Morton; Randy Newman; TW Anthony;
Patrick Granson; Rob Ellis.
Public present: Tommy Crowell (Saussy Burbank); Hans Kasak (Ryland Homes);
Jim Brodnik (Mattamy Homes); Chris Huzar/Warren Lambert/Scott Dellinger (DR
Horton); Evan Weiss (Meeting Street Homes); David Schwieman (DR Schwieman,
Inc); Daniel McBride (The Cunnane Group); Bob Mckee (Ryan Homes); Dave
Reynolds (Bldrs 1st source); Bob Otto (R.E. Otto & Sons-NARI); Kent Bublitz/Mike
Flores (KB Homes); Tim Furr (Centex Homes); Harold Ingram (Ryland Homes);
Wayne Carter (Evergreen Homes); Frank Burke (J.S. Kempf & Assoc.); Aaron
Ringel/Justin Frontz (Eastwood Homes); Ryan Mcgee (Mcgee Bros.)
Topics/Subject
Decisions/Conclusions/Actions
Old
Business
NC 2006 Code
Will advise final adoption dates at our October 4th, 2006 consistency
meeting for the next version of the residential code.
New
Business
MAS strap and Recent concern arose about the use of a specific anchor strap. The code
L-block detail
does not address the installation of anchor straps it only states as an
from Simpson
exception to bolts "Foundation straps, spaced as required to provide
equivalent anchorage to ½-inch-diameter anchor bolts". In order to
do so a builder must follow the manufacturer's installation of each
specific strap which very on spacing requirements and types of
foundations strap can be used. Problem that came up had to do with the
use of a MAS strap in a foundation with a solid cap L block and floating
slab. This strap could not be adequately attached by floating into the 4"
of concrete slab. An alternate was looked at from Simpson dealing with
L block detail and additional hardware but when you look at their
technical bulletin the foundation is still required to be designed by a
qualified professional (see attached technical bulletin). On 2 separate
jobsites a MASB was being used which is not tested for this type of
application, while on these jobsites the builder was asked what strap
was being used and the subcontractor was asked to produce the strap,
what the builder thought he was getting and what the masonry
contractor was installing where different. In the installation of any
anchor strap the Department will follow the tested installation
instructions of the manufacture along with any NER reports on the
products usage. A builder may be asked to produce a copy of
installation and technical bulletins on their straps and should be
available at each jobsite construction office when asked for.
Insulation
Depth Markers
We had dealt with the insulation depth markers several years back
which are required every 300 sq.ft. with the required depth to meet code
to be displayed in a 1" high number, this is the only number that has to
be 1" high. We have had some issues with some new marker that are
being used where the number is in a box, the box is 1" but the numbers
are less. The number that displays the correct thickness must be 1" high
to meet section N1101.3.1 of the Code.
Construction
costs on
permits
One of the issues a field inspector must deal with when conducting
inspections is verification that permit information is correct. Issue has
come up recently on several jobsites where construction cost for a given
project was not correct. Any project should have full construction cost
written in on permit application, this includes reasonable labor cost,
even if work is done by owner at no actual cost, a cost as if worked was
contracted out must be figured in. Also included is carpet, paint,
cabinets everything must be added in for total project cost. The only
exception has to do with new construction where the cost of the lot does
not have to be included in project cost; land value is not a factor.
Ice protection
on roofs per
R902.2.7.1
Discussed Code requirements for under asphalt shingles in section
R905.2.7.1 which deals with ice protection. This section has been added
in the IRC and in the next version of the code has actually been added in
Chapter 3 under the Geographic Design Criteria table R301.2(1). This
ice protection is required for any areas that have a daily temperature in
January of 25 degrees or less. According to the map and weather data
for the Mecklenburg County area we are in the 10-20 degrees band with
average temperature of around 19 degrees.
Hole and
Notching
guidelines for
bearing studs
View a field photo of bearing studs that had been notched for a 1x4 let
in brace on the exterior and about 4" above on the interior side another
1x4 let in brace was notched. Each individual notch met code but
because they were occupying close to the same area of wood the
framing was turned down and builder was asked to repair. In looking for
some guidelines on how close holes and other notches can be from one
another the Code doesn't address. The are some older publications that
talk about minimum distance of 12" that can be used as a rule of
notching such as this or even a combination of a notch and hole which
should not be in the same area. We will discuss this issue with the
Building Code Council to see if commentary can be added or even
amendment to the Code if needed.
Slab insulation
requirements
Question asked about the removal of perimeter slab insulation as
required by chapter 11 table N1102.1. Since this was done in
residential Ad Hoc committee work this change doesn't take place until
the effective date of the new Code. This may be possible to start
allowing this to be left out and still meet the prescriptive Code
requirement starting in January of 2007. Will advise at the October
meeting when this will be allowed.
Temporary
guardrails
Question about an application where a builder had a rear door but did
not build a deck on the back of a house, this was left for the homeowner
to complete. What would be required for protection at this door opening
to get a final on the home? A guardrail at a minimum 36" high with
proper pickets or horizontal railing as listed in section R316.1 will meet
the protection requirements for that opening and will allow house to be
finalled and homeowner to deal with deck on separate permit.
Bearing top
plate
intersection at
beams
Viewed picture of field application where LVL beam cuts completely
through the double top plate of a bearing wall. An acceptable solution
that is being approved by the Department is to strap the beam and top
plate as shown below. The code reference requiring bearing wall top
plates to be lapped is in section R602.3.2.
Next meeting is on September 6th, 2006 and will in the Ed Woods meeting room 1st floor of
the Hal Marshall building at 8:00am.