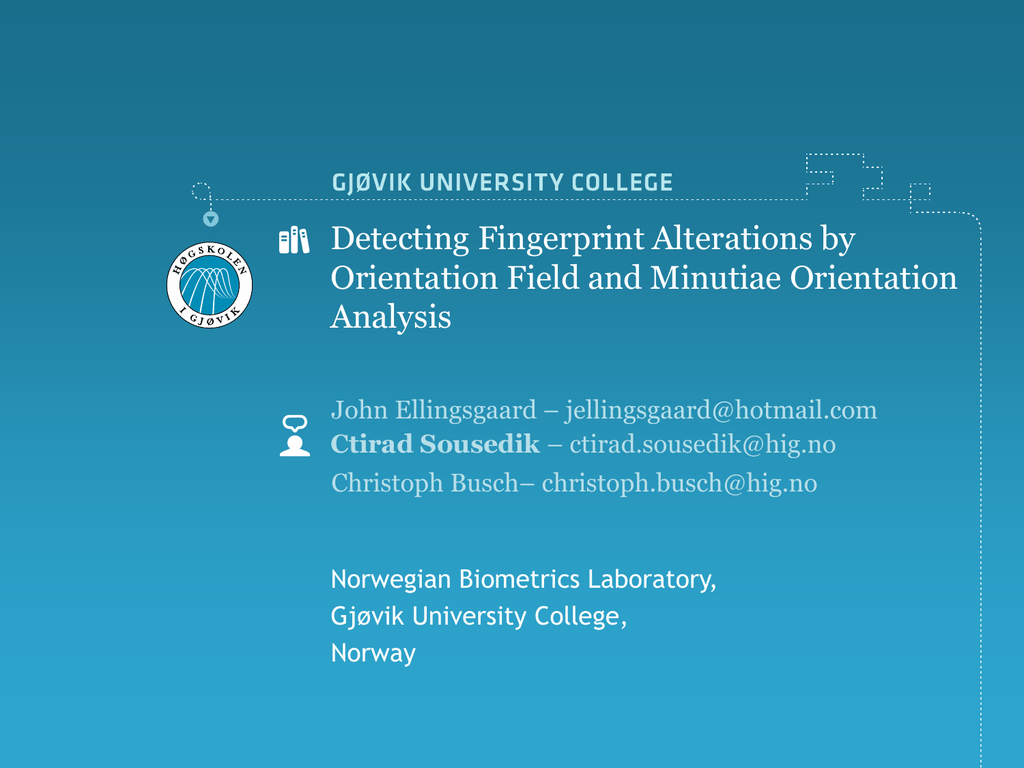 Detecting Fingerprint Alterations by
Orientation Field and Minutiae Orientation
Analysis
John Ellingsgaard – [email protected]
Ctirad Sousedik – [email protected]
Christoph Busch– [email protected]
Norwegian Biometrics Laboratory,
Gjøvik University College,
Norway
2
MOTIVATION
Individuals try to deceive fingerprint identification
It is possible to damage or alter the fingerprint by
various means
Many options – ranging from abrading, cutting and
burning to sophisticated transplantations
[1]
Before mutilation
After mutilation
3
MOTIVATION
A fingerprint alteration detection method would:
Enable more reliable identification of blacklisted
individuals
Reliable identification and re-identification of visa
applicants
[1]
Before mutilation
After mutilation
4
CHALLENGES
Altered fingerprints are highly sensitive personal data
Not possible to alter the fingerprint of a person in
order to perform data collection
Individuals with altered fingerprints will not
cooperate
Very difficult to collect a database of altered
fingerprints!
5
DATABASE
116 altered fingerprints from:
Brno: A collection of fingerprints containing a wide
variety of dermatological diseases.
GUC-100: An in-house database from GUC includes
a few fingerprints containing dermatological diseases
The Atlas of the Unusual Papilla Patterns:
contains fingerprints from fingers altered by
burns, acid burns, transplantation, miscellaneous
injuries, and diseases.
NIST SD14: contains some altered fingerprints
along with 180 unaltered fingerprints
6
METHOD
Preprocessing
Segmentation by the standard deviation approach
Morphological operations in order to include the
altered areas
FFT-based enhancement
7
METHOD
Singular points density
Alterations cause unnatural changes in the
orientation field
The changes can be seen as singularities
Poincaré index
[2]
8
METHOD
Singular points density
The Poincaré index detects singularities in the altered
areas
But:
It detects singularities also in low quality areas
[3]
9
METHOD
Singular points density
Quality estimation by using a
Gabor filter approach by Olsen et
al. [4]
[3]
Combination of the Poincaré index
responses with the quality
estimation responses
10
METHOD
Minutia orientation analysis
Scarred areas generate additional minutia
The orientations of the minutia do not
follow the natural orientation field
[3]
11
METHOD
Minutia orientation analysis
Minutia extraction by using mindct
[3]
12
METHOD
Minutia orientation analysis
Largest orientation difference for
each of the minutia found
Map of differences of minutia
orientations
[3]
13
METHOD
Classification
The same approach for the singular
point density map and the minutia
orientation map
Division into 3 x 3 blocks
Extraction of 21-bin histogram
189 feature vector dimensions
14
RESULTS
Metrics:
TADR = True Altered Detection Rate.
Proportion of altered presentation characteristics correctly classified
as being altered
FNADR = False Non-Altered Detection Rate.
proportion of altered presentation characteristics incorrectly
classified as being non-altered
15
RESULTS
[5]
16
CONCLUSION AND FUTURE PLANS
A fingerprint alteration detection method developed that outperforms
the state-of-art method
In the future:
Testing on a larger scale database of altered fingerprints
More complex features and feature fusions
17
Thank you
John Ellingsgaard – [email protected]
Ctirad Sousedik – [email protected]
Christoph Busch– [email protected]
References:
[1] Jose Izquierdo (1997), altered his fingerprints by exchanging two portions of skin using a Z
shaped cut.
[2] Maltoni, A. et al. (2009), Handbook of Fingerprint Recognition, Springer Publishing
Company, Incorporated.
[3] S.S. Samischenko, Atlas of the Unusual Papilla Patterns/Atlas Neobychnykh Papilliarnykh
Uzorov, Urisprudentsiia, Moscow, 2001.
[4] M.A. Olsen, Haiyun Xu, and C. Busch, "Gabor filters as candidate quality measure for NFIQ
2.0," in 5th IAPR International Conference on Biometrics (ICB), 2012, pp. 158–163.
[5] Soweon Yoon, Jianjiang Feng, and Anil K. Jain, "Altered Fingerprints: Analysis and
Detection," IEEE Trans. Pattern Anal. Mach. Intell., vol. 34, no. 3, pp. 451–464, 2012.